Already coming into the world in style
Recently a dear friend asked me to help her with the nursery for her bun-in-the-oven. Knowing that this friend is particularly stylish (and particular), I was excited about the challenge. We have much the same taste, with hers trending more traditional and classic. With that in mind, I set out to create a world for the little lucky guy that was A) playful yet sophisticated, B) easy to obtain (i.e. retail options with few custom options as they will be moving a month after he is born), and C) budget-friendly.
Our jumping off point: a large giraffe stuffed animal received for Christmas. We immediately fell in love with Serena & Lily's Rye Crib Set, and knew we had to incorporate David Hick's La Fiorentina in tan, somehow, someway. We also knew we wanted a mix of both new and vintage, and that she is big on texture, texture, texture. Here's what we've got so far: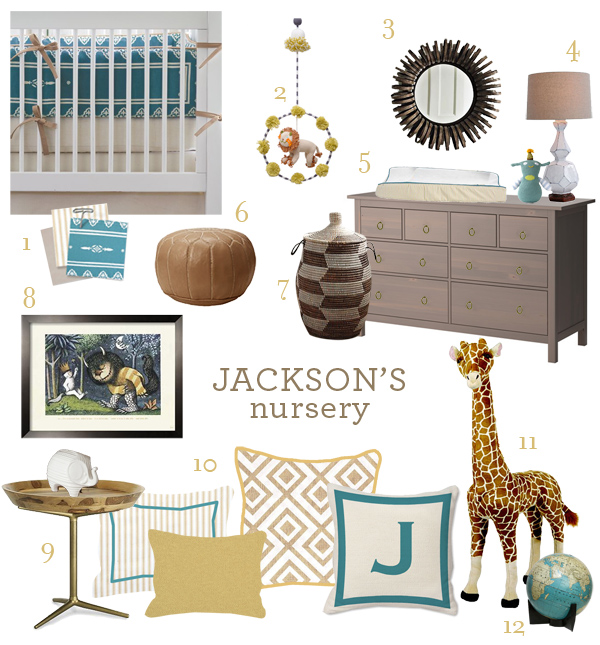 1. Serena & Lily's Rye Crib Set
2. Bla Bla's Lion Mobile
3. West Elm's Ribbon Mirror (don't you love how it looks like a lion's mane?)
4. West Elm's Terracotta Lamp (love how the texture emulates a giraffe's patterning), Bla Bla's Inoo-lala doll and the changing pad cover from the crib set collection
5. IKEA's Hemnes 8-drawer dresser in gray-brown, with added brass ring pulls
6. Morrocan pouf in caramel (still searching for this perfect color!)
7. West Elm's African graphic printed basket
8. "Where the Wild Things Are" framed vintage print
9. West Elm's Jacks Table in Sheesham (loving the vintage look of this piece!) with Jonathan Adler's Elephant bank
10. Pillows that will top a white loveseat: boudoir pillow from Serena & Lily's Rye collection, custom mustard yellow velvet accent pillow, two custom David Hick's La Fiorentina in tan with mustard yellow velvet backing and trim, and Jonathan Adler's initial pillow in a custom color.
11. FAO Schwarz's 48 inch Gentle Giant Giraffe
12. Vintage 1960's globe (I think this might be my favorite accent)
The walls will most likely be a warm tan, and curtains will be white with the mustard yellow velvet trim.
OK, now back to my real job!!

Update: see the (nearly) finished room here!