A few refreshing changes can go a long way
As with any creative professional, every once in a while (okay, every year, let's be honest) we feel the need to reinvent our working space. Makes sense, right? We need to feel inspired and invigorated in order to pass on that creative energy to our clients…well at least that's my justification!
I wasn't planning on making a change but I have been getting kinda bored with the current vibe in here. And little did I know that I would happen upon such a wonderful painting by artist Erin Ashley in Palm Beach, FL.  I could immediately visualize how my space would be transformed with something as simple as a piece of artwork.  At first I couldn't figure out what it was about it that I was so drawn to, but then I remembered that it reminded me of a painting in Kelly Wearstler's office from her book HUE.  And her office is so fantastic, I don't think I can resist buying the painting now.
Here's the inspiration:
And here's how I plan to incorporate it with the painting and pieces I already own, plus a few future purchases like these amazing quartz lamps and a Missoni pillow (and perhaps some lucite in there somewhere):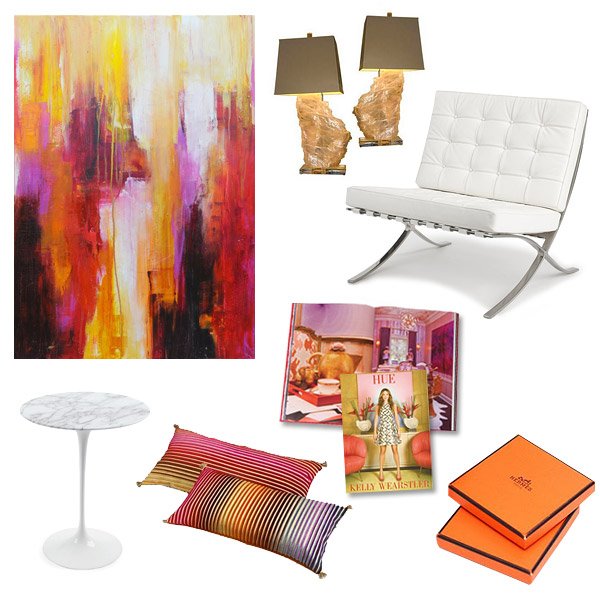 I don't think I could ever be as bold or spendy as to recarpet the office in purple, but I am still loving this new scheme and plan to implement it as soon as humanly possible.  I feel the inspiration already coming on strong!!
…xoxo