My daughter's room
Originally I wanted to do a post on a fab vintage find for my daughter's room, but as it evolved, I decided to go ahead and take more photos of her whole room. (They are not great photos so I apologize in advance!) But first a little background: now that she is almost two, I've been working to make it less of a nursery and more of her own room that reflects her personality. She is very expressive (good and bad!) and is quite the little spitfire, but has a soft spot for animals.  I found some inspiration from our trip to the Honolulu Zoo where she first saw flamingos, elephants and zebras, and a touch from the tropical regency style of the very pink Royal Hawaiian Hotel*.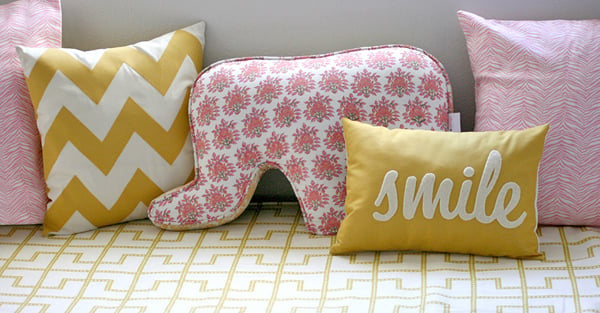 The room has a built-in window seat which was a great opportunity to bring in some pattern!  Here's what we have so far: seat fabric and bolsters in Celerie Kemble's Bleeker in Absinthe, two petite tiger print pillows from Blue Door Style, yellow zig zag and smile pillows from Honey Pie Design, and the Lulu elephant pillow from Rikshaw Design.
Above the crib, I decided to add the "For Like Ever" poster print that I first like-totally-loved in Jessie Randall of Loeffler Randall's New York apartment in Domino a few years back.  I really think it adds that touch of spunk that I see in my daughter!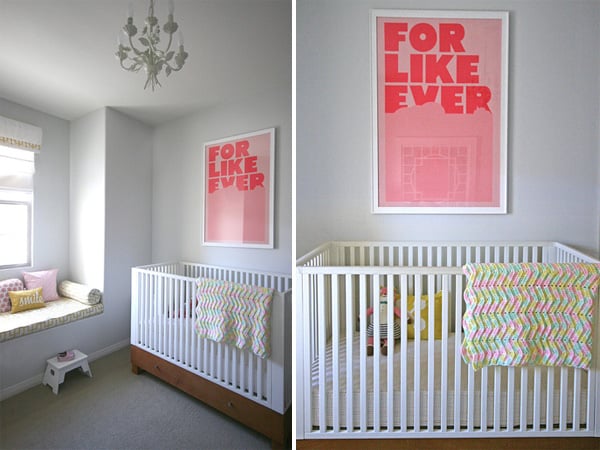 The crib bedding is Dwell Studio's Gio Lemon, but as you parents out there know, only the crib sheet is left by the time they reach a few months old!  I think that's OK though because it allowed me to introduce other patterns and evolve the design. And having the light gray of Benjamin Moore's "Silver Bells" paint as the backdrop provides a neutral canvas to do so.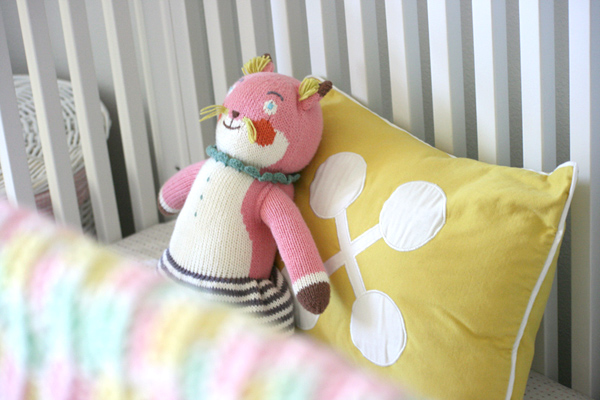 Gotta love those bla bla dolls! She has three, and counting…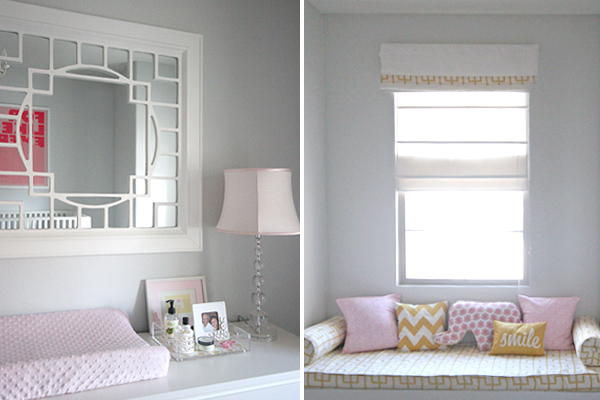 I realize these are horrible photos but I just had to show the mirror from Z Gallerie (not available any more, but I recently found it at Shades of Light), as I think it adds so much to the room and ties in with the seat fabric and refurbished side table (bottom pic). And I thought I'd show another view of the window seat.  Using pattern and mixing color is really a joy for me as a graphic designer!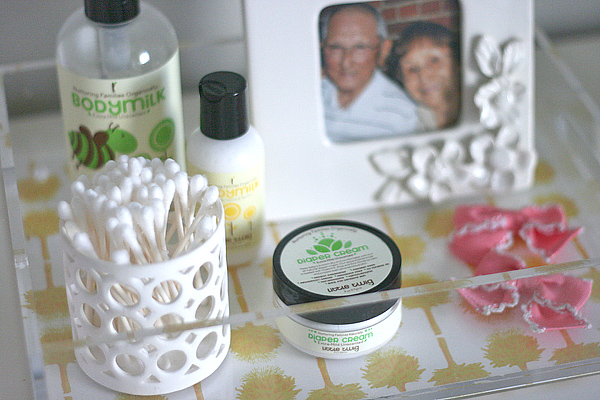 The lucite tray with the island-esque pattern is from iomoi, topped with Little Twig of course (an old and dear friend started this popular organic line, but her products really are the best)!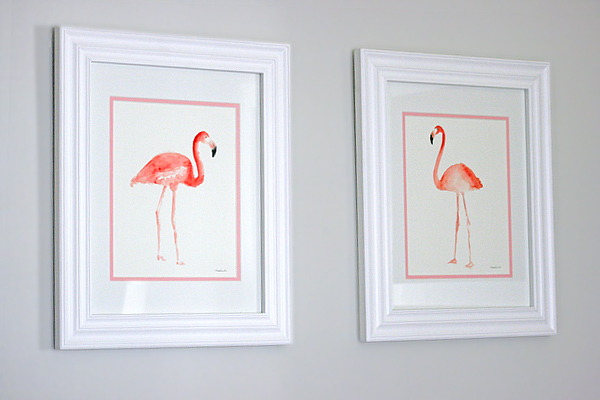 Many thanks to The Neo-Traditionalist for the heads up about these adorable original watercolor paintings from Dimdi!  I chose the flamingos because as a child I so vividly remember what a sight it was to see such a large flock of them as you first enter the Honolulu Zoo. (Oh but I really dislike these frames — I would love something that looks like bamboo instead, maybe with a grasscloth matte, so please pass on a link if you've got one!)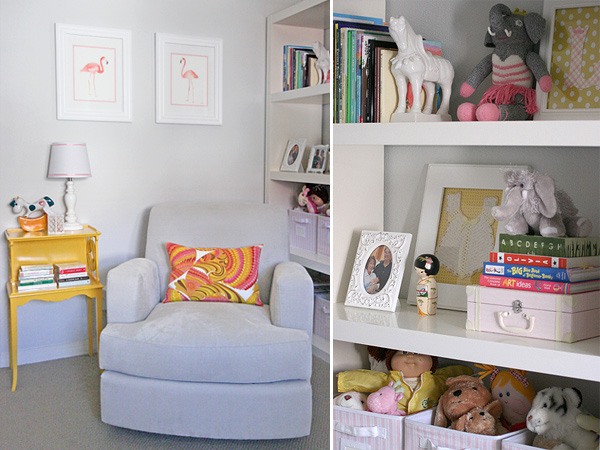 I added the Trina Turk Pisces pillow from Willa Skye Home for a little color punch to the "reading nook," and now we've arrived at the point where I was originally going to post: that yellow side table was only $20!  We stumbled upon it in Old Towne Orange one day walking through a passageway to dinner. My husband stripped it and spray painted it yellow, and voila…looks like it was meant to be here all along.  What luck!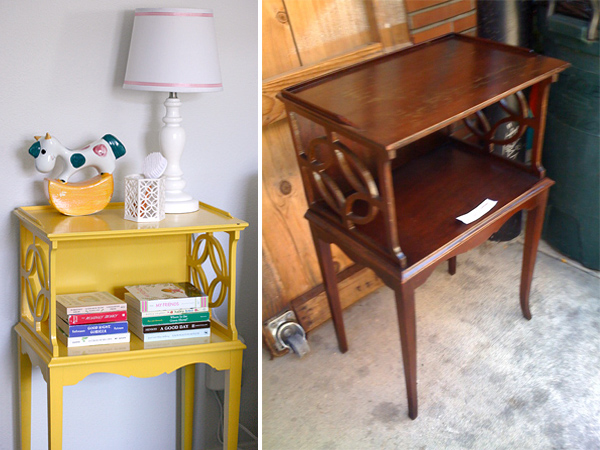 Thanks for taking the tour!  Now that you've seen it all, I wanted to add that her nursery design was the inspiration behind the Leighton pattern from my stationery line.  To my pleasant surprise, it's been our most popular pattern lately!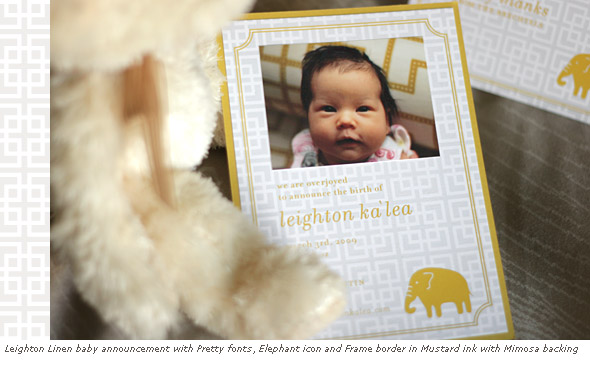 …xoxo
*Did you know that Frances Elkins redesigned the lower lobby and lounge in the Royal Hawaiian Hotel in 1946? Also learned that the hotel bar is known to have invented the Shirley Temple. I never knew! If you want to read more about The Royal Hawaiian and see some shots of this beach beauty, check out my post on the hotel here.
Update: we attempted to get a snapshot with the little one in it, but her toddler ways told us otherwise…we will try again another day!