Budget-friendly options still big on style
Hey I don't mind a knock-off here and there.  Sure I'd love to be all uppity and tell you that a designer's work is genius and should never be copied, but well, the reality…I live on a budget.  I have also accepted the fact that my tastes change/trends come and go, so if I don't want to spend a fortune on an accent piece that I feel I need right now? I'm going to look at cheaper options.
Now that that's out of the way, here are some fun finds -yay! (Oh and for you designers out there that have seen these a hundred times, I have a few questions for you at the bottom.)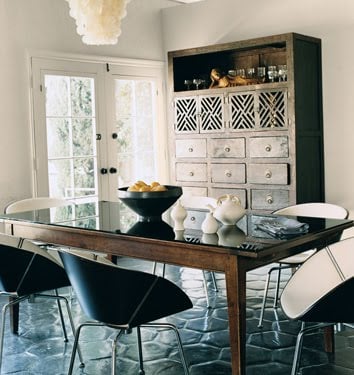 Above photo is from one of my all-time favorite projects, Estee Stanley's design for Claire Forlani's home that was featured in Domino in 2006.  We've all seen the capiz lamp and perhaps it's overdone, but I do love mine still, and I love the way it's mixed here with the leather/chrome chairs, that black painted hexagon tiled floor, and antique wood pieces. The real deal by Verner Panton will set you back a good $995, but everyone knows by now you can get one for a great price at West Elm (although it doesn't look like they are offering the shorter version anymore).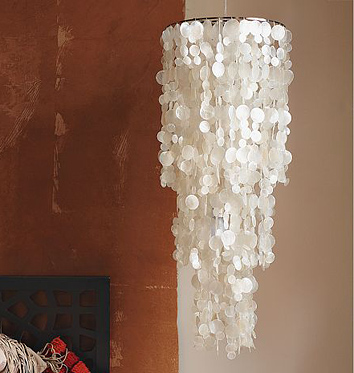 [ West Elm's long hanging capiz pendant lamp $259 ]
I was completely obsessed with the Cellula chandelier when I saw it in Claire Forlani's dining room (top photo, below) until I saw the price – $2600.  And here it is again in a more recent showing in Sally Hershberger's Manhattan apartment in Elle Decor (love it over the bar!). I'm happy that Z Gallerie has come out with a knock-off since, and I admit it continues to tempt me every so often.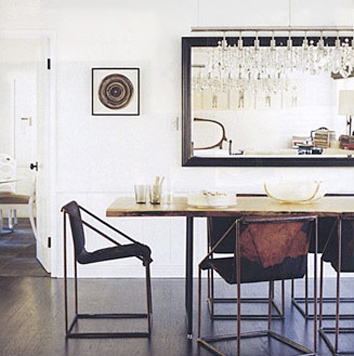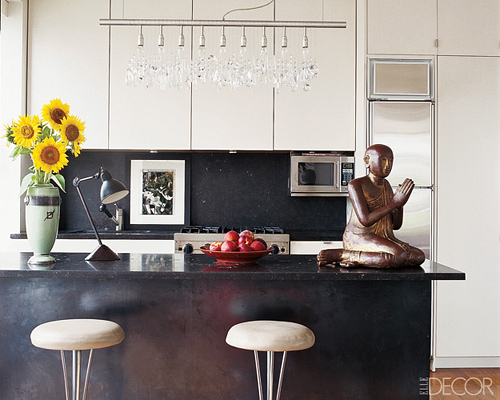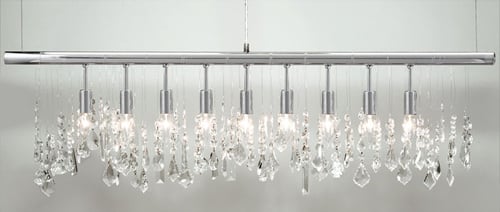 [ Z Gallerie's linear strand crystal chandelier $349 ]
A recent a-ha!: the last time I went to The Parker in Palm Springs I finally noticed the glass links chandelier in the lobby.  Super cool!  But how about smaller/cheaper versions for a cooler price?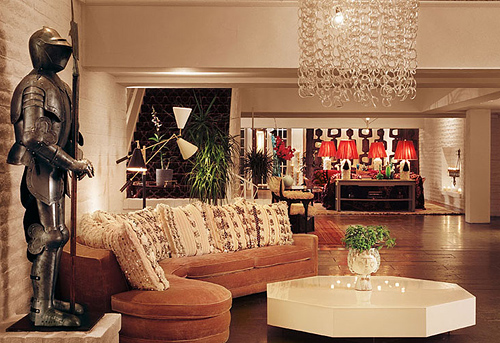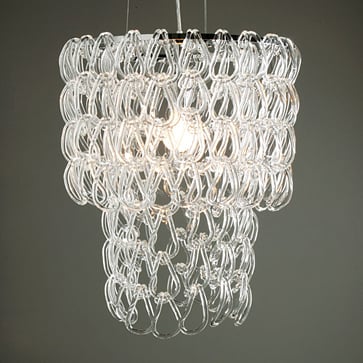 [ Z Gallerie's glass links chandelier $299 ]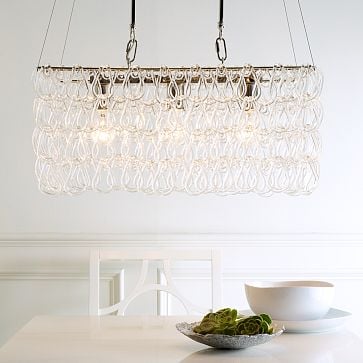 [ West Elm's glass link chandelier $299 ]
I'm a fan of the Jonathan Adler Meurice pendant lamp as seen in this breakfast nook in Lonny, and yes you can get the smaller size for $375 (not too shabby), but you can also get something similar from Lamps Plus for $99.99.  Doesn't have quite the same panache, but simple and sophisticated nonetheless.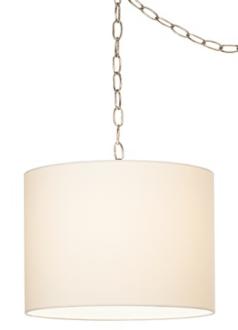 [ Lamps Plus white swag chandelier $99.99 ]
I've been seeing the Cabouche chandelier everywhere lately, haven't you? But at $1800+, why not just get Z Gallerie's smaller version for $399? Save that extra $1400+ and buy yourself a non-knock-off, knock-out piece.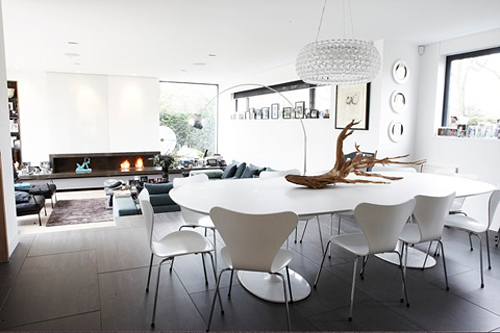 [ Z Gallerie's jupiter chandelier $399 ]
This one I thought was pretty cool. Below is an image from a set on the TV show Parenthood with two IKEA lamps!  I'm really liking the treatment here in a living room, paired up. And at $69.99 a piece, it treats your wallet nicely too.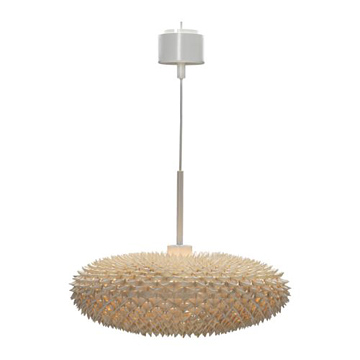 [ IKEA PS VAVA pendant lamp $69.99 ]
I was excited when I saw my West Elm pendant in a recent issue of RUE. I had purchased one on clearance a few years ago, and now I wish I had bought two for my dining room, too!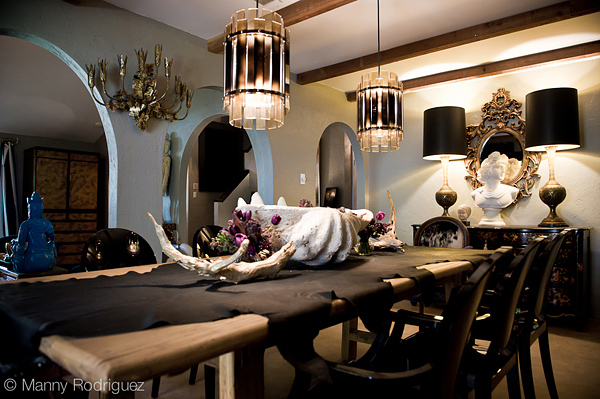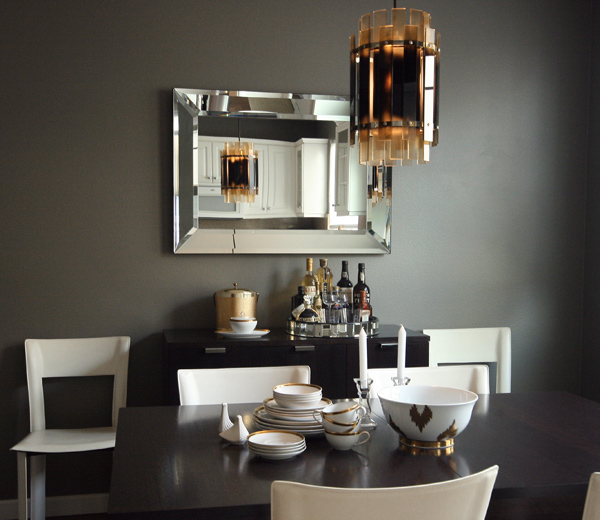 OK so I'm dying to know if anyone has found a cheaper version of Tom Dixon's copper pendant lamp, as seen here in a bedroom done by one of my favorite designers ever, Molly Luetkemeyer (and can I tell you how thrilled I am that I get to profile her in an upcoming post?):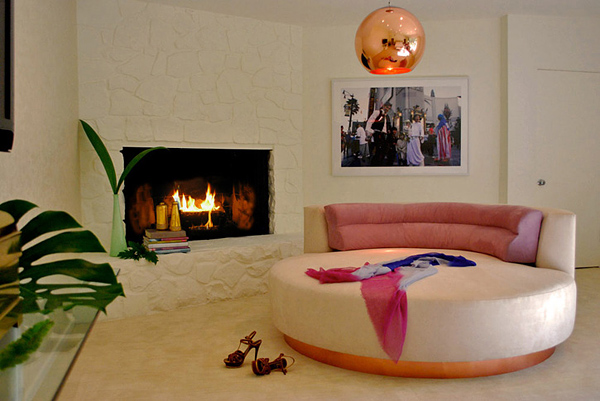 And lastly, I've been seeing this or a version of this chandelier a lot lately, and I was wondering if you had any sources? I am digging the way Ryan Korban uses it as a delicate accent in unexpected places (top photo, below) and this recent usage by Flair in Lonny (bottom photo):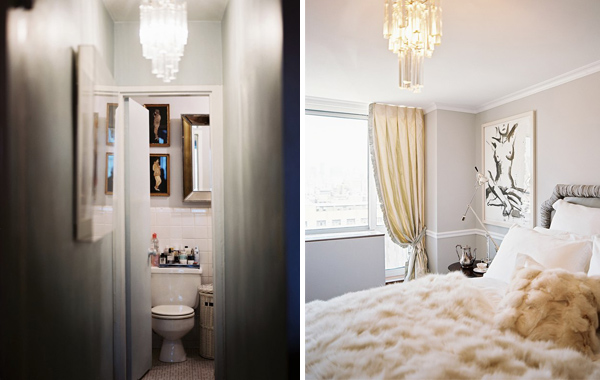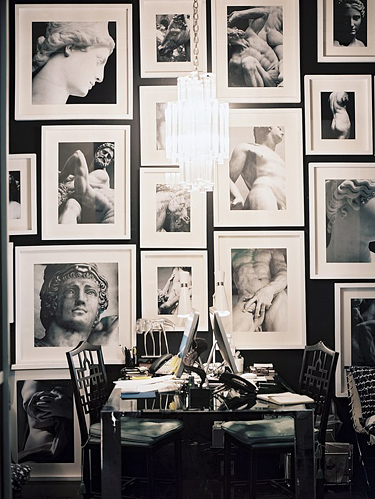 Have you found any other good deals on glam lighting? Hit me up!
…xoxo