Moving past the zig zag & zebra
I'm a big fan of sophisticated, high-contrast black & white, especially in its simplest form: stripes. And I've been so thrilled to see the black & white stripe reinvented with a twist — diagonal, calligraphic, banded, thick/thin, and offset, it's all eye-catching and Sexy with a capital S.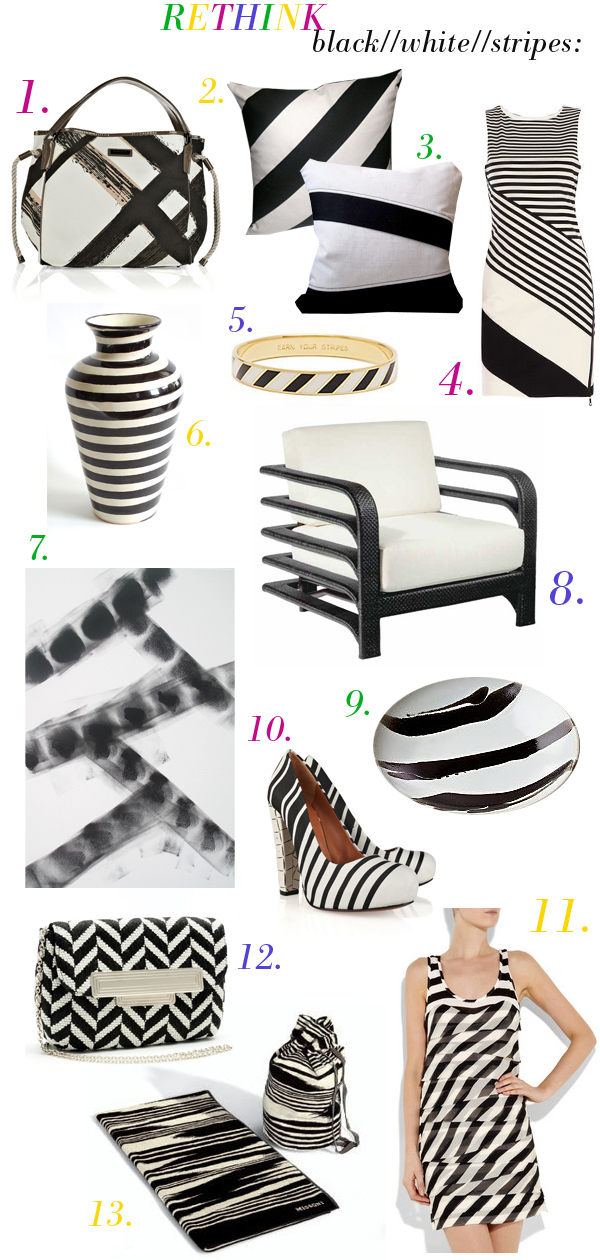 1. Burberry canvas printed tote, $595
2. Diagonal striped pillow, $22.50
3. Black stripe pillow in canvas/linen, $60
4. DVF striped Leigh dress, $325*
5. Kate Spade Earn Your Stripes Idiom Bangle, $48
6. Emilia Ceramics zebra vase, $110
7. Nicole Cohen "Black Star" series, 36″x24″, $250
8. Selamat Rio Lounge Chair, $999 — on One King's Lane NOW!
9. DVF Home Mashiko medium platter, $110
10. Carven striped canvas pumps, $595
11. DVF Jessalyn dress, $325*
12. Lauren Merkin Iris clutch, $295
13. Missoni Ina beach towel, $205
This roundup has actually inspired me to attempt a single black diagonal stripe treatment in my powder room! I figure if it doesn't work out, I can always go all black. What do you think, should I go for it?
Oh and don't forget to enter the giveaway if you haven't already!
*Seriously, Diane von Furstenburg has outdone herself lately — an entire post on her collections alone is definitely in order!
…xoxo