Practicing what I preach…
I have a lot of "grand" ideas, most of which I don't follow up on, either because I'm over it or I end up not having the confidence it will work. But sometimes I really do follow up on an idea that I've shared with you in past posts, and I'm happy to report that this is one of them!
OK, well kinda — I should probably mention that the original post on my dining room was meant to get suggestions on wall sconces to flank the mirror. I gave up on that idea after not having much luck, and decided to create my own budget-friendly solution: framing black & white 1970s celebrity photographs, per my post here. I chose the candid, easy-going snapshots of Farrah Fawcett and Mick & Bianca Jagger, framing them in ready-made (and 40% off!) frames/mattes from Aaron Brothers.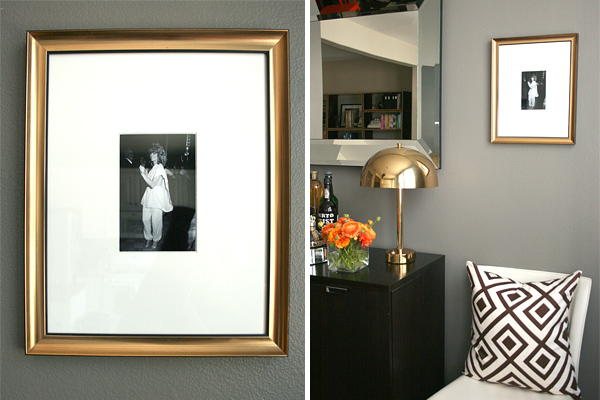 She looks so happy, and I would totally do
the same spontaneous little dance too if the mood struck!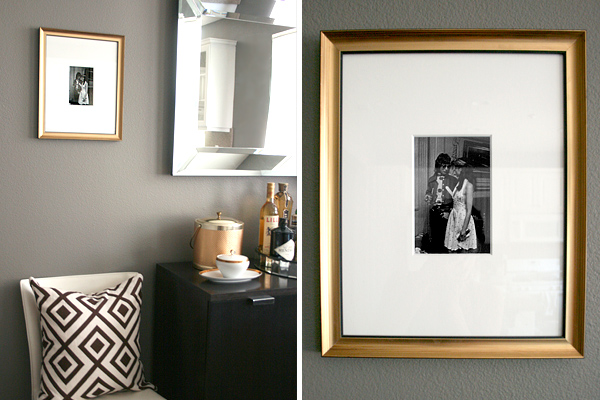 I like this one because it looks like they're having a good time at this YSL party,
and it's actually really sweet how adoringly he's looking at her.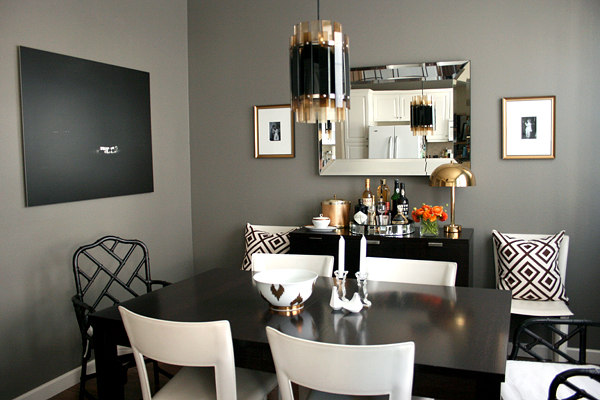 Still in need of a little extra illumination, I went ahead and added a vintage brass lamp on the buffet. (Its twin is in my office; one day they will be reunited again.) I also moved these two David Hicks La Fiorentina pillows from the living room to add some pattern/interest to the space. I had worked with Melanie from Plum Cushion on them and boy did we wait for that in-demand fabric to be in stock again! But she does excellent work, it was definitely worth the wait.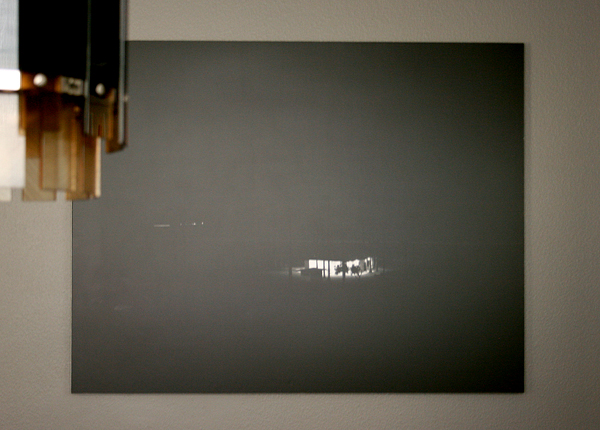 One item I didn't share in my initial post: my very first piece of "original art" purchased from a CalArts photography student many years ago (another great way to save $$!) that I had mounted on aluminum, per her suggestion. I wish I could have gotten the detail in the photograph — her technique is so cool! As you stare at it, slowly your eyes adjust and you can make out palm trees, and wait, are those waves glistening in the moonlight??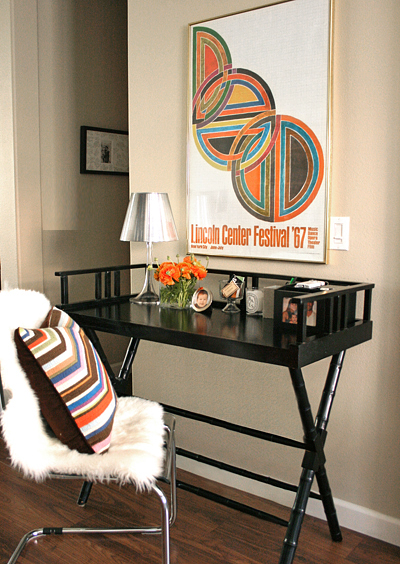 Lastly, thought I'd take a pic of my "home desk" just around the corner. I usually pull one of the black Ballard Design Macau chairs from the dining room over to the desk, but for the sake of the photograph, I pulled this IKEA lucite and chrome chair from my office and topped it with a J.A. pillow. The black faux bamboo desk from Indonesia was a find from a cute little shop on Abbot Kinney in Venice, CA, that we've used as a bar, console and vanity as well.
You'll also notice I did in fact end up purchasing and framing the Frank Stella print that I blogged about a while back too. But what you can't see (and most likely won't, ever!) is my daughter's play area to the left. She's got a white fur rug topped with an orange chair/table set all to her little self. You know, kids' play areas are just not pretty, no matter how contained they are!
So there you have it, an easy update to a room that felt incomplete. And now you can come over!
***Update, updated: so turns out the husband is not as much of a fan of the Frank Stella as I thought, and liked the way we had it before, with this vintage NYC subway sign I bought from Subway Signs (for $75, can't beat it!). So I restyled the desk last night with a few accessories from our entry hallway, and swapped the pillow for this Missoni pillow. What do you think? Which do you like better? (And I apologize for the photo, it's really dark here today, I had a hard time getting a shot.)