Something summer this way comes!
Maybe it's the fact that it's been getting a little warmer and sunnier out in these parts, or maybe it's because I've been seeing pink & orange boho style everywhere lately, but I am liking it. To start the week, I saw a beautiful vintage-y girl nursery; on Wednesday I was confronted by an entire newsstand of vibrant covers at Barnes & Noble; and yesterday (because of my daughter's recent growth spurt, I had to literally buy her a whole new wardrobe!) I was pleasantly surprised by the colorful selection at Old Navy of all places. To top it off, I remembered that Calypso St. Barth for Target launches May 1st! So I guess really I couldn't have avoided it if I wanted to, and now I'm not letting you either. A few picks: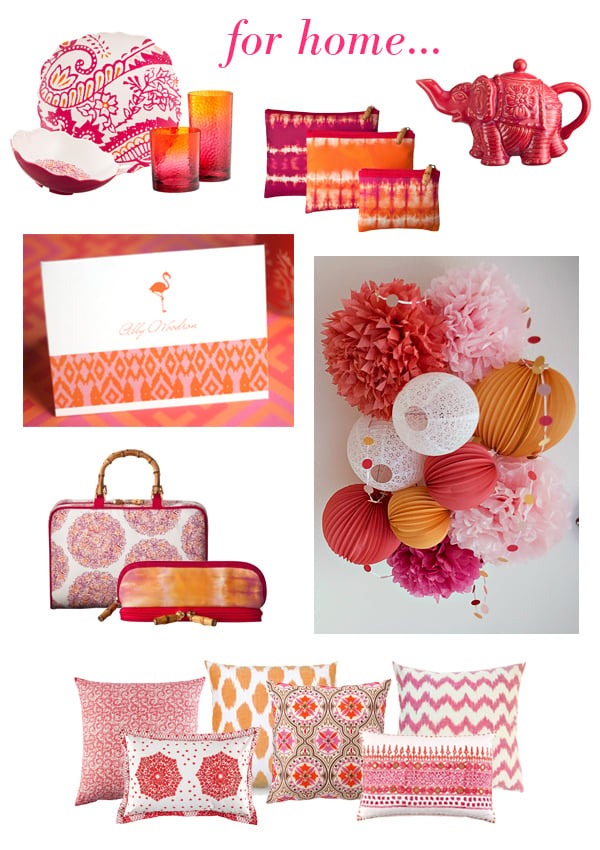 tableware, elephant, pouches & bags: Calypso St. Barth for Target  (available May 1st)
notecard: Wardrobe Stationery
paper lanterns & poufs: Ashley Ann Photography (please go look at this nursery, it's gorgeous!)
orange ikat & pink ikat pillows: Table Tonic (such a great blog too!)
pink/orange/brown embroidered pillow: Modern Chic Home (her blog was one of my first faves!)
block printed pillows: John Robshaw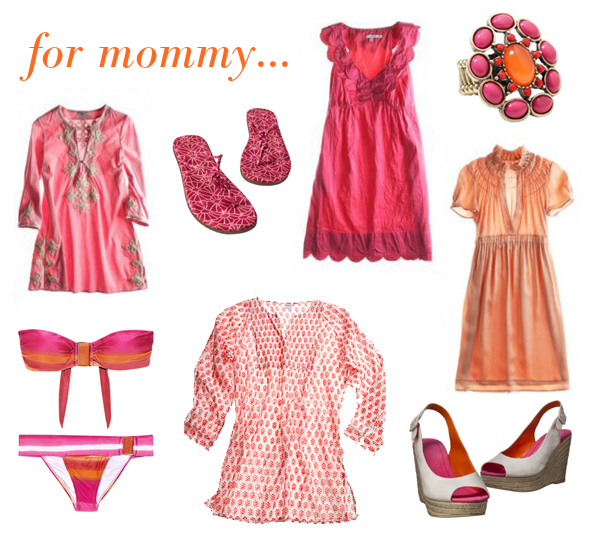 pink/gray tunic, coral dress, orange dress: Calypso St. Barth
ring: Old Navy
flip flops & wedges: Calypso St. Barth for Target  (available May 1st)
bikini: Vix
tunic: Rikshaw Design (this talented designer also writes a pretty blog!)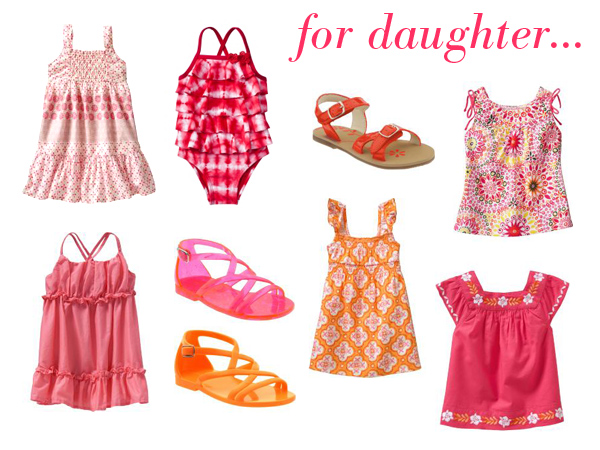 ruffle one-piece: Calypso St. Barth for Target (available May 1st)
everything else (that I purchased for Leighton yesterday, heh heh): Old Navy
We're heading up to the mountains today to celebrate Easter with family. Looking forward to a little getaway! What are you up to?
Have a colorful weekend!