Happy Anniversary to my best friend for life!
Thought I'd pull out the photos of my wedding to honor our 8-year anniversary today! It's such a trip to look at these now. We got married in the very quaint St. Helena Methodist Church, and were so so lucky that my dad worked at the picturesque Calistoga winery, Chateau Montelena, so that we were allowed to have our reception there. Except for the rain leading up to the ceremony (and my resulting meltdown), the day was perfect…at least as much as I can remember. (Let's just say good ol' dad made sure there were magnums of Montelena cab on every table, i.e. everyone was hammered.) Thank goodness the details were well-documented: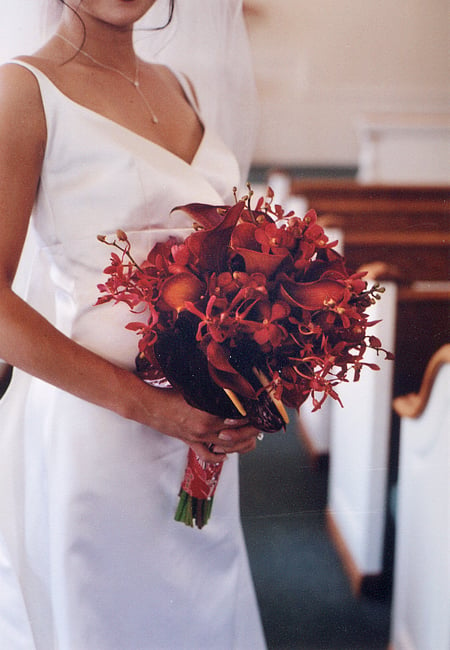 St. Helena florist Pat Friday did an amazing job with all the flowers that included red/orange orchids, calla lilies and tulips. You'll notice we used various Japanese papers I collected throughout the event (I'm half-Japanese, so it was important to me to include some elements from my heritage).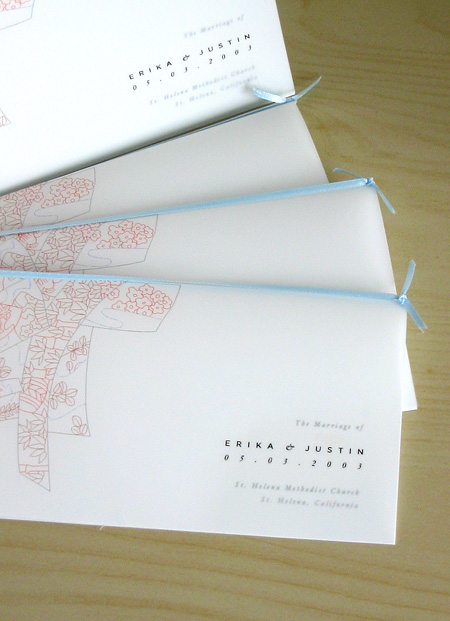 For the programs, I drew the pattern from bits of Japanese paper I had collected, and printed it out on an overlay. We used this same technique for an enclosure that held the invitations (bottom photo).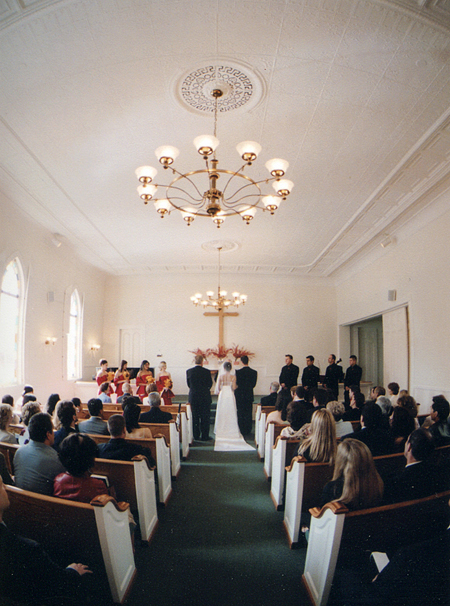 St. Helena Methodist Church — perfect setting, right? Plus the husband insisted on a single cello player for the ceremony. It was a lovely addition.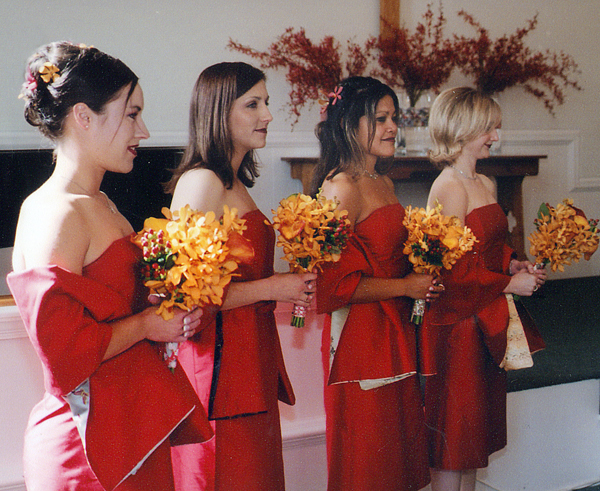 My support group, donned in Simple Silhouettes dresses. I ordered extra fabric from the same die-lot, and had custom wraps made by a local tailor, each with a different brocade fabric to suit each lovely lady's personality. My MOH had the fun idea that they would turn them over after the nuptials.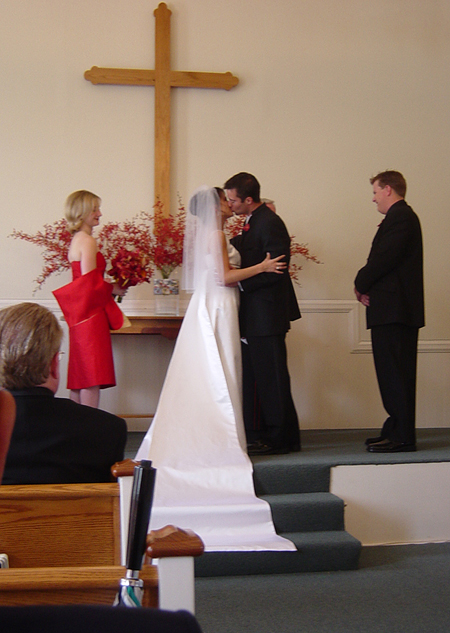 Can I just tell you how much I LOVED my dress? It's a Romona Keveza design, and the obi train was an optional extra from a different style. I thought it fit so perfectly into our theme!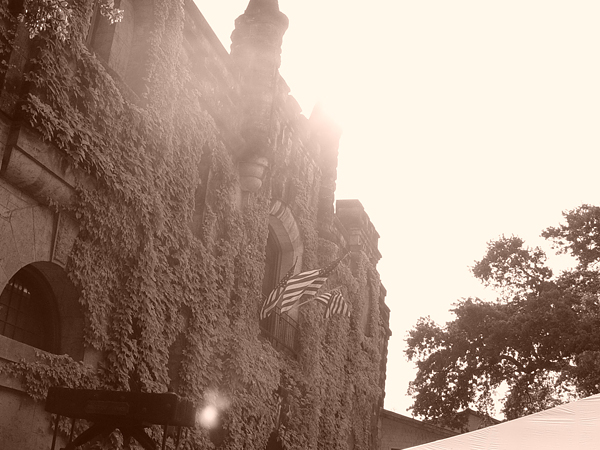 My talented Dr. bro took this pic (and the one above) of the estate's facade at Chateau Montelena. If you've never been, be sure to go. The grounds are stunning.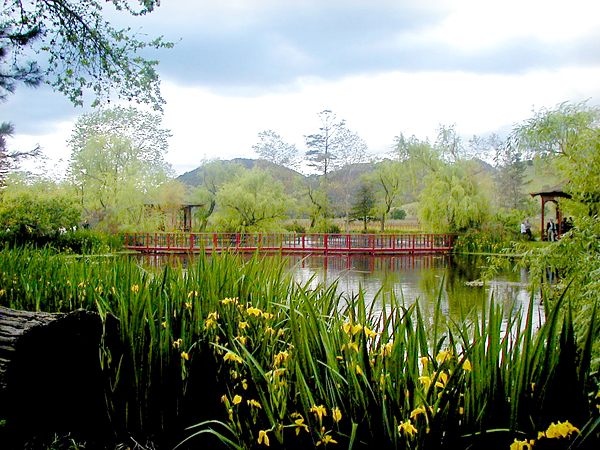 Another gem on the property: Jade Lake. We did cocktail hour amongst the bridges and island pagodas. I'm so happy the rain subsided so that everyone could enjoy this beaut.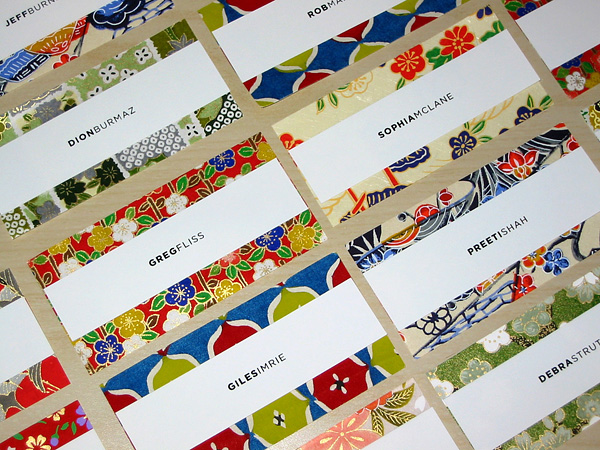 This image may give my husband nightmares: he cut and glued all of the escort cards a few days prior!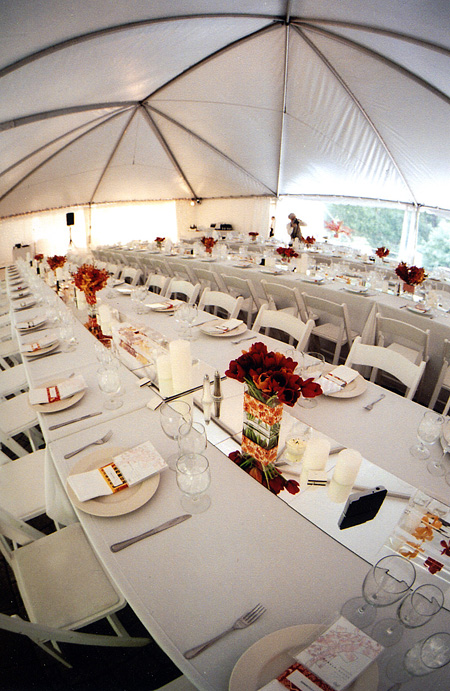 The very first thing we did as newlyweds? Run into the tent to see if it matched our vision and hours of planning…and we were so excited/relieved that it did! We opted for three long tables for a more contemporary look, and on either end of the tent we hung strings of white lights (a last-minute idea when we finally accepted we'd need a tent, yet by far one of my favorites).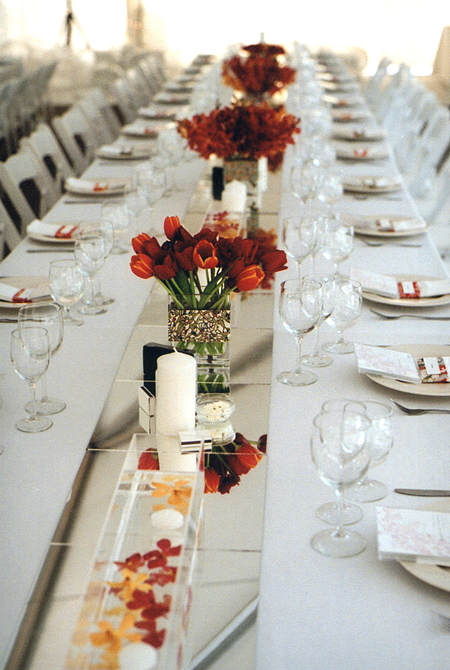 The mirrored tiles we bought from Home Depot! The plexi troughs we had custom made and we still have a few floating around that we reuse.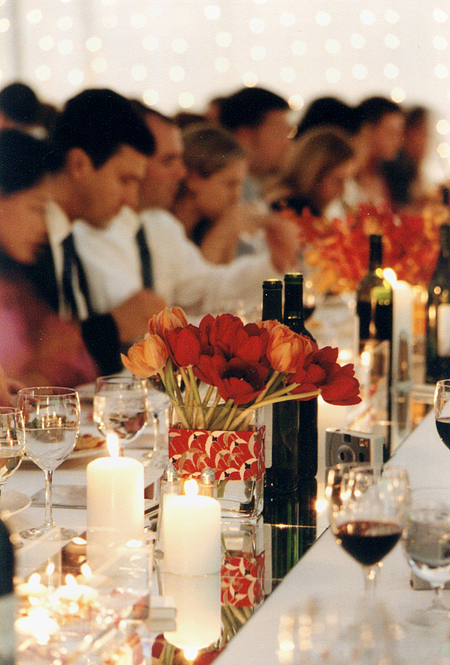 Picture this fave shot of mine with electro-lounge music playing in the background: so reflective of the feel we were going for! At this point I should mention that we had such a talented and genuinely nice photographer, Robert Marcos, who shortly thereafter chose our wedding to feature in Grace Ormonde Wedding Style! It is a little surreal to see your mug in print. (I should also mention these are scans from FILM prints — yes, it was that long ago.)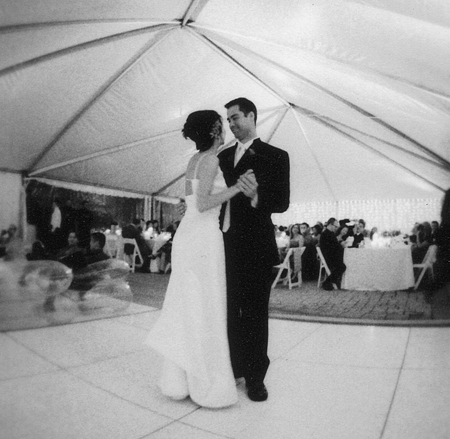 Not sure if you can see to the left, we set up a lounge area next to the bar with clear blow-up furniture that we lovingly called "The Bubble Lounge."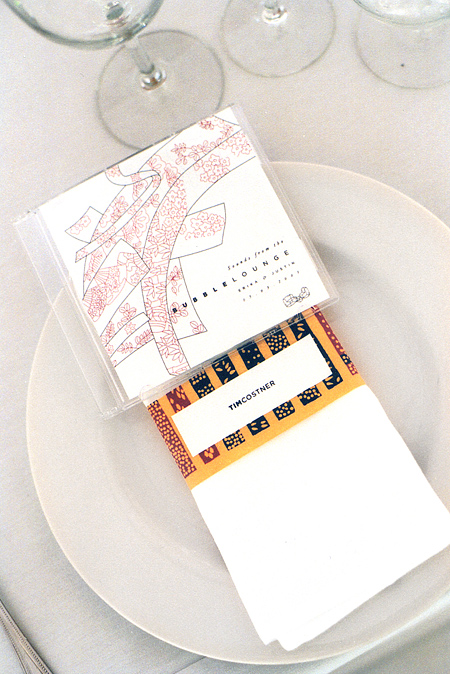 This was definitely a D.I.Y. wedding, for sure. Let me advise against burning 100 cd's as favors, on your own. But it makes us feel better that people still tell us that they listen to it, even for dinner parties! Oh and we made all the napkin-wrap place cards too (I guess we had a lot more energy back then).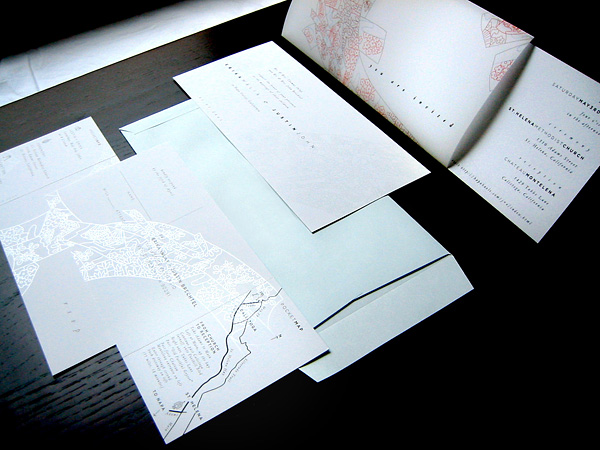 Here's the whole invitation suite: I'm not sure if you can tell the pattern is a clear high-gloss coating I had printed as an overlay. On the RSVP postcard, we included a tear-off "pocket guide" with pertinent details and a map. As mentioned above, the whole set was inserted into a translucent enclosure that yes, you guessed it, we printed, folded and glued ourselves. The envelopes came all the way from Japan from a really sweet co-worker at the time in our Tokyo office. Oh I almost forgot, these won a design award!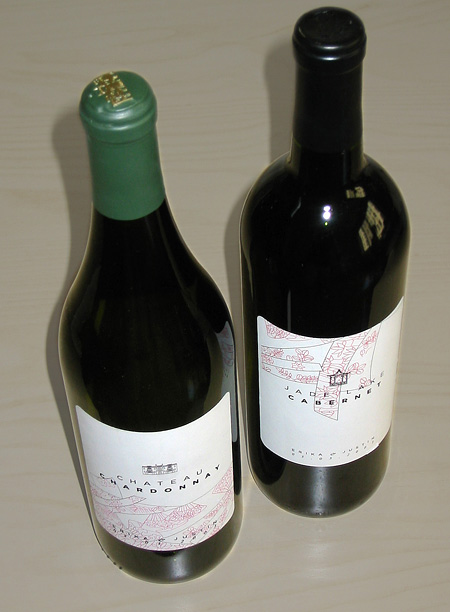 A fun detail: I created coordinating wine labels (and printed them on Avery labels) for the two varietals we had free-flowing throughout the reception. The little icons I drew were great for the "pocket guide" above…bonus!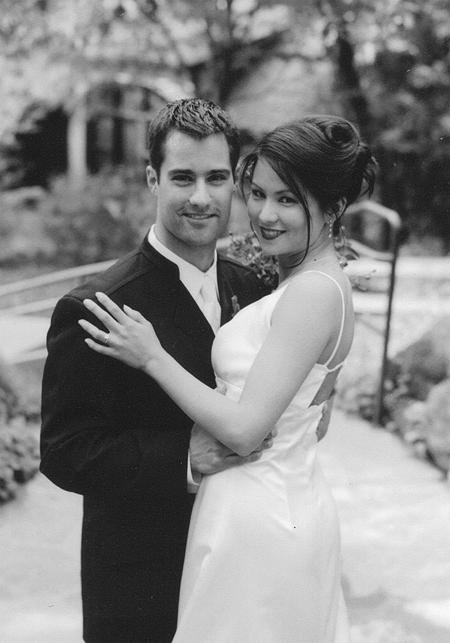 Us — as he would say, "when we were young and optimistic." LOL!
Happy Anniversary to the only one for me!