Another fun side project in the works!
It started with a simple question posed in an email to me: Where does one find cute, stylish crib bedding that's not gonna break the bank? Despite being somewhat bitter that DwellStudio launched their line for Target right after I had purchased the pricey real deal, they were definitely my first stop. I was thrilled to find they've launched a new collection since then, including the adorable "Menagerie" pattern below — giraffes, elephants, camels and hippos in subtle shades of warm gray, terra cotta, pea green and light gray-blue. Instantly inspired, I offered to mock up a board for the mommy-to-be (as long as she let me used it as a blog post, of course!). You wouldn't believe the selection of vintage-y items from major retailers like Urban Outfitters and Anthropologie! I had so much fun the other night putting this "first draft" together for her, and luckily, she loves it!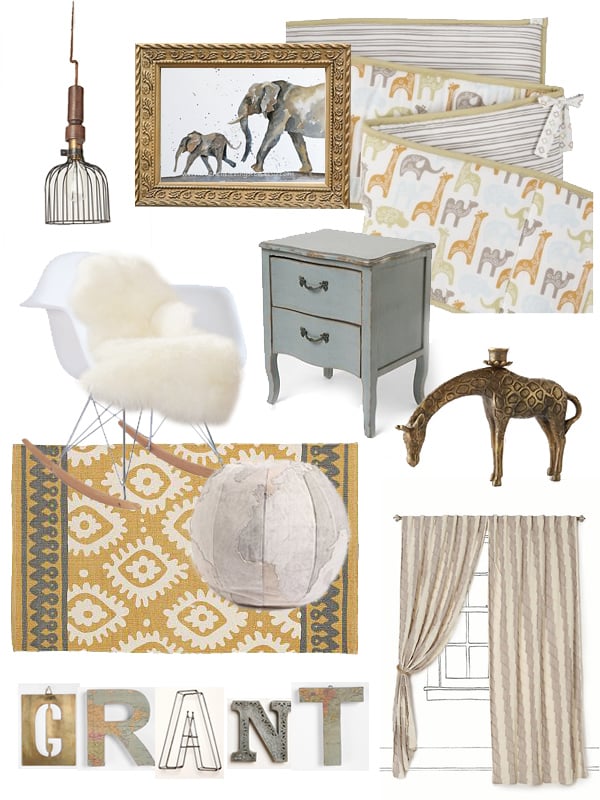 3-pc crib set:
"Menagerie", DwellStudio for Target, $79.99 (!)
Cage pendant light:
"Mechanic's Beacon Light", Anthropologie, $148
(be sure to check out the other similar styles, and sconces!)
Elephant painting:
"Elephant Baby Leading the Way", Rachelle Levingston on Etsy, $25
 Side table:
"Lola", Urban Outfitters, $179
Rocker:
Eames molded plastic, Room & Board, $479
(knock-off version: Amazon, $159.99)
Sheepskin:
RENNS, IKEA, $24.99
Rug:
"Jaipur Printed Dhurrie", West Elm, $79 for 3'x5′
Ottoman:
"Globetrotter Pouf", Urban Outfitters, $149
Giraffe taper:
"Antiqued Giraffe Taper, Bending", Anthropologie, $38
(I had a really difficult time deciding on which one of the three poses to get…all are super cute)
Curtains:
"Waving Stripes", Anthropologie, $108-$168/panel
Letters:
"Industrial Stencil Letters", $8 each
"Around the World Letters", $12 each
"Wire Frame Letters", $10 each
"Acid Etch Letters", $10 each
(I used this name just for fun…not giving anything away I swear!)
With this, I had sent her a few options for each piece, and I'm thinking we definitely need to do a gallery wall too…so stay tuned for the next round!