The thrift store find is quite happy in my home
You may have seen the end result on La Dolce Vita yesterday — and by the way how honored am I that the lovely Paloma Contreras featured my home? Can I just take a moment to tell you how much I admire everything she has done and is doing…what a discerning eye, an inspiring self-starter, right? High Gloss is quickly becoming my favorite online magazine (sorry Lonny). She's really got it going on and it's been such a pleasure to have any small part of it. Seriously.
Back to the étagère: after rescuing this stunning piece from a local thrift store and giving it a decent cleaning, I started in on moving things around in the office, doing a ton of purging, and having some fun accessorizing. It can't all be eye-candy however, as this unit is my primary means of storage and organization so needs to be "styled" somewhat practically (a.k.a. boring).  But perhaps this is a good discussion to have: how to make it pretty while remaining utilitarian? Here are the guidelines I tried my best to follow, and I'd love to know if you have any other tips!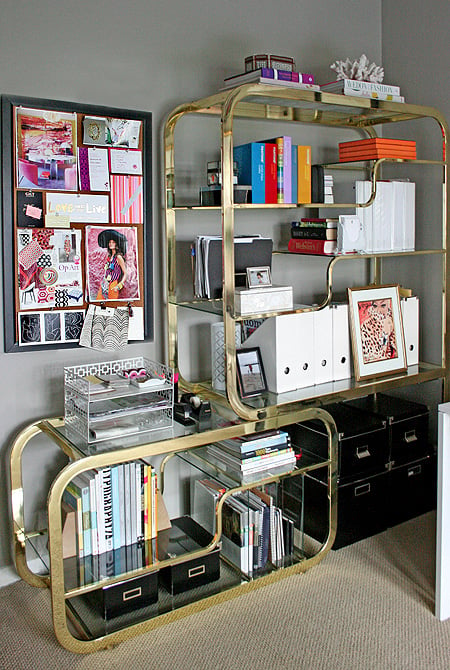 1. De-clutter with matching binders, storage boxes and magazine files.
It doesn't hurt to remove book jackets, too.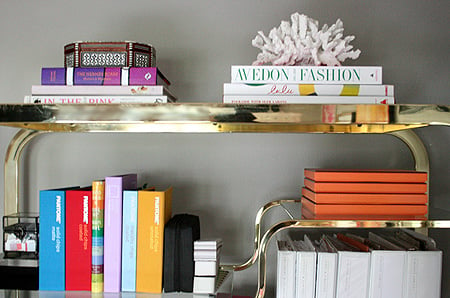 2. Divide and conquer: group books into smaller groupings,
and switch up the orientations (horizontal vs. vertical).
Bookends – and items used as bookends – are your friend!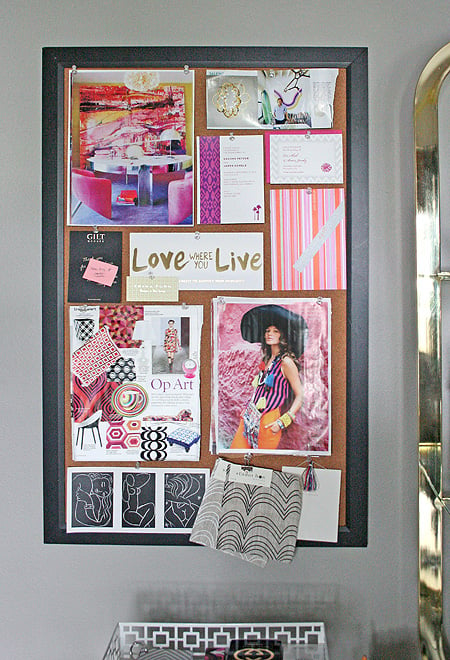 3. Create a pin board based on a consistent color story, for visual uniformity.
These pieces provide daily inspiration for me, and I switch most out every month or so, depending on
stories I've pulled out from that month's magazines (or pieces I want to be sure to refer back to).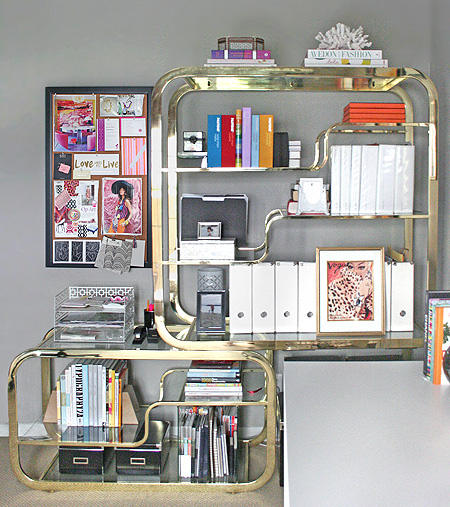 4. Layer, layer and layer: put framed pics in front of files and on top of boxes,
add accessories atop books, put higher items behind shorter items. Mix it up and play around!
And by now you know, I'm all about a budget buy: so, the Moroccan box (top shelf, left) and stone bookends (bottom unit) are Homegoods finds, the white coral is from Crate & Barrel, the white Jonathan Adler-esque tiered file sorter and black/Lucite box are both from Target, and the orange Hermès boxes were found on Craigslist (which I use for storage too). The black storage boxes and white magazine files are from IKEA, and the black file folders were a Staples online order (shipped to the store to avoid shipping fees, of course!).
I still find it a little hard to believe that I got this for such a steal, and that it actually holds everything I need! I'm remembering back to when I first peeked into the store window and gasped when I saw it. I thought, am I crazy? But here I am, I absolutely love it and am so so happy that I went for it. And perhaps someday I will start up that record collection to fill those bottom slots. ;o)
Happy weekend!
p.s. Who got my "delicious" reference?