Lauren over at Stylized Existence asked me to create two looks with one piece pulled from my closet for you today. This black Joie dress — a.k.a. the most versatile piece for summer ever — is silky, short, swingy, and simply perfect for a number of warm weather occasions that I decided to style 5 looks! So here are the first 3, then hop over there to see the other 2…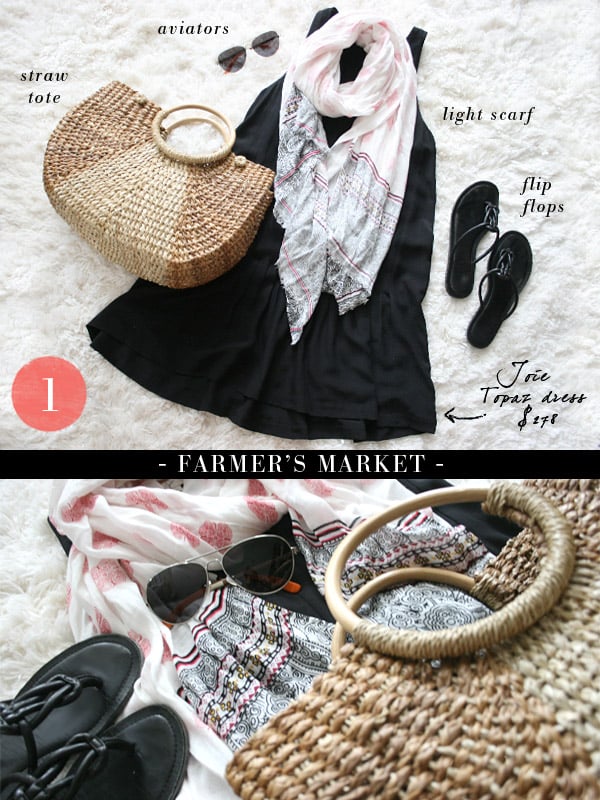 1 . FARMER'S MARKET:
Joie dress, $278 // straw tote, $39 (similar)  // Target scarf, $15.99 (in-store)  // TOMS aviators, $139  // black leather flip flops (old), $139.99 (similar)
2. BRUNCH SHOWER:
Joie dress, $278 // J.Crew scarf, $65 (in-stores) // wicker clutch (old), $88 (similar)  // bamboo bangles, $14.99 (similar) // leopard sandals c/o ShoeMint (sold out), $49.90 (similar)  
/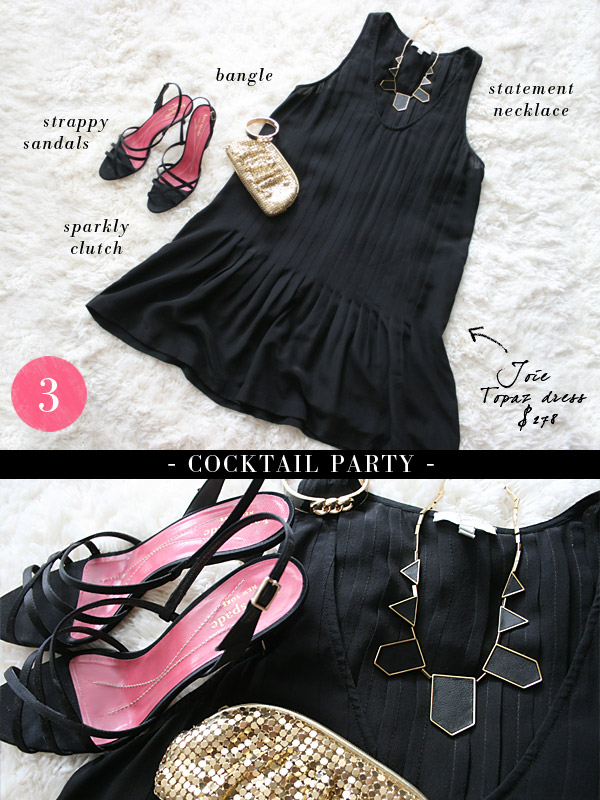 3. COCKTAIL PARTY:
Joie dress, $278 // House of Harlow 1960 necklace, $75 // gold sequin mesh clutch (old), $74.40 (similar)  // black link bangle, $25  // Kate Spade black strappy sandals (old), $295 (similar)
/
The last 2 looks on Stylized Existence I'm calling "Everyday" and "Date Night." If you see anything you are itching to get, here are some links for those:
4. EVERYDAY:
Joie dress, $278 // TOMS aviators, $139  // long chain necklace (old), $69.50 (similar) // Hayden-Harnett cross-body fringe bag (old), $88 (similar) // Jellypop wood platform sandals, $54.99
5. DATE NIGHT:
Joie dress, $278 // Hudson white denim jacket, $158 // Mae Badiyan necklace, $50 // Rebecca Minkoff studded clutch, $225 // Pierre Hardy python sandals, $196 (similar)
(Sorry to make you jump back and forth…I was trying to be a good guest blogger and not ruin her lovely template!)
Happy Monday!
** Only 4 days left to win $300 from HomeMint! **
Every repin from my "Vintage Eclectic Home" board is an entry (and helps me win the HomeMint Guest Editor contest too)! Cheers!