Working it out
Do you ever feel paralyzed by all the projects you've got going on in your home? That's how I've felt lately. There are so many things I want to do that I don't know where to start! I'm slowly acquiring pieces for my daughter's big girl room, but a first priority for me is to redo my office gallery wall. I've had it up for a while now, and it's just not inspiring me like it used to. I'm not quite sure yet how it's all coming together…some thoughts…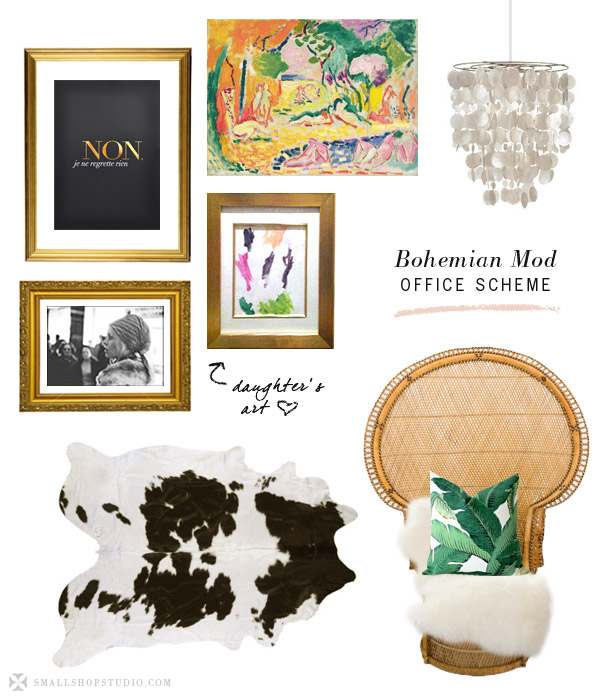 ART: I purchased the "Je Ne Regrette Rien" print (love!), and picked up this Matisse print from the Met while in New York. My daughter has been painting up a storm so I'll definitely need to incorporate a piece or two of hers. And thinking a black/white photograph or something from the late 60's-early 70's à la Brigitte Bardot will set the right tone.
PIECES: After I did that post on peacock chairs, I had to have one! I could never get the banana leaf Martinique-esque pillow out of my head…finally ordered it. And of course I'll incorporate my capiz shell pendant and sheepskin.
RUG: Can't decide….cowhide? Or black/white striped? Or Persian? That piece may take a little longer to acquire, and I'll wait until my gallery wall is done.
Thanks for bearing with me! As you know, sometimes I have to use this blog to figure stuff out, in order to move past the paralyzation!
Hope you had a great weekend!
And don't forget to enter to win a Christian Louboutin original watercolor illustration!