It's my birthday!
Celebrating tonight at our favorite wine bar, with a magnum of 1999 Chateau Montelena cab (thanks Dad!) shared with good friends. In the meantime, I'll be obsessing over these picks…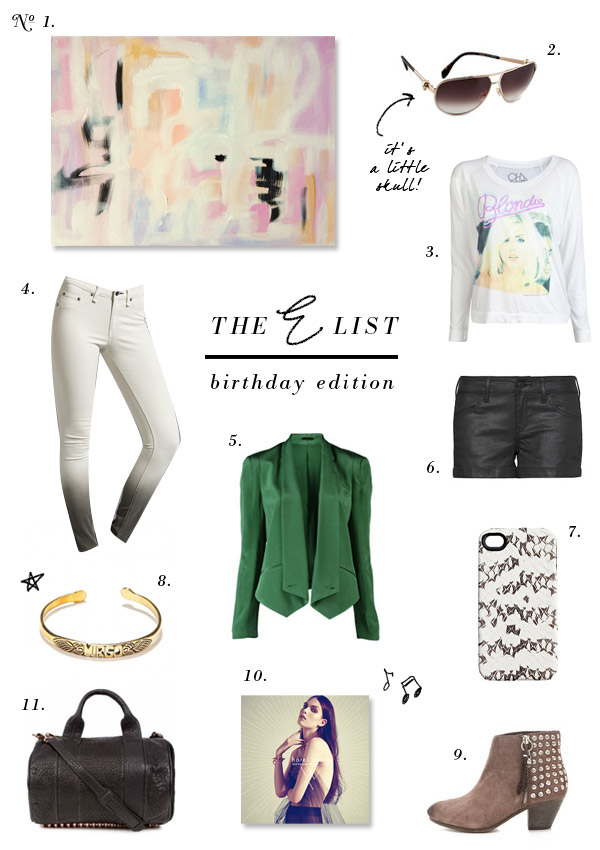 Just one piece left to finish my gallery wall! Loving everything from Wink of Pink. How does one decide?
"Jane" 12×16, $103.36
 Little skulls? I don't think a pair of sunglasses ever rocked this much.
Alexander McQueen aviators, $360
 If I'm not bold enough to invest in leather shorts, a waxed version will be mighty fine.
Mango waxed shorts, $44.99

  An "I.D." bracelet for this double Virgo (can you tell?).
Virgo bracelet, $48
 Hotel Côstes: the epitome of Parisian chic lounge music. I have the first 14 volumes, but seem to have missed this one (they're released every year in September).
Hotel Côstes vol. 15, $17.99
/
Hope you have a great weekend!