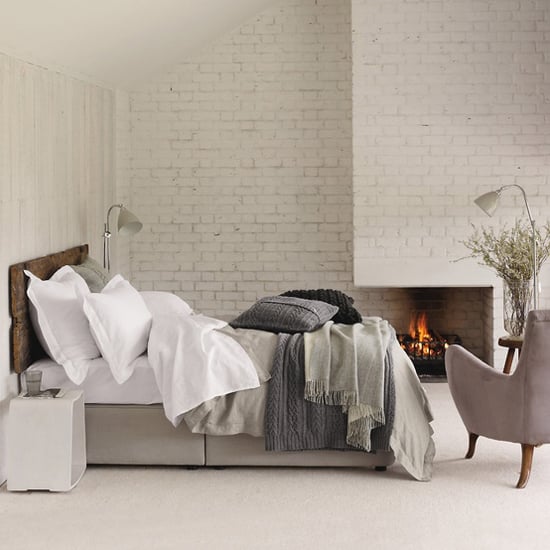 I've been helping a friend decorate her new place, and have even gotten to tear down walls on the floor plan and select finishes for her floors, bathrooms and kitchen! We started demo yesterday and are moving full speed ahead with white carrera marble countertops, limestone fireplace, and espresso wood floors. Here's what I've been cooking up for the furnishings…

MASTER BEDROOM
Osborne & Little "Asuka" wallpaper, $152/roll // headboard, $499  // wing chair, $279  // faceted side table, $199  // blanc de chine lamps (vintage) // fur pillow, $19.99 // white lacquer desk/vanity, $499
DINING ROOM
bookshelf, $70 // capiz shell pendant, $299  // black & white striped rug, $399  // "The Draper" faux python bar table, $289  // dining set (previous purchase by owner)
LIVING ROOM
silver cow skull, $169 // mid-century side table, $249 //  lounge chair, $249 // sheepskin, $29.99 // faux fur throw, $24.99 // ivory/gray criss cross rug, $249 // floor lamp, $379  // gray flokati pillows, $19.99 // leather sofa, $879 (brown velvet sofa previously purchased by owner)
ENTRY
runner, $69.99 // console table, $253 //  side chairs, $598/pair // mirror, $349 // horn lamp, $149
  /
She is half-Japanese like me, so I'd like to incorporate at least one more Asian item without going overboard — perhaps a long scroll or a textile? Otherwise, I've really tried to select items that are readily available and reasonably priced (with the exception of the wallpaper but that will cover just one wall). We are still working it all out and will most likely move things around as we go. So far, we have been particularly inspired by rooms like these: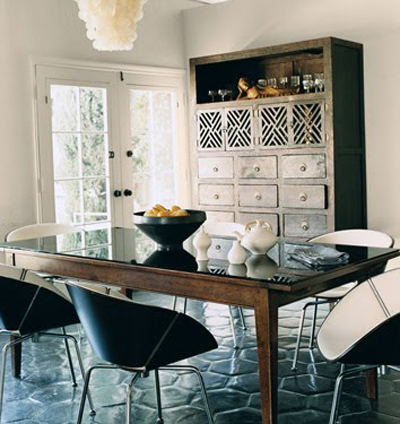 Claire Forlani's dining room by Estee Stanley in Domino
/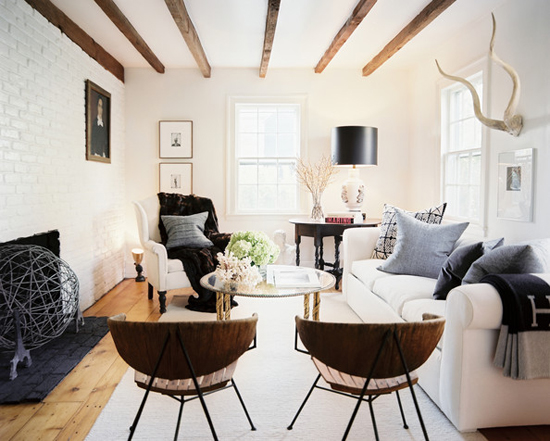 Ari Heckman, Lonny November 2012
/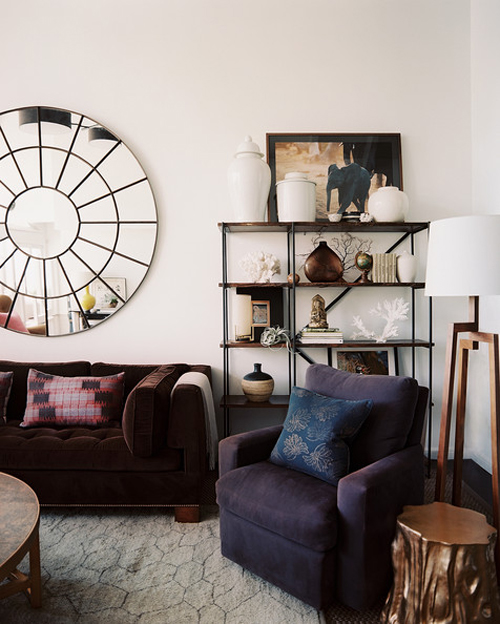 Joe Lucas, Lonny September 2012 
 /
I've been having so much fun and she's been the easiest "client" ever! Can't wait to share photos!
Have a great weekend!