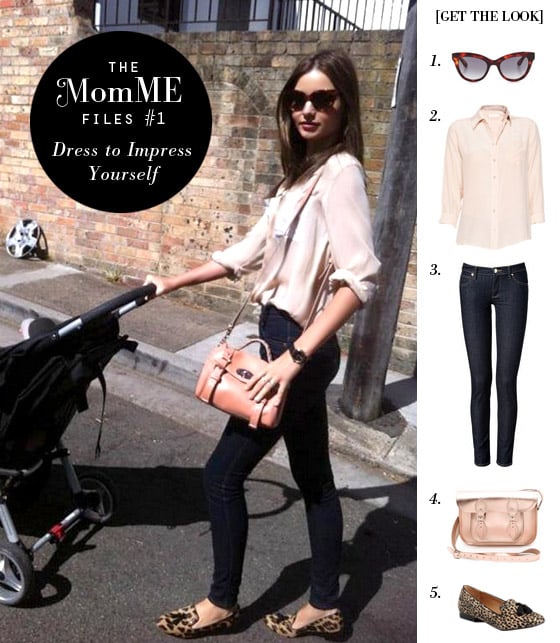 Motherhood begins when you first start trying to conceive a child. You make changes in your life for the sake of a little one, but often we as women neglect our own needs for years (some, a lifetime). I personally don't think it needs to be so black and white, and I strive for balance — I know that I am a better role model for my daughter if I am happy and have my own sense of self going on. So although I blushed and chuckled when asked by readers about my post-baby beauty and diet "tricks", I realized there are little things that I've done to give myself "ME" back (and I bet you have too!). And then I thought, hey, great series for the blog! So, welcome to the first installment of "The MomME Files"…
Today's topic involves something I've talked about before, and that's to Dress to Impress Yourself (day & night!). As soon as I could ditch those nursing tanks and belly bands, I've been incorporating a few easy tricks that have helped me on a daily basis:
/
WEAR WHAT ONLY MAKES YOU FEEL MOTIVATED, IN AND OUT OF THE HOUSE
I work from home, and most often I don't see anyone but my two dogs all day. But I still make sure that I feel stylish before I leave my bedroom — it makes me more productive for my stylish clients, and gives me confidence to accomplish what I need to get done. I even wear heels at my desk! And maybe for you it's workout clothes or a favorite piece of jewelry. Just getting dressed in something that makes you feel good about yourself will affect your entire day in a positive way.
/
INVEST IN MATCHING UNDERGARMENT SETS
After you have a baby, your body changes. Definitely get re-measured! And then have some fun. Start off with one or two sets. Even if no one is going to see them but you, you know you've got something going on, for yourself. It's empowering!
/
DITCH THE PJS, OPT FOR NIGHTGOWNS!
I'm all for feeling cozy at night. But a nightgown and robe make you feel more like a woman than flannel pajamas or sweatpants ever will. Period. Give it a shot!
/
What do YOU do to feel like yourself again in the clothing department? 
These are just a few small changes that can potentially make a big difference in your daily outlook. Perhaps there's an idea here you've wanted to try? Don't feel guilty moms! You deserve it. Go for it!
/
In follow-up installments, I was thinking of touching on beauty, diet & exercise, personal growth, the social life and the home life….but I am by NO means an expert, I just know these little things have definitely helped me. I thought I'd ask some fellow blogger moms to give us their tips too.
And I would love to make this a discussion for ALL WOMEN, not just moms! Let's hear your thoughts and suggestions below!