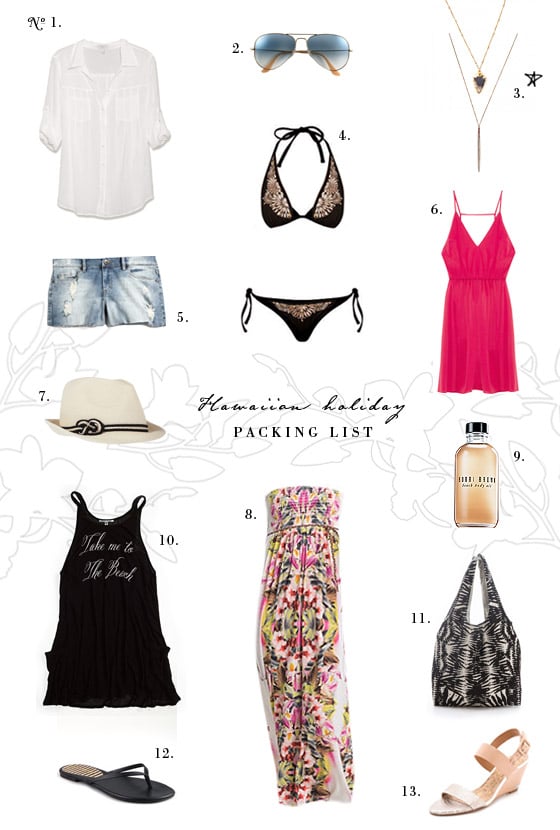 It's Aloha Friday, and time to pack for Hawaii!
I'll get to be with my entire family in a beach house for a week, which means lots of lounging and sun time (plus a dinner at Nobu!). So as long as I've got my beachwear and a few dresses, I'm good to go…
1. Joie "Pinot" blouse, $168  / 2. Ray-Ban aviators, $150  / 3. **Gold & Gray mini agate arrowhead necklace, $120 & long gold spike necklace, $99 ** / 4. Laundry by Shelli Segal bikini, $130 / 5. Blank Denim cutoff shorts, $78 / 6. Alice+Olivia "Arlen" dress, $297 / 7. Eugenia Kim hat, $265 / 8. Velvet by Graham & Spencer maxi dress, $178 / 9. Bobbi Brown "Beach" oil, $30 / 10. Wildfox "Take Me to the Beach" coverup, $98 / 11. Twelfth St. by Cynthia Vincent bag, $85 / 12. Splendid flip-flops, $49 / 13. Sam Edelman sandals, $125 (also in black)
But I was so disappointed to learn that Bobbi Brown discontinued her "Beach" sunscreen spray! I love it so much I even wear it when I go out on warm summer nights. (Thankfully, I still have some left and will cherish every last drop.) I will have to give the oil a try next.
** And when I return, I'll be hosting a GIVEAWAY of one of the Gold & Gray necklaces above!!! **
Have a great weekend!