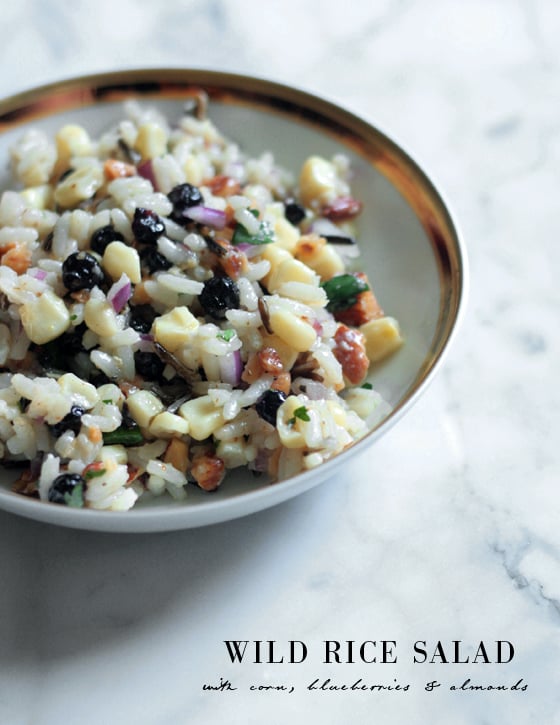 Hope everyone had a great weekend! Mine was tons o' fun that ended with a BBQ at a friend's beach house (wait…my apologies, my Southern friends informed me that I should be calling it a "cookout!"). One of the dishes I brought is a wild rice salad that is pretty much guaranteed to always be a hit: the combination of sweet, salty, crunchy, and tang make for a versatile side that pairs well with seafood, grilled chicken, steaks…anything goes! It's an interpretation of a recipe from Gulfstream restaurant in Newport Beach, with a few modifications to make it even easier in my busy schedule…
/
WILD RICE SALAD WITH CORN, BLUEBERRIES & ALMONDS
Makes 4-6 side servings; Prep 20 min.
Salad:
1 box wild rice
1 can sweet white corn
1/2 cup dried blueberries
1/4 cup red onion, minced
1 cup smokehouse almonds, crushed into pieces
3 tablespoons Italian parsley, chopped
/
Dressing:
2 tablespoons pear or Champagne vinegar
1 tablespoon Sherry vinegar
1 teaspoon Dijon mustard
1 pinch curry powder
4 tablespoons olive oil
salt & pepper to taste
/
Preparation:
Cook wild rice according to package directions. Let cool to room temperature.
Mix all other salad ingredients in a large bowl. Add rice.
Whisk together dressing ingredients and pour over rice mixture.
GREAT for summer BBQs (I mean… cookouts)!
And best of all, it was easy to let my 4-year old help me make it!

Photo by Erika Brechtel