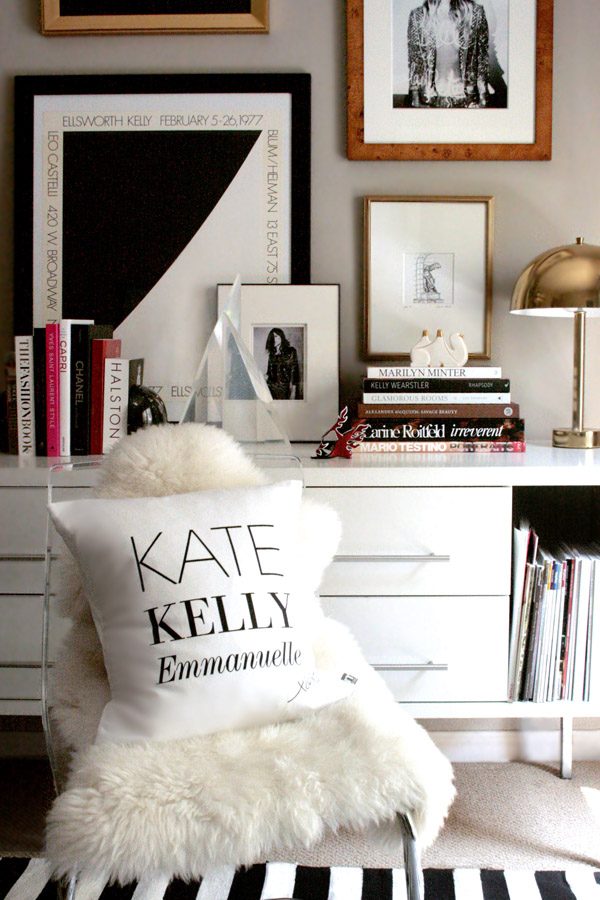 For my third "birthday month giveaway" I am thrilled to offer one lucky reader a personalized pillow from Michelle Dwight Designs! You've seen their super fun designs on Society Social, and now I get to offer a design of my own, customized with your "three muses!"
My pillow — Kate/Kelly/Emmanuelle, obvs. — I pulled in for my photo shoot at the last minute, but it's actually quite meaningful for me. I wanted to create a piece for my office that honored my work/my passion, as well as represented my personal style I've developed through the years. Not an easy task! But inspiration struck as I thought of one of my branding guidelines: "have a muse" (or two or three). I tell all my clients this for their business brands, and it's equally relevant for your personal brand — that ruler by which to measure, "what would [insert muse here] do?"
Who are your three muses? Miranda/Rosie/Mary-Kate? Olivia/Jenna/Bee? Brigitte/Debbie/Bianca? Maybe it's your three fave musicians, three fave writers or three fave activists? Let's create the perfect piece just for you!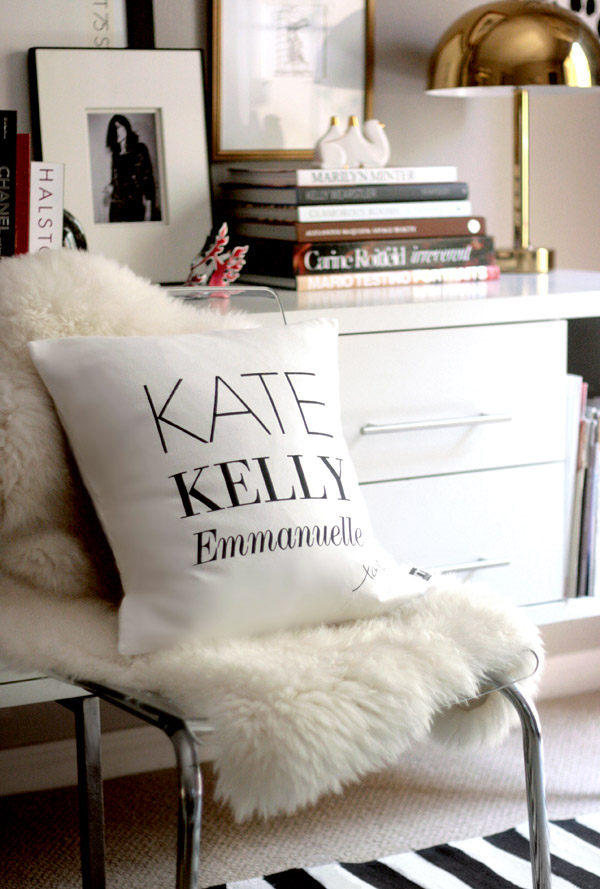 TO ENTER:
Comment below who your muse(s) might be (I won't hold you to it!)
Like Michelle Dwight Designs on Facebook
Follow Michelle Dwight Designs on twitter
Or follow Michelle Dwight Designs on Instagram
Extra entry for mentioning the giveaway on any of the above!
@smallshopstudio @michelle_dwight #BdayMoGiveaways
…comment below for each entry…
Winner announced next Friday, 8/23/13. Good luck!
/
And last week's giveaway winner (chosen by random.org) is:
LEXI
Congrats! I will contact you for shipping deets!
**Please note: the winner will receive two rounds of design by Erika Brechtel, and a 16″ square silkscreened pillow cover from Michelle Dwight Designs (insert not included) for a $165 combined value. By entering this giveaway, you are agreeing to the website Terms of Use.
 Photos & styling by Erika Brechtel