Tip #1: Strike a pose! Several, actually…
Lately I've been attempting to use my Instagram account as a way to experiment and have fun with photo styling. To do so, I've been integrating a new bag of tricks. I think it's all in the angle, cropping and effects, and here I'm sharing a few of my secrets (shhh!)…
First things first, download the app VSCOcam, like right now.
No.1 THE BLACK & WHITE PORTRAIT
Friday night, my husband and I stepped out for a date night across the street, and I had him take a few quick snaps of me against a blank wall along our walk. I knew I wanted it to be an off-center shot and black & white, but it was fun to strike a few poses and we got a good laugh out of it.
The off-center effect (tough to get sometimes in square format) always looks more artsy to me.  And I think people photos/portraits look better in black & white. What do you think? (I intentionally cropped this one in close to focus on the accessories.)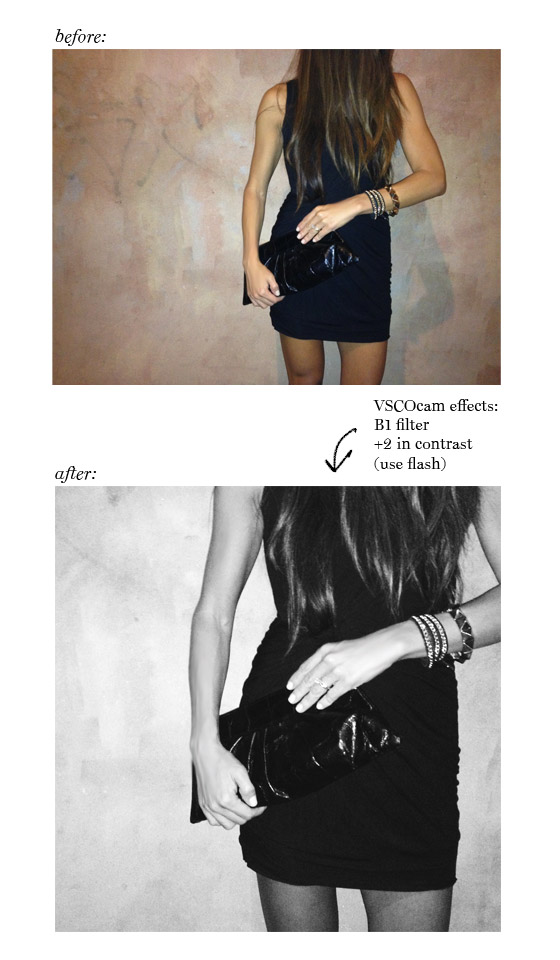 No. 2 THE OVERHEAD SHOT
I've been using this one a lot lately.  I like both very stylized/perpendicular prop shots as well as the "randomly placed" prop shots. I usually like these to be very bright, almost overexposed. Desk shots or outfit shots on the bed always work well using these effects. And try using a white backdrop.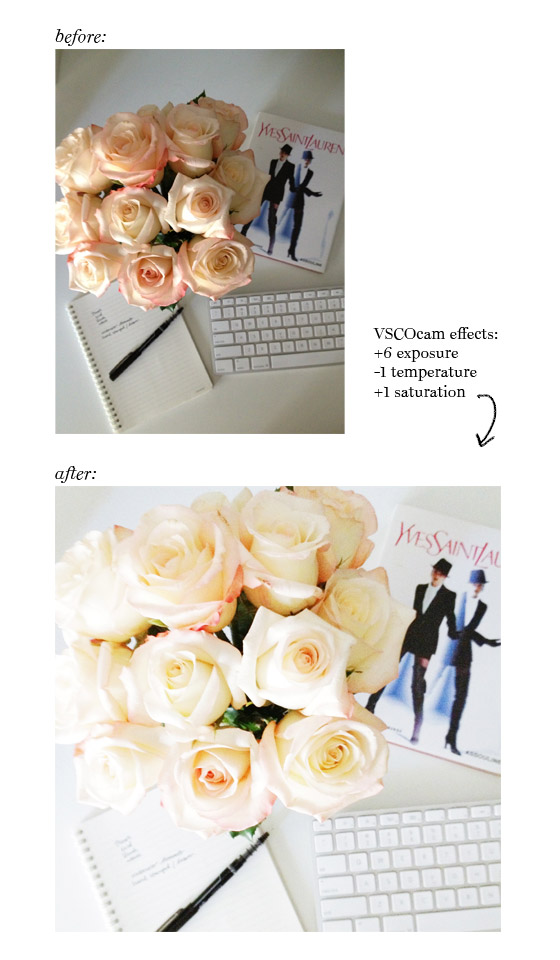 No. 3 THE SCENIC SHOT
If you haven't noticed, I like palm trees…a lot. It might be the Hawaii girl in me, but every chance I get I try to catch them in different ways: a beach scene, a sunset, a blue sky shot. In every one, they're abstracted in some way: off to the side, as a sculptural element, or in the foreground framing the shot. Oftentimes we're not so lucky to capture an amazing nature shot (#nofilter) so here's how I'll make my own: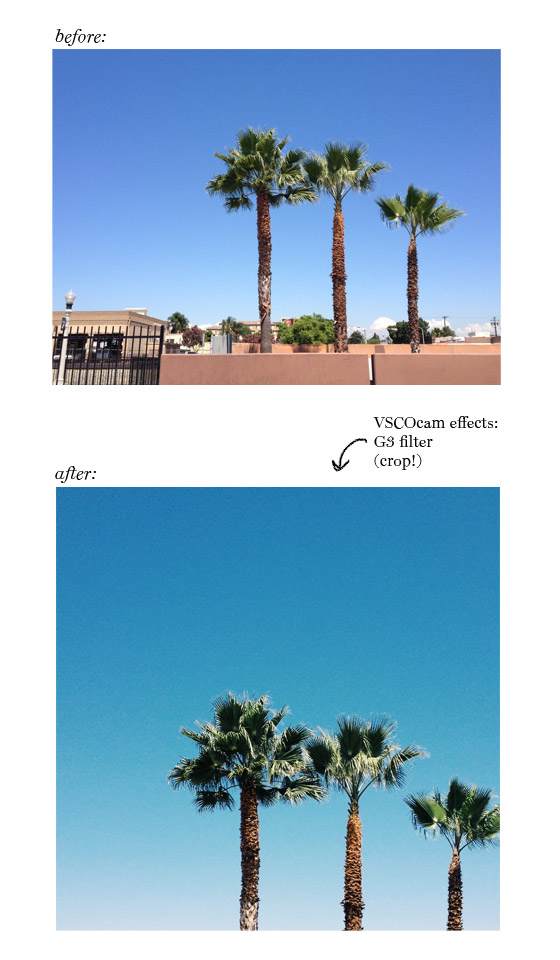 No. 4 THE STRAIGHT-ON SHOT
Another angle I use in my shoots for work as well as on Instagram that always proves to be successful is the straight-on shot. I don't know if you've noticed that this simple angle is used in interiors photography quite a bit, and is without fail the most striking. (Patrick Cline's photography for Lonny is a great example.) If you can, always go for the straight-on shot, rather than at an angle.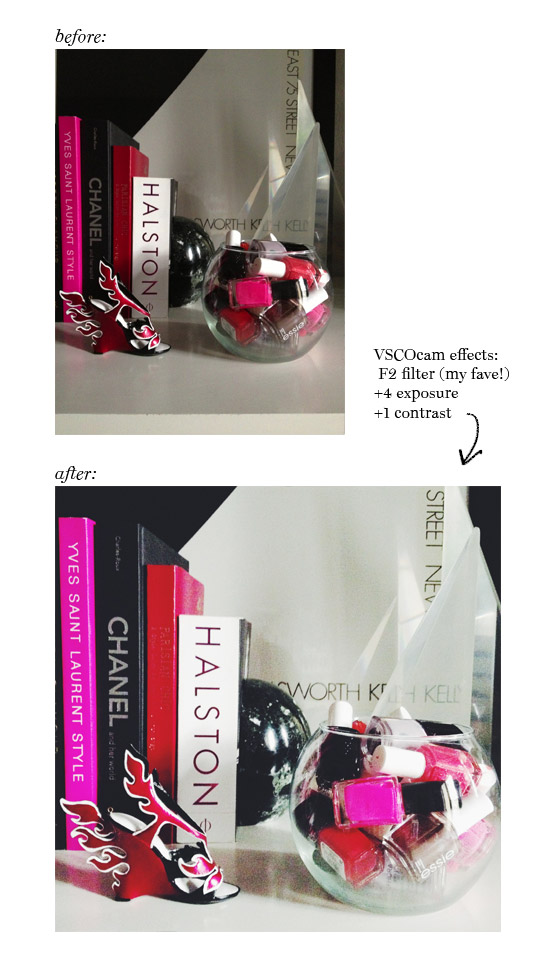 No. 5 THE WHITE SPACE SHOT
It's crazy how much better a shot will look with the subject matter cut off or off to one side, and unframed. If you're going for an angled shot, this is a great way to keep it contemporary, especially if overexposed.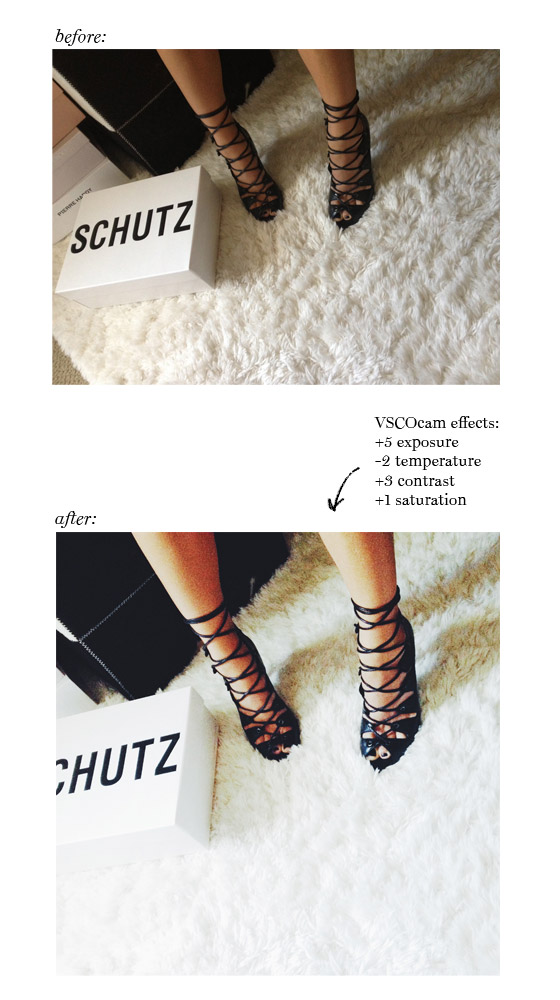 Overall, my latest rule of thumb has been "the simpler and brighter the better."  What are your favorite tricks?
Have fun!!!!
…and come join the party on Instagram!