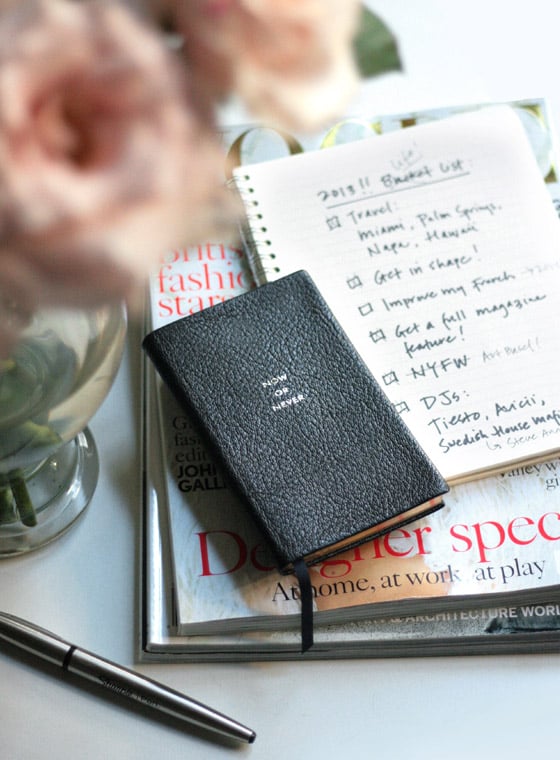 2013 was a big year for me in a lot of ways. At the start I absolutely dreaded it due to a looming birthday, until a friend inspired me to make a bucket list for the year. It was a surprisingly uplifting exercise to think about what I wanted to accomplish personally and professionally, for just plain fun and for growth. Because of that proactive outlook, I got to check off a lot of items big and small on my list, and felt really good about it all by the end of the year. (And I got to add some great memories in my little black "Now or Never" book!)
Recently another friend told me she calls her bucket list a "life list" — I really like that! So while I have some big ticket items on my life list, here are a few manageable ones that I've got up for 2014…
1. Improve my French
This is one I did not get to check off last year. It's been many years since I've taken French, and although I can read it somewhat and pass by if I had to, I'd really love to become fluent (also Italian, but let's not get ahead of ourselves!). Community college course, here I come…
2. Changes in my business
This I'm keeping to myself for now, but know that some big changes are in the works for 2014! I'm actually pretty nervous about it, but the time is right. (I promise all will be revealed by summer, although some pieces are being implemented as we speak!)
3. iOrganize my life
I know that I can be better organized with all the online tools out there. I'm working on syncing up all of my schedules, timecards, calendars, contacts, and tasks lists on all devices to be more efficient in everything I do — work-wise, family-wise, socially.
4. Purposeful travel
I got to take a lot of FUN trips last year (with some work-related bits thrown in). This year my travel will be about learning new skills and/or developing new business. Currently I've got six weeks in Miami in the works, which I'm super pumped about!
5. Become a better leader
As I've mentioned in the past, I'm on leadership with the Junior League of Orange County, CA. I've learned so much this past year, and I hope to continue in a role where I can help develop better volunteers and leaders. It's such a worthwhile experience that has made me a better person and business owner all around. I highly recommend joining a similar organization in your area!
6. Entertain more
I love to have people over for good food, wine and company. I will host a brunch, a dinner party, and a wine tasting this year. The first is being planned already!
7. Continue my fitness routine
2013 I was determined to be in the best shape of my life since playing collegiate soccer. Despite four knee surgeries and a very loose ACL, I've been able to do just that with cardio and weights 3-4 times/week. I've worked hard so definitely don't plan on slacking on that anytime soon! It's a fantastic feeling that keeps me young.
Of course, I also have some personal to-do's that I'm working on and am keeping to myself too.
In my lifetime? Italian Riviera, New Orleans Jazz Fest, Savannah, GA, and someday must-haves like a Burberry trench, a Chanel quilted bag, Hermès cuff and scarf, and a pair of Louboutins, to name a few!
So what about you, do you have a life list? What's on yours for 2014, and beyond? 
Once you make something a priority, it's remarkable what you can accomplish.
Let's inspire each other!

Photo and styling by Erika Brechtel