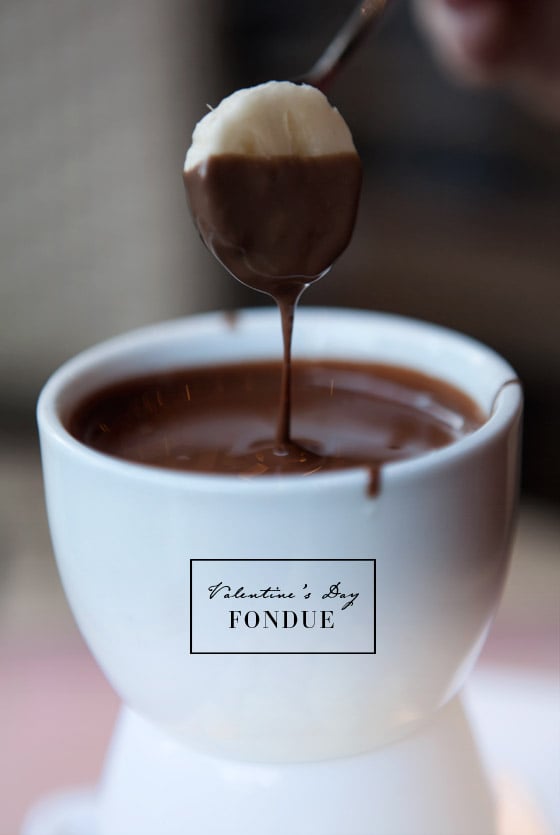 Happy Valentine's Day! Hope you're doing something fun today, with fun people! A friend of mine is hosting a dinner party, and I'm in charge of table decor and dessert. For the latter, I thought I'd make two chocolate fondue recipes and bring lots of yummy dippers (I definitely want to try bacon!)…
/
DARK CHOCOLATE FONDUE
12 oz. dark chocolate (or half milk and half bittersweet), broken in pieces
1-1/4 cups milk or heavy cream
1 teaspoon(s) vanilla extract
2 tablespoon(s) unsalted butter
2 tablespoon(s) chocolate liqueur, if desired (also try Myers Rum, Captain Morgan, Amaretto, Grand Marnier or Kahlua)
/
/
CARAMEL HAZELNUT CHOCOLATE FONDUE
16 oz. chocolate (milk, dark or semisweet), broken in pieces
1/2 pint whipping cream
1/2 cup caramel topping
¾ cup chopped pecans
3 tablespoons Torani hazelnut syrup
 /
/
LITTLE DIPPERS
Fruits: sliced bananas, apples, pears, peaches, tangerines, strawberries, raspberries, blackberries, blueberries
Sweet stuff:  angel food cake, graham crackers, marshmallows, brownie bites, amaretti, biscotti, crystallized ginger chunks, meringues
Salty stuff: bacon!
 /
I'll be sure to take lots of photos and share the bits of our little celebration!
Hope you enjoy yours!