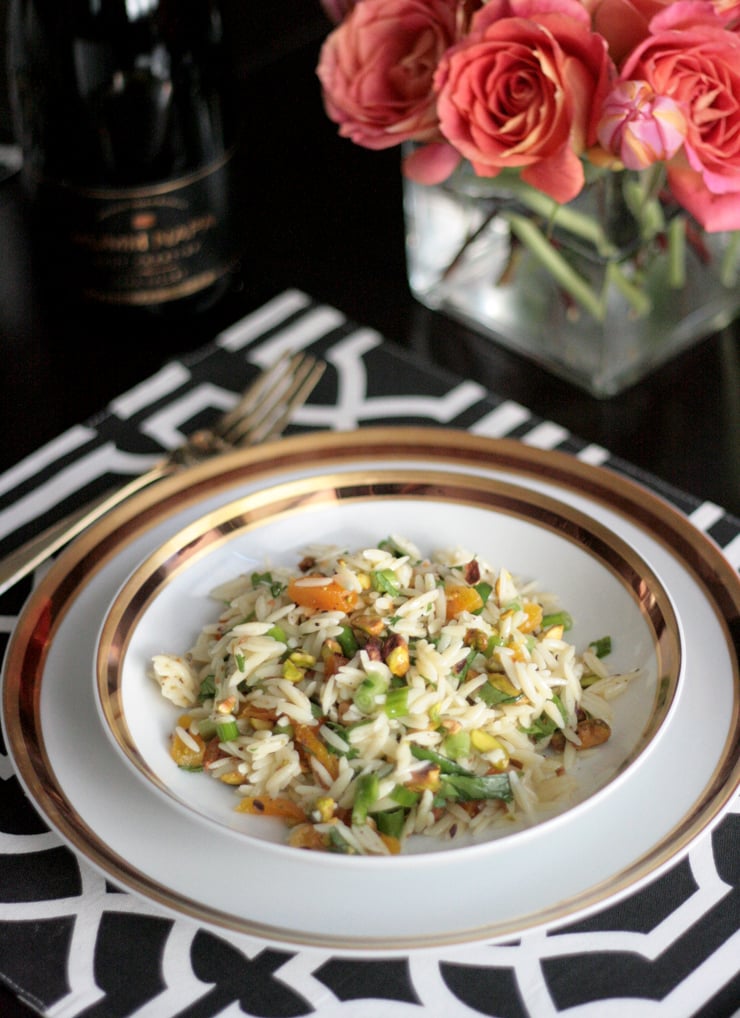 Hope you had a great weekend! I had a few gals over for Sunday brunch, and made this always-a-fave dish — a recipe from Aux Délices in Greenwich, CT that I originally found in a 2005 Bon Appetit.
ORZO SALAD WITH DRIED APRICOTS, PISTACHIOS AND GINGER
8-10 servings
4 oz. fresh ginger, thinly sliced (about 1 cup)
1 cup canola oil
12 oz. orzo or riso pasta
3 T. (tablespoons) fresh lemon juice
1-1/4 tsp. ground coriander
1-1/2 cups thinly sliced dried apricots
1 cup chopped green onions
2/3 cup pistachios, coarsely chopped
1/2 cup chopped fresh cilantro
1) Bring ginger and oil just to boil in heavy medium saucepan over medium heat; remove from heat. Cool ginger oil to room temperature; transfer to glass container, cover, and refrigerate for 1 hour. (Can be made 2 weeks ahead. Strain and discard ginger after 2 days. Keep covered and refrigerated.)
2) Cook orzo in large saucepan of boiling salted water until tender but still firm to bite, stirring occasionally. Drain orzo and rinse under cold water until cool. Drain well.
3) Whisk 6 tablespoons strained ginger oil, fresh lemon juice, and coriander in small bowl to blend. Season dressing to taste with salt and pepper. Mix orzo, apricots, green onions, pistachios, and cilantro in large bowl. Add dressing; toss to coat. Season to taste with salt and pepper. (Can be made 4 hours ahead. Cover and refrigerate. Serve cold or at room temperature.)
Enjoy!