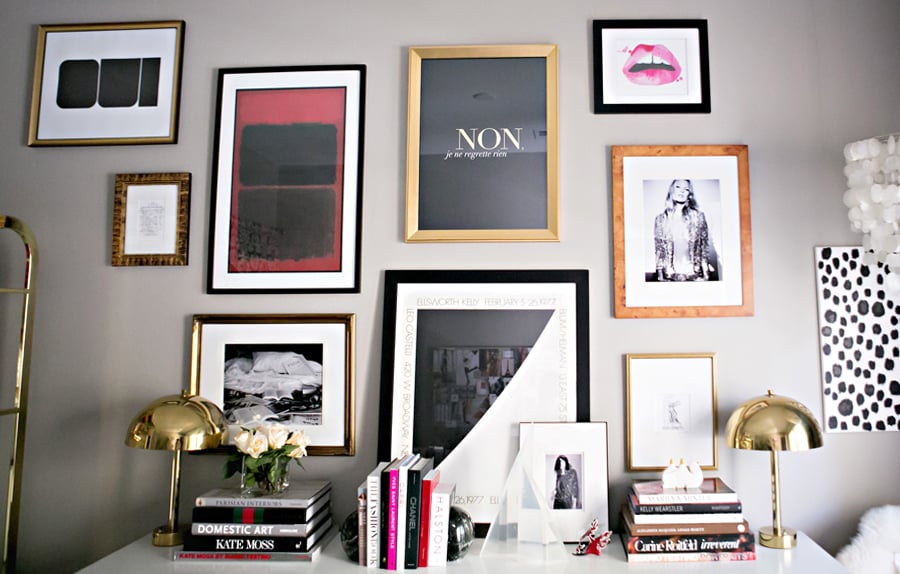 Back in 2011, I did a guest post for my dear blogger bud Tobe over at Because It's Awesome on the "5 Rules of the Gallery Wall." Because I've done three versions of a gallery wall in my office since, I thought it might be time to post those tips here on this page, with that handy graphic for reference.
Above: Gallery wall version 3 "Femme Modern" (2013)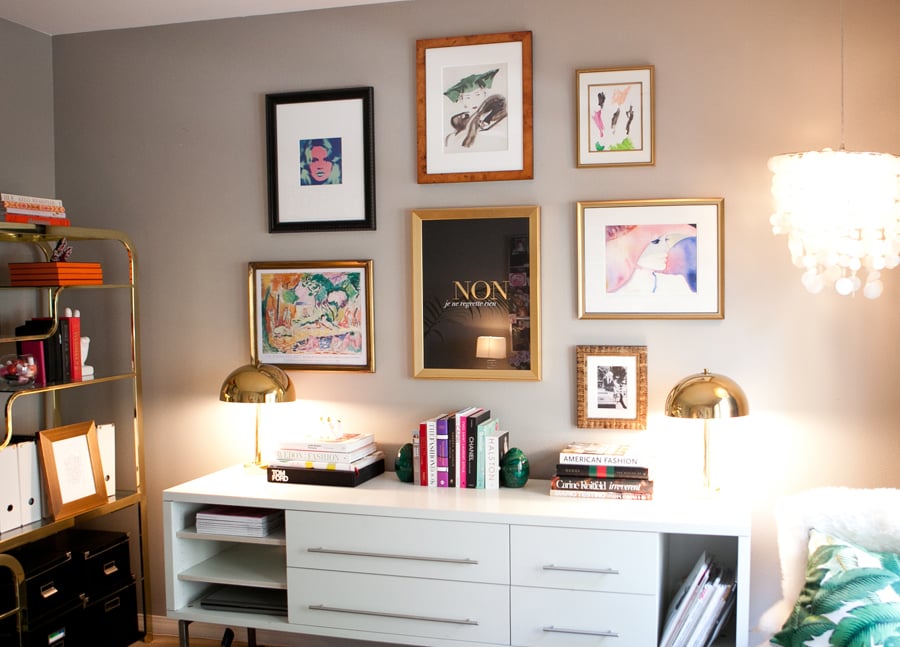 Gallery wall version 2: "Bohemian Mod" (2012)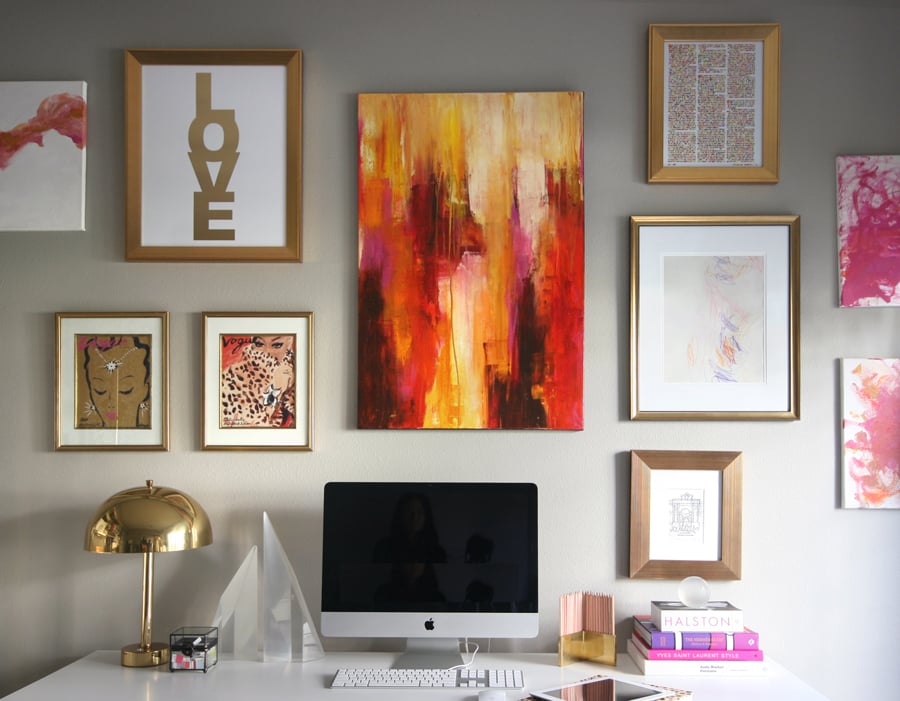 Gallery wall version 1: "Kelly Wearstler Inspired" (2011)
You can see I used a lot of the same frames, but switched out the artwork and placements.
Want to give it a shot? Try these tips in creating your own gallery wall: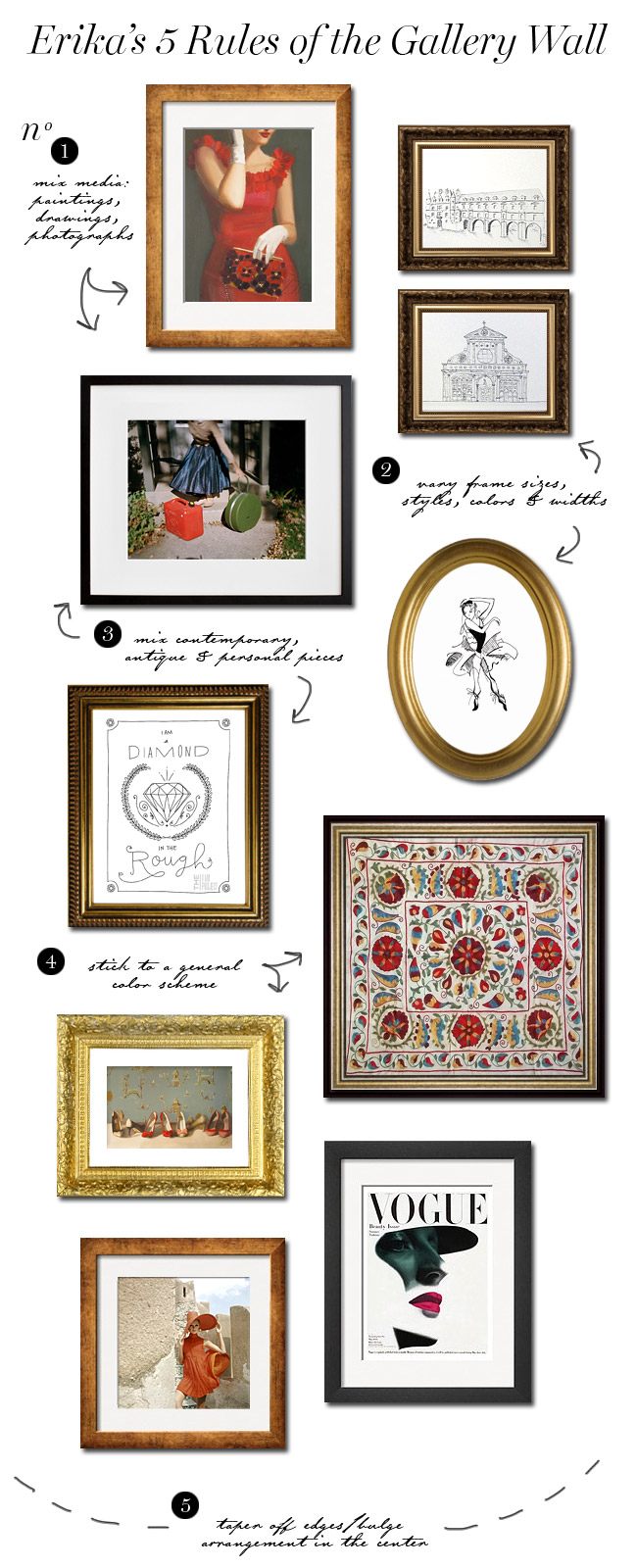 ERIKA'S 5 RULES OF THE GALLERY WALL:
No.1: Definitely choose your pieces from mixed media — illustrations, paintings, photographs, abstracts, even textiles…the more varied, the more interesting!
No.2: Vary your frame sizes, styles, colors & widths to give the appearance that the pieces have been collected over time. Often you can find great off-the-shelf frames (sometimes with mattes included!) at your local art supply shop. Also mix in a pair of frames.
No.3: Mix contemporary, antique and personal pieces to create visual interest. Dust off your old sketchbook and see what little wonders you can find. Or frame a piece or two of your kids' art. Mixing in those personal touches with store-bought prints will make it that much more special to you.
No.4: Stick to a general color scheme. Since you'll be mixing media, frames, and styles of art, adhering to a basic color scheme will help make the arrangement visually cohesive.
No.5: Taper off at the edges/bulge at the center. You want to arrange your pieces so that they kind of coalesce at the middle. This will help define the area and make it feel like one entity.
So do you think you could tackle this task now? Not quite as daunting? I say as long as you fill it with things you love, it really doesn't matter how perfect or imperfect the layout is. It should just make you happy every time you look at it!
Images: 1 by Melissa Vossler for The Everygirl; 2 by Jen Daigle for MOVE LifeStyle; 3 by Jen Daigle for Glitter Guide
See Erika's full home tour here>