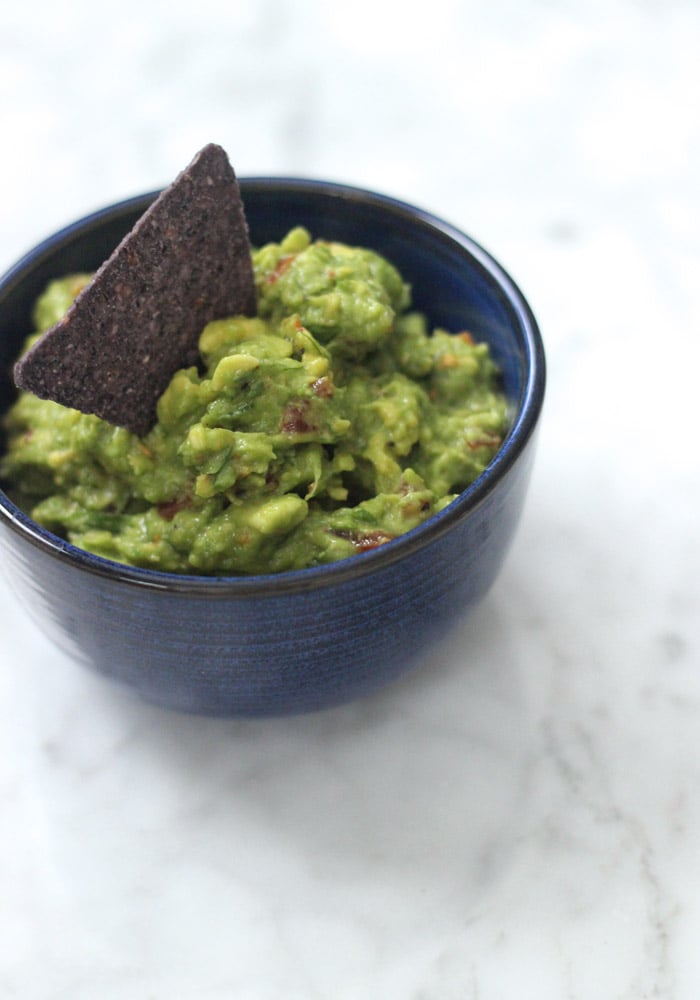 Not that anyone needed an excuse for a little guac, but I'd say summer gatherings, Labor Day BBQs and the start of football season are three fantastic reasons. And here's one of the best (and easiest) guacamole recipes I've tried, from a NYC standby:
DOS CAMINOS TRADITIONAL GUACAMOLE
Makes 4 servings
2 tablespoons finely chopped cilantro leaves
2 teaspoons finely chopped white onion
2 teaspoons minced jalapeño or Serrano chilies, seeds and membranes removed, if desired
1/2 teaspoon Kosher salt
2  large ripe avocados, preferably California Haas, peeled and seeded
2 tablespoons cored, seeded, and finely chopped plum tomatoes (1 small tomato)
2 teaspoons freshly squeezed lime juice (*I like a lot of lime; I use juice from a 1/2 lime, plus lime zest)
In a medium size bowl, use the back of a spoon to mash 1 tablespoon of the cilantro, 1 teaspoon onion, 1 teaspoon of minced chile, and 1/2 teaspoon salt together against the bottom of the bowl.
Add the avocados and gently mash them with a fork until chunky-smooth. Fold the remaining cilantro, onion, and chile into the mixture. Stir in tomatoes and lime juice,  taste to adjust the seasonings, and serve with a basket of warm corn tortilla chips.
¡Buen apetito!
Recipe via Dos Caminos; photo by Erika Brechtel