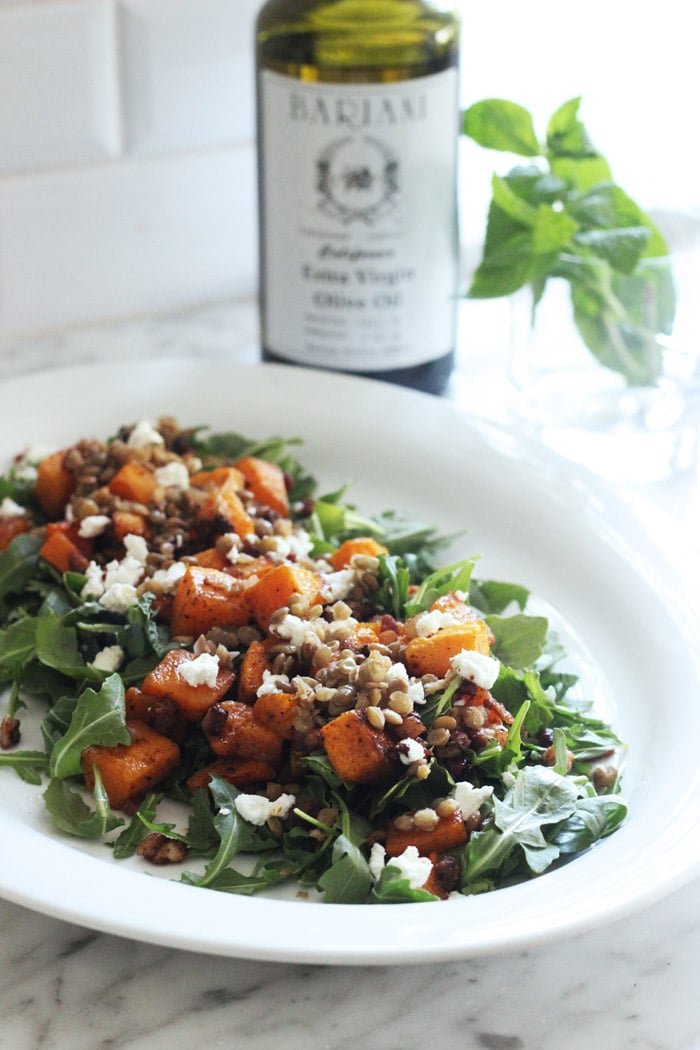 New column!
So excited to reintroduce you to my dear (and gorgeous) friend Yuki Pitkin who will be contributing her amazing recipes here every month! (You may remember her from our Society Social bar cart shoot, our Valentine's Dinner party and her kitchen remodel!) We had so much fun on Saturday doing a photo shoot, and then of course, promptly consuming the "prop" when we wrapped. So, I can attest: this dish is delish. Please welcome Yuki to 'The E List'!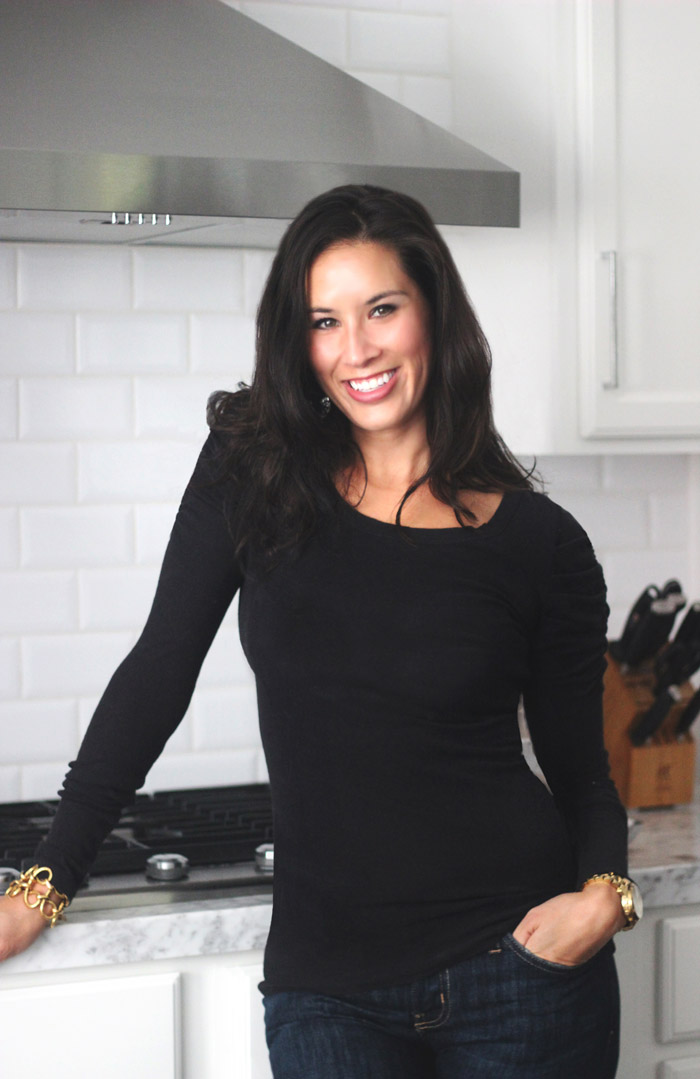 Hi, I'm Yuki! I love this salad for fall! As you can imagine it is still super warm in Cali and I am not completely ready to break out the boots and sweaters. This salad is a great way to have one foot on the sand and one in the water.
Cheers!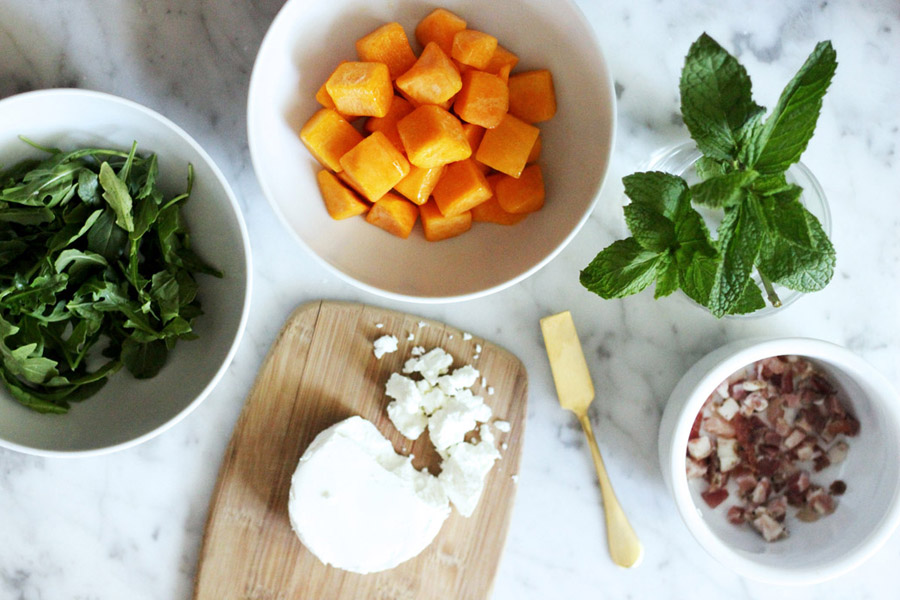 Butternut Squash Salad with Pancetta, Lentils, Feta & Mint
INGREDIENTS
4 oz of diced pancetta
5  cups of cubed butternut squash (the already prepared container from the store will do!)
3/4 cups of lentils
1 1/2 teaspoons of cumin
1 1/2 teaspoons of hot smoked paprika
3 tablespoons of olive oil – will be divided
3/4 cup of goat cheese
4 cups of baby arugula
1/4 of a cup of torn mint leaves
1 tablespoon red wine or apple cider vinegar
DIRECTIONS
Place the lentils in a small bowl with cool water and let them soak for 10 minutes and then drain the water.
In a small sauce pan begin to boil some salted water.  Once the water begins to slightly boill add the lentils and cook for about 25 minutes or until they are tender.  Once the lentils are done rise and drain them in cool water.
Preheat your oven to 375 F.
Toss the butternut squash with the cumin, 2 tablespoons of olive oil, and paprika.
Arrange the squash on a cookie sheet and sprinkle the pancetta on top. Roast the squash and pancetta for approximately 12 minutes or until tender. Let the mixture cool.
To assemble, place your arugula on a platter place the squash and pancetta mixture on top including the oil from the cookie sheet.  Place the lentils and goat cheese on top and then sprinkle the torn mint leaves.  Drizzle the vinegar and remaining olive oil on top, and please add salt and pepper to taste.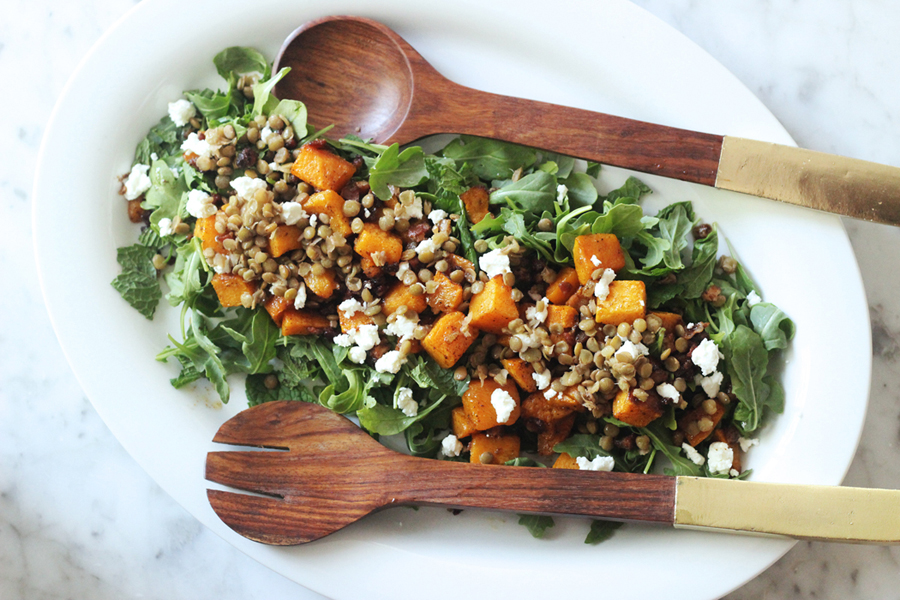 Fall is in the air!
SHOP THE LOOK:
Recipe by Yuki Pitkin; photos by Erika Brechtel