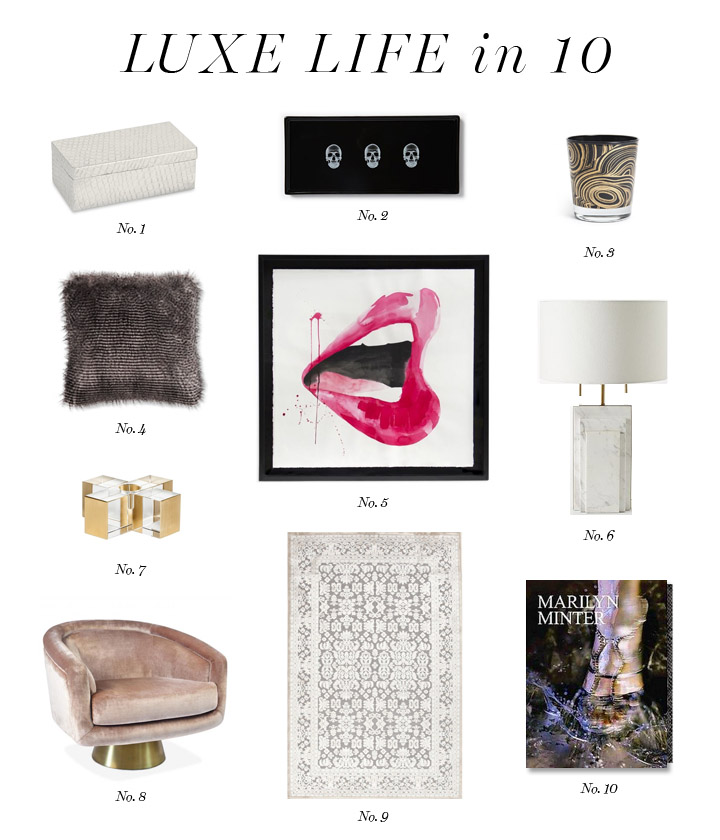 Lately I've been feeling like I need to infuse a little more glam into my decor, and these picks do the trick:
No. 1 silver croc embossed box / No. 2 skull tray / No. 3 Jonathan Adler malachite glass / No. 4 grey owl pillow / No. 5 Jessica Rowe "Ruby" original watercolor (*also check out her website The Aestate for prints!) / No. 6 deco marble lamp / No. 7 Nate Berkus glass & brass candleholder / No. 8 Jonathan Adler barrel swivel chair / No. 9 Lulu & Georgia Belen rug / No. 10 Marilyn Minter Jimmy Choo book

*I was soooo thrilled to see my blog bud Jessica Rowe of The Aestate's paintings in the new Jonathan Adler catalog! Congrats Jess!
Oh and client Lulu & Georgia just launched their new site! I am incredibly honored to have had the chance to work on their website again — a fave client! Check it out!