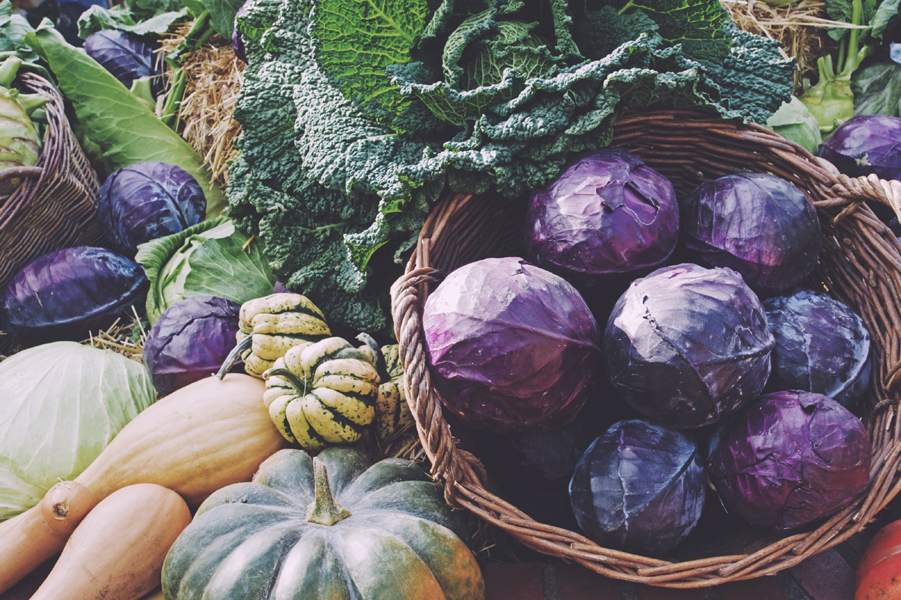 This fall I've been making a real effort to do some real cleaning in my life. I started with cleaning out my home — I figured if I can live and work off of two suitcases for six weeks in Miami, I can live without most of the "stuff" in my house. Next I hired a personal trainer to clean up my workouts — I have less and less time to exercise, so it's imperative that I get the most out of each session. Lastly, I wanted to make sure I cleaned up my eating — I eat fairly well, but I've never really tried to figure out what foods might not work so well for me. The older I get, the busier I get, and I'm finding that I need to be sure I'm living in the most efficient way possible. So I was thrilled to try Optimal Vitality's 15-day clean eating program and see what changes I could implement to make me the most physically and mentally healthy.
Optimal Vitality's founder April Norris believes in "inspiring wellness from the inside out." She starts with sending you six essential documents that are packed full of fascinating nutritional information about the foods we eat, how our organs function, and how certain ingredients can affect you in a variety of ways. Also included is an easy-to-follow day-to-day overview, tips on how to get the most out of your time, shopping lists for the program, and recipes for daily cleansing cocktails and all of your meals and snacks. I was thoroughly impressed with the wealth of information provided right off the bat and was really excited to dive into it.
I decided to undertake the 15-day "Revitalize: Fall" program with one of the many set guided groups. Optimal Vitality kicks it off with a conference call, sets up a dedicated Facebook group for questions and discussion, and sends daily emails with tips and reminders. The program is broken up into three phases: a Preparation Phase, when you start to cut down on certain foods (in my case, caffeine and wine) and replace it with a lot of water and daily cleansing cocktails. Then you go into an Elimination Phase, when you follow the daily provided recipes that cut out all dairy, gluten, and processed foods and sugars. Lastly, you enter the Transition Phase, when you reintroduce ingredients and journal how they affect you.
As I've mentioned previously, I'm anemic so I need to eat red meat every few days, which wasn't a problem at all; Norris believes you need to do what's best for your own body. I always knew breads, chips and cookies are not exactly the best for me (unfortunately!), but what I didn't realize is that I also have a hard time processing dairy. Revelation, to say the least. Would not have expected that at all!
Optimal Vitality's wealth of information, daily check-ins, and a very specific day-to-day plan make it easier than ever for you to find out what's working and not working for you too. And not to mention, you get a slew of new recipes for you and your family! Here are a few that I loved; knowing that they're healthy are even better!
MORNING LEMON EXILIR
Start every day with this to stimulate digestion, release toxins from the liver, jumpstart your digestive enzymes, and load up on vitamin C.
Mix together:
• 1 cup room temperature water
• Juice from 1 lemon
• 1 tablespoon Bragg's raw apple cider vinegar
• 1 teaspoon raw honey OR a couple drops of stevia
• Dash of sea salt
• Dash of cinnamon
PUMPKIN SPICE SMOOTHIE
Breakfast? What a treat!
Blend together:
• 1 1/2 cups dairy free milk or water
• 1/2 can pumpkin puree
• 1/2 cup spinach
• 1 teaspoon vanilla extract
• 1/2 teaspoon no sugar pumpkin spice
CASHEW CURRY
A tasty addition to the dinner rotation!
• 1/2 can organic coconut milk
• 1/4 cup water
• 1 cup green beans
• 2 large carrots, chopped
• 1 cup chopped cauliflower
• 1 red bell pepper, chopped
• 1 large onion, chopped
• 3 garlic cloves, minced
• 1 tablespoon minced ginger (OR 1 teaspoon ginger powder)
• 1 teaspoon curry
• 1/2 teaspoon cayenne (optional)
• 1/2 cup cashews (for garnish)
• 1/2 bunch cilantro (for garnish)
Add all the ingredients to a large sauce pan (EXCLUDING cashews and cilantro). Cook for about 10 to 15 minutes until the vegetables are soft and the mixture is fragrant. Remove from heat, and serve in bowls. Top each bowl with cashews and cilantro.
PUMPKIN SPICE PROTEIN BALLS
A delish and healthy snack…yes please!
• 1 scoop protein powder
• 2 tablespoons coconut oil
• 2 whole carrots, shredded
• 1 teaspoon cinnamon
• 1 teaspoon nutmeg
• 4 tablespoons coconut milk or water
• 1/4 cup sunflower seed butter
• 2 tablespoons raw cacao powder
• 1/2 cup unsweetened shredded coconut
Combine all ingredients in a bowl — EXCLUDING the unsweetened shredded coconut. Line a tray with wax paper. Form the ingredients into little balls. Roll each ball in the unsweetened shredded coconut. Add the balls to the tray, then put into the freezer for 30 minutes to form. Afterwards, store in refrigerator.
I hope you'll have the time to invest in yourself and clean out your diet as well! It's not a major change but it will majorly change the way you think about food, what you put into your body, so you'll know how to make you more efficient, stronger and smarter. For more information, check out Optimal Vitality and all the programs they offer to create "complete wellness and optimal nutrition for you and the ones you love." You can even take advantage and download the free "4 Essentials of Digestive Peace" e-book at the bottom of the page. You'll be so impressed as I've been!
And let me know if you do it or have done something like this before. I'd love to know what you learned for yourself!
Recipes provided by Optimal Vitality