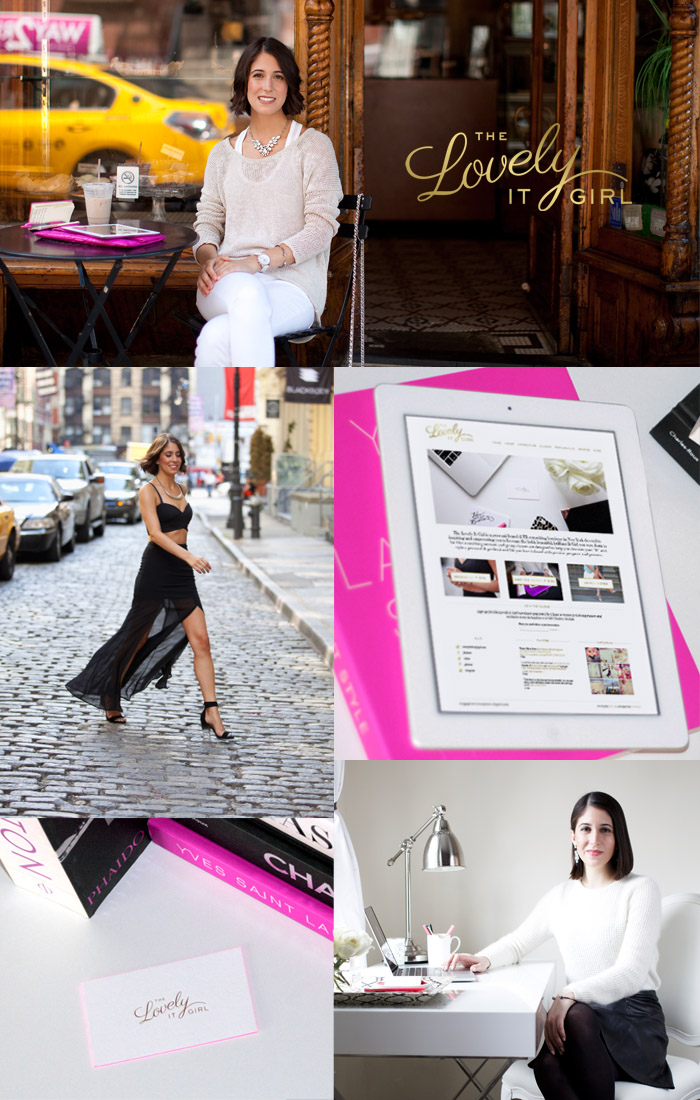 For the second installation of "Brand Styled" we're honored to feature client Michela Aramini of The Lovely It Girl!
When I was first approached by Michela to brand her new venture, I was immediately excited by her vision: empowering women to find their inner "It Girl," which she accomplishes through one-on-one consulting, group workshops and her blog, The Clique. (I can't wait to take one of her classes!) Read up how she got her start, what keeps her going, and what's ahead for this inspirational entrepreneur!
Name & Title
Michela Aramini
Personal Brand Strategist & It Girl Mentor
Company
The Lovely It Girl
Founded
January 2014
Location
New York, NY
Running a business is a lot of work! What made you decide to start it up and what keeps you going?
After landing my "dream job" at a world-renowned publishing company in New York, I found myself disillusioned and lost. I realized that my entire life I'd been chasing what I like to call the It Girl illusion: a girl who's life looked perfect on the outside, but was void of passion and purpose on the inside.
Resolved not to settle for anything less than a life I truly loved, I become passionate about redefining the It Girl: a girl who wants it all, does it all, and has it all, all on her own terms. I wanted to embody this modern It Girl and become an It Girl Mentor to young women who want to style personal and professional lives they love.
Combining this newfound passion and purpose with my branding and marketing prowess, I founded The Lovely It Girl in January 2014 to inspire and empower women to become the bold, beautiful, brilliant It Girls they were born to be. My personal brand consulting and group classes are designed to help women clarify and communicate their "It" and connect with their Clique of personal brand cheerleaders through bespoke personal brands.
I'm currently building my business alongside my full-time job, which is undeniably challenging and even overwhelming at times, but the clarity and conviction I have cultivated from pursuing my passion and purpose fuels my fire and keeps me focused on manifesting my vision for TLIG step by step, day by day.
When you initially thought about the branding of your business, what 'brand muses' inspired you?
I was (and still am) inspired by Erika's brand, which was one of the primary reasons I chose to work with her. I believe it's important to work with a designer whose brand style reflects your brand vision.
Some other brand muses of mine include Chanel, J.Crew, The Coveteur, Eye Swoon, GADABOUT, and Note to Self.
Having gone through the branding process, what would you say your 'brand style' is?
Elegant with a hint of edginess
Can you think of a tipping point in your journey, a defining moment that made your business take off?
What steps did you take to get there?
Before launching my business I launched my brand by clarifying and communicating my value, and connecting with like-minded women both online via social media and offline via networking events in New York. After launching my business I was asked to speak at many of the same networking events I loved to attend including Levo League, Lean In NYC, Girls Raising, and Hello Perfect. This transition from follower to leader was definitely a defining moment for me.
Owning a business means you get to touch base with every facet of it from product development, to interacting with clients/customers, to marketing decisions. At the end of the day, what aspect do you find the most rewarding?
To me, the most rewarding part of owning a business is when I get a Thank You note from a personal brand client or class student that says my personal branding process has helped them clarify and communicate their "It" (unique value) and attract the right people and right opportunities to launch their dream business or land their dream job. These small reminders that what I do truly makes a difference in people's lives make all the stress and chaos of running a business totally worth it.
What's one way that you continue to develop and improve yourself and/or your business?
I believe that your business will only grow as much as you do, so I greatly value personal development and constantly strive each day to be my best self by stepping outside of my comfort zone, aligning my actions with my values, and practicing gratitude.
Any can't live without software programs or apps that have helped you run your day/life/business better?
I love Evernote, Dropbox, PayPal, SignNow, Eventbrite, Mailchimp, Wave, and Learnvest.
What piece of advice can you give other entrepreneurs looking to start their own business?
Launch your brand before you launch your business! People want to buy from people they know, like and trust, so before you invest in launching your business invest in launching your brand. The purpose of your personal brand is to clearly and compellingly communicate your unique value and connect you to your Clique of personal brand cheerleaders both online and offline. Your Clique will ultimately become your most loyal customers/clients.
When I launched The Lovely It Girl I had already established my personal brand and online presence and had over 500 followers who sparked a ton of buzz around my brand and business, which I'm still benefiting from eight months later!
What essentials can always be found in your purse (or on your desk)?
My iPhone, business cards, Laura Mercier lip-gloss, mini Altoids
The future is bright! What is in store for you? Any exciting news to share?
I recently launched an event series called #ItGirlsNightOut which celebrates and connects women professionals and entrepreneurs in New York who are passionate about redefining the It Girl. The theme of my first event was "Launch a Business You Love" and we had an incredible panel of inspiring women entrepreneurs (including Tamra of Ever Swoon, another client of Erika's!).
My goal for 2015 is to launch an online personal branding program that empowers women everywhere to become the It Girls they were born to be and style personal and professional lives they love.
Thank you Michela!
Be sure to check Michela out over on The Lovely It Girl!
Photo credits: top and middle left, Sara Kerens Photography; bottom right Emily Johnston; middle right and bottom left, Erika Brechtel; brand styled by Erika Brechtel