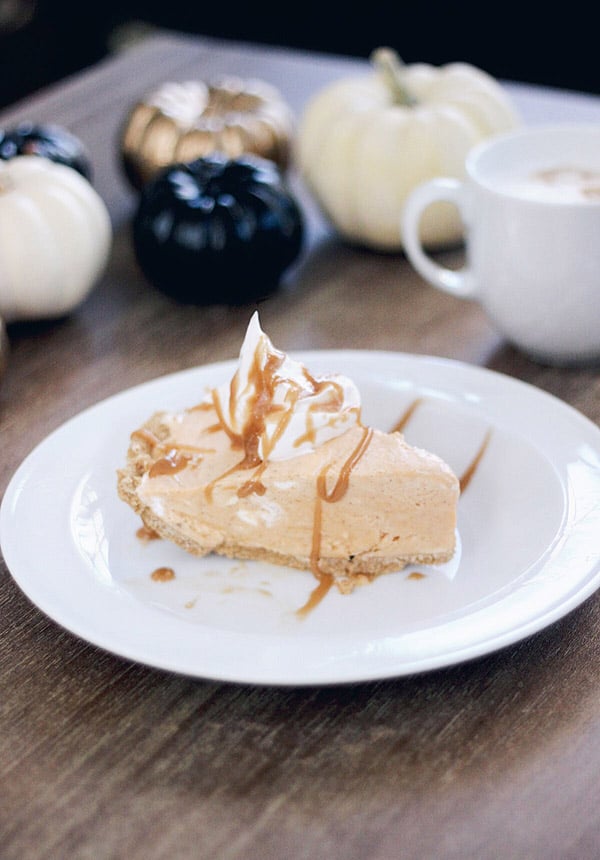 Greetings!
I don't know about you but I'm so excited for Turkey Day! I love Thanksgiving. I especially love bringing together family and friends over a tasty meal and yummy adult beverages. This year is particularly special because my parents are rolling into town. It has been a long time since my sister, parents, and I could all be together on Thanksgiving.
As I have mentioned EVERYONE in my family cooks. Pitkin Family + 1 Kitchen= WINE!
The holidays always leave me wanting one thing… another oven (3 ovens may be a little aggressive for a single gal in the OC).
This year I'm giving my oven a tiny break and am making a Pumpkin Ice Cream Pie with a Homemade Caramel Sauce — a twist on the traditional Turkey Day dessert. It's a crowd pleaser and is so easy to make.
Cheers,
Yuki   
Pumpkin Ice Cream Pie
PIE
Already made graham cracker crust
1 cup of sugar
1 can of canned pumpkin
1 teaspoon of pumpkin pie spice
1/2 teaspoon salt
1 cup of Cool Whip
2 pints of vanilla ice cream (softened)
CARAMEL SAUCE
1 cup packed brown sugar
1/2 cup light corn syrup
1/2 cup of water
1 teaspoon of vanilla extract
DIRECTIONS
For the pie, combine the sugar, pumpkin,  pumpkin pie spice and salt into a large bowl. Fold in the cool whip gradually.
Next, slowly add 1 1/2 pints of ice cream into the mixture. Once everything is combined quickly add it into the pie shell.
Be careful not to add too much too fast or it will overflow.  Place the pie into the freezer for at least 2 hours or longer.
For the caramel sauce, blend the brown sugar, corn syrup and water in a small saucepan.
Bring to a boil over medium heat and cook for 5 minutes. Remove the pan from the heat and stir in the vanilla.
Slice and plate. Top with Cool Whip and a drizzle of warm caramel sauce. Enjoy!
Happy Thanksgiving!
Recipe by Yuki Pitkin; photograph by Erika Brechtel