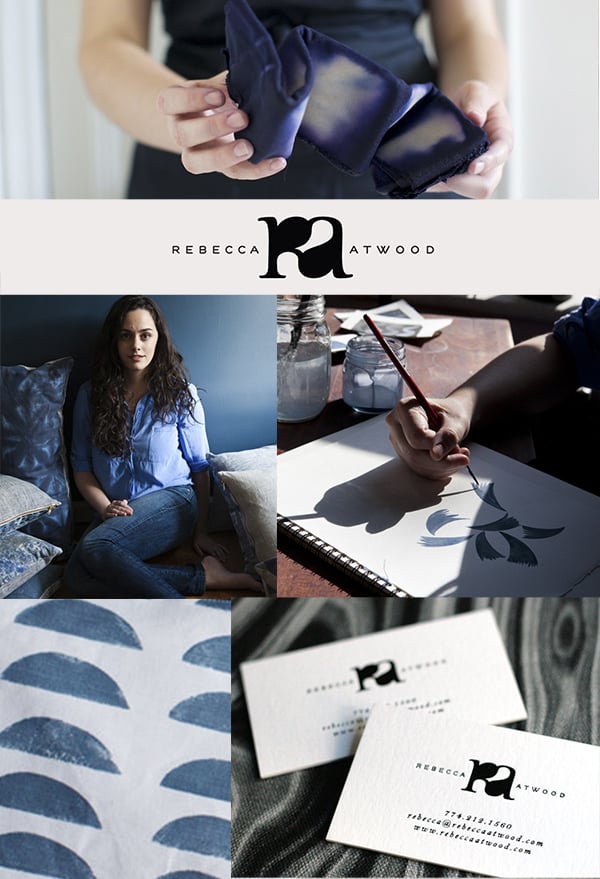 For the third instillation of "Brand Styled" we're honored to feature client/textiles guru Rebecca Atwood! This incredible designer got her start at Anthropologie before launching her eponymous line. It was more than a pleasure working with Rebecca to establish a brand that would reflect her handmade, organic fabrics and products.
Name & Title
Rebecca Atwood
Textiles Designer & Artist
Company
Rebecca Atwood
Founded
2013
Location
Brooklyn, NY
Running a business is a lot of work! What made you decide to start it up and what keeps you going?
After working in the home goods industry for 6 years I felt there was a hole in the market for the textile products that I actually wanted to buy: Livable, not over-the-top, pattern driven product.  Product that was thoughtfully crafted and responsibly produced… that dug a little deeper and wasn't just following the 'trends.' I wanted product that focused on the artistic process.
I needed a new challenge, something that would really push me.  Just as important to the aesthetics, I really wanted to control how and where it was made.
The things that keep me going include: my husband's belief in me, the kind comments from our customers, and being a part of a great community of designers here in New York.
When you initially thought about the branding of your business, what 'brand muses' inspired you?
I knew having a strong brand identity was essential and I knew that Erika really understood that.  When we started working together I was really drawn to Diptyque's crest inspired packaging and beautiful text, India Mahdavi's circular logo spotted on a trip to Paris, and vintage packaging in general.  I liked the idea of having a sense of history in what we were doing, but of course it needed to be relevant for today.
Having gone through the branding process, what would you say your 'brand style' is?
While my work is painterly, loose, playful, and tactile I wanted a sophisticated, clean, modern framework to go with it.
Can you think of a tipping point in your journey, a defining moment that made your business take off?
What steps did you take to get there?
We've been very lucky to have so much recognition from the press and fantastic stores, but we're also still in the early days here!
Before starting my business I already had a strong understanding of how the industry worked and what the market needed. I had been designing home products for over 6 years, which gave me a lot of experience to draw from.
One of the biggest steps was creating our website. I knew right off the bat I needed a professional website that would frame our product in the right way. I planned to go after wholesale business and wanted a retailer to be able to see my line the way I did, and our website did just that.
Owning a business means you get to touch base with every facet of it from product development, to interacting with clients/customers, to marketing decisions. At the end of the day, what aspect do you find the most rewarding?
For me it's a mix.  I love when I get a note from a customer about how our product made her room.  That's the best feeling.  I also do enjoy that with your own business you are always learning.  It can be frustrating, but you certainly don't get bored.  All of this though is grounded with the fact that I'm a maker by nature.  I need to be making things, and so that's always been the thing that drives me.  I want to see how those colors will look used with that pattern, what size or scale pillow shape will make the pattern sing, etc.
Describe a typical day in the life.
No day is really quite the same when you own your own business.  I always start my day with a cup of coffee and try to get to the studio early.  The mornings are my most productive time so I reserve them for work that requires the most concentration.  Afternoons I try and get up for a bit to do things that require standing to keep energy going, take calls, meetings, etc. or work that is less strategic when I can.

What's one way that you continue to develop and improve yourself and/or your business?
There are always a bunch of different things going on to improve the business…streamlining our production processes working with new sewers, learning about digital marketing, finding a new app to streamline wholesale orders. It's a never-ending process and that's what keeps it exciting.
Any can't live without software programs or apps that have helped you run your day/life/business better?
The Adobe Suite, Tweet Deck, Evernote, Instagram, Quickbooks, & Dropbox!
What piece of advice can you give other entrepreneurs looking to start their own business?
Do your research.  There is so much information out there about starting a business and most of it is so accessible.  That being said, you've also just got to dive in and see how it goes.  We're always changing and reacting to what is working and what isn't.
What essentials can always be found in your purse (or on your desk)?
My cell phone, a pen & notebook, good lotion, water, lipstick, and nuts—always need to have a snack on hand.
What's one thing we may be surprised to learn about you?
I like to go to bed really early.
The future is bright! What is in store for you? Any exciting news to share?
We've just launched fabric by the yard, which is a new aspect of our business. We'll be expanding this line in January.  Now we're working on fall 15 concepts and thinking about embellishments and new product categories.
Thank you Rebecca!
Be sure to check Rebecca out here!
Photo credits: bottom right, Erika Brechtel; others c/o Rebecca Atwood; brand styled by Erika Brechtel