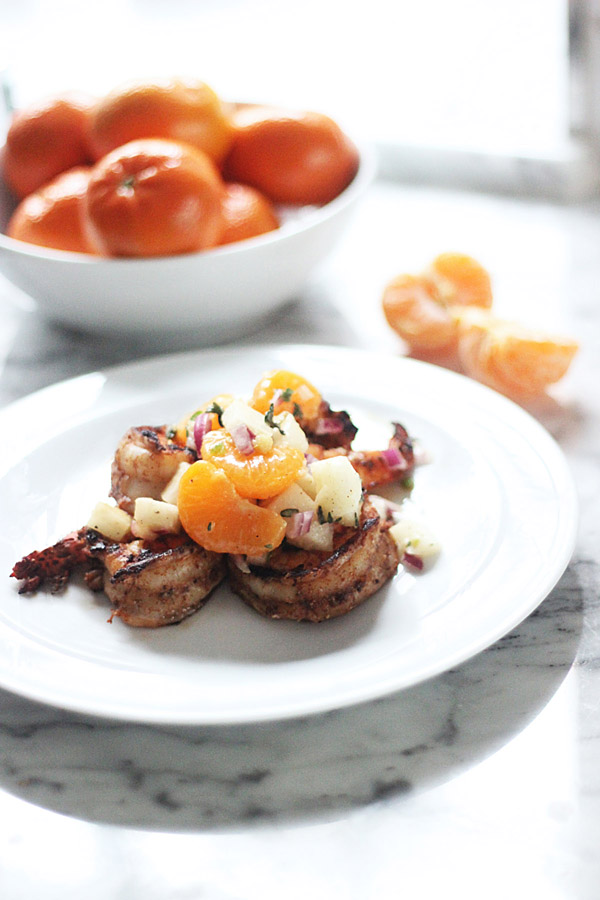 Popping some bubbly, eating yummy food, sharing laughs with my girlfriends and the Golden Globes this past weekend made for the perfect Sunday! Tina and Amy killed it! In celebration of their last year I decided to host a little gathering with my besties; plus it was a great way for us to catch up from the holidays!
There were a couple of things I wanted to accomplish when preparing this meal. I needed something heavy because we were going to pop some bubbly. Also, I wanted to keep it healthy and one of my friends doesn't eat red meat so I wanted to be sure I had something for her as well!
Shrimp with Clementine Salsa
SHRIMP
2 1/2 pounds of shrimp peeled and deveined
1/2 teaspoon of ground cinnamon
1/2 teaspoon of paprika
1/4 teaspoon of salt
1/2 teaspoon of ground ginger
1/4 teaspoon of cumin
1/8 teaspoon of red pepper
1/8 teaspoon of ground black pepper
1/8 teaspoon of nutmeg
SALSA
7 clementines peeled and sectioned
1 1/2 cups of chopped jicama
1/cup of finely chopped red onion
1 tablespoon of minced and peeled fresh ginger
1 tablespoon fresh lime juice
1 tablespoon of extra virgin olive oil
2 teaspoons of fresh thyme
1/2 teaspoon of salt
1/4 teaspoon of ground black pepper
2 serrano chiles; seeded and chopped
DIRECTIONS
1. Prepare shrimp by putting the first 9 ingredients in a large bowl and stir well. Cover and let them marinate in the fridge for at least 3-4 hours.
2. While you are waiting make the salsa by mixing all the ingredients in a large bowl and stir well.
3. For the shrimp you have the option of grilling them or just sautéing them on a pan. Be sure to coast your pan with cooking spray and the shrimp will takeapproximately 3 minutes on each side. If you decide to grill you will want to get skewers and soak them for 30 minutes first before threading on the shrimp.
4. Once the shrimp are done plate your shrimp and serve with the salsa over the top.
*This dish can be served with a side of rice and will yield up to 5 servings.
/
My Shrimp and Clementine recipe was a big hit! Being flu and cold season made this dish an easy way to incorporate extra vitamin C! I was also lucky enough to have a little helper!
Cheers,
Yuki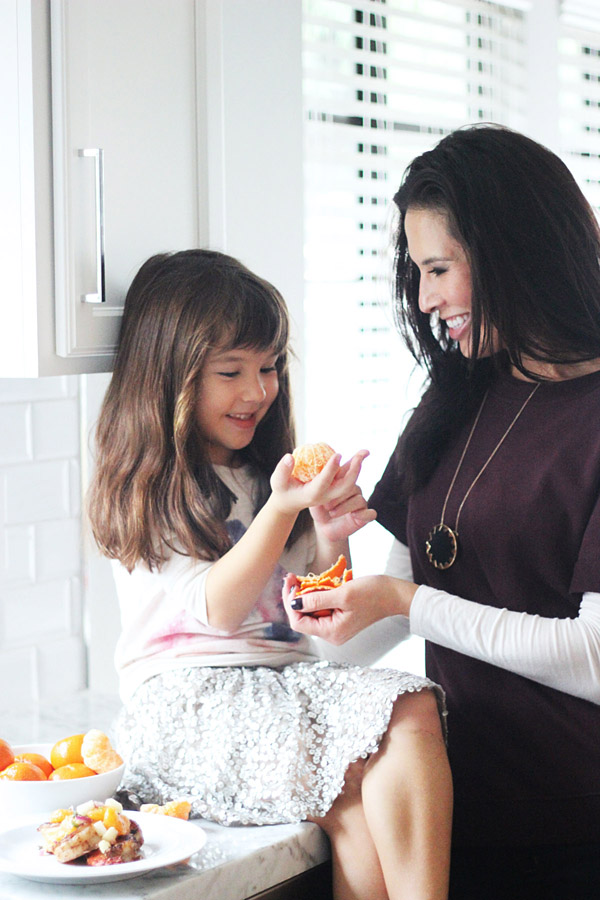 My daughter loves her auntie Yuki!
And I can attest, we loved this dish (especially with bubbly)!
Recipe by Yuki Pitkin; photos & styling by Erika Brechtel