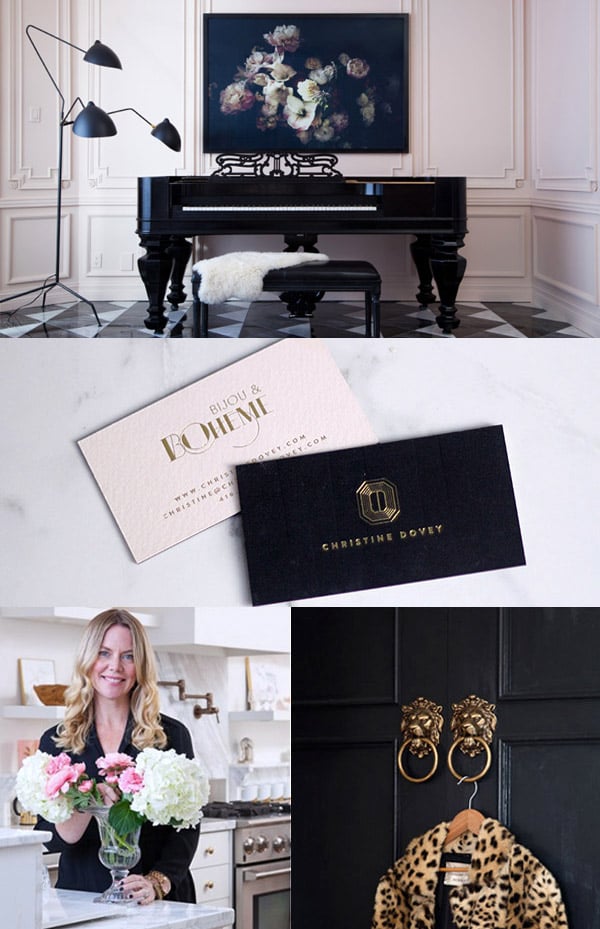 We are overjoyed to introduce Christine Dovey for our latest "Brand Styled" segment! Christine is not only an artist and stylist, she is the interior decorator—the lady behind the curtain, working tirelessly to bring clients a coveted touch of her signature 'edgy femme' style (and also to populate your Pinterest boards with drool-worthy interior shots). As a designer, it is so rewarding to collaborate with talented individuals who share your vision—creating Christine's brand was pure joy!
Name & Title
Christine Dovey
Stylist, Decorator, Artist
Company
Bijou and Boheme
Founded
2010
Location
Ontario, Canada
Running a business is a lot of work! What made you decide to start it up and what keeps you going?
The decision to start my own business came after the birth of my second child. I was a stay at home and definitely wanted to be with my kids but was also very much craving a creative outlet. After re-decorating my own home and blogging about the process, I started getting inquiries about doing design work for others and my business just sort of came to be over time.  Though it is a lot of work and requires a huge amount of juggling, I love that there's something new everyday.
When you initially thought about the branding of your business, what 'brand muses' inspired you?
My one and only brand muse is always Kelly Wearstler. I quite honestly adore every single thing she creates. I love how her style is completely defined and so instantly recognizable. Her edgy but still elegant aesthetic always feels so inspired and thoughtful but never try hard or trendy. KW completely beats to her own drum and I love that about her.
Having gone through the branding process, what would you say your 'brand style' is?
I'd say my brand style is refined feminine glamour with a restrained whimsical edge.
Can you think of a tipping point in your journey, a defining moment that made your business take off?
What steps did you take to get there?
It's hard to pick one thing because my business really did grow organically over time. Having some of my work published in Style Me Pretty Living, really seemed to catapult my international design business, while print features in publications like Style at Home helped give my work/brand a real foundation for design credibility.
Owning a business means you get to touch base with every facet of it from product development, to interacting with clients/customers, to marketing decisions. At the end of the day, what aspect do you find the most rewarding?
I love the creative process as a whole. Coming up with a design concept on a computer screen and then seeing it come to life in a client's home is my favourite. I adore taking things people already own and then finding those one of a kind pieces that when layered in, make a house feel like a home. I love surprising my clients and pushing their comfort zone a bit to help them discover what their personal style is. I love seeing them discover their own aesthetic through the process of design. I love getting to know them and how in most every case, we become friends through the work.
Describe a typical day in the life.
A typical day starts always with coffee before my feet even hit the floor, followed by the homework, breakfast, lunch making insanity that is getting 3 kids out to door to school. After they're all on their way, I throw back the second cuppa for the day and start returning emails from the night before.  I spend most mornings working on design boards and concepts, before 11 when I swing back to pick up my littlest from daycare.  After lunch, I'm generally either in the city sourcing, at an audition with one of my kids or working on some media related project.  By 4, I try to shut down a bit so I can spend time with the kids before hubs cooks dinner…a chef I am not;) Food happens, along with a glass of wine and then I'm usually straightening up the destruction that's hit my home until it's bed/bath-time routine at 7.  Once the kids are all in bed, my computer gets opened up again for more emailing/design work fun until around 9-10. Then hopefully bed.
What's one way that you continue to develop and improve yourself and/or your business?
I think I continue to improve by always looking and paying attention to what's out there. Inspiration can come from so many places…I try to keep my eyes always open and appreciate beauty that's maybe no so obvious. I try to spend at least part of my everyday really thinking about my brand and what I want it to be, and reflecting on how inspiration I see can best be translated into my own viewpoint/style etc.
Any can't live without software programs or apps that have helped you run your day/life/business better?
Powerpoint. People are always surprised when I tell them it's the program I use for my design boards. It's simple and no-fuss and gets the job done. I've tried other 'fancier' programs that are more design directed but I always come back to good old fashioned PPT.
What piece of advice can you give other entrepreneurs looking to start their own business?
Always be true to your own vision.  Trust that what you have to offer is enough and really take time to hone into what your voice is. I also think it's so important to support and build others up…people rise in groups and the more you can collaborate with fellow creatives, the better.
What essentials can always be found in your purse (or on your desk)?
Tape measure, notebook, wallet, lipstick, Chap Stick, business cards, pen, iPhone.
What's one thing we may be surprised to learn about you?
I'm a little OCD about some things but totally un-organized in other areas. For instance, I can't stand when things are on the counters but drawers are stuffed with junk….I can't stand visual clutter but can leave a suitcase unpacked for months.
The future is bright! What is in store for you? Any exciting news to share?
I'm so excited to be working on a new product line that's pretty top secret for now but should be out in the fall if all goes according to plan. In my perfect big picture/5 year plan, there will also be a TV show and a book…we shall see!
Thank you Christine, we loved your #branding #selfie on Instagram!!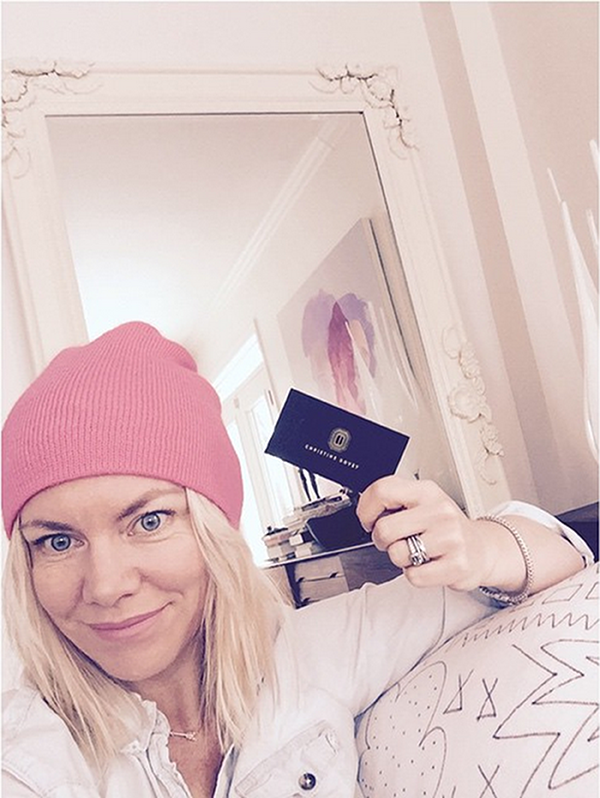 Be sure to check Christine out here !