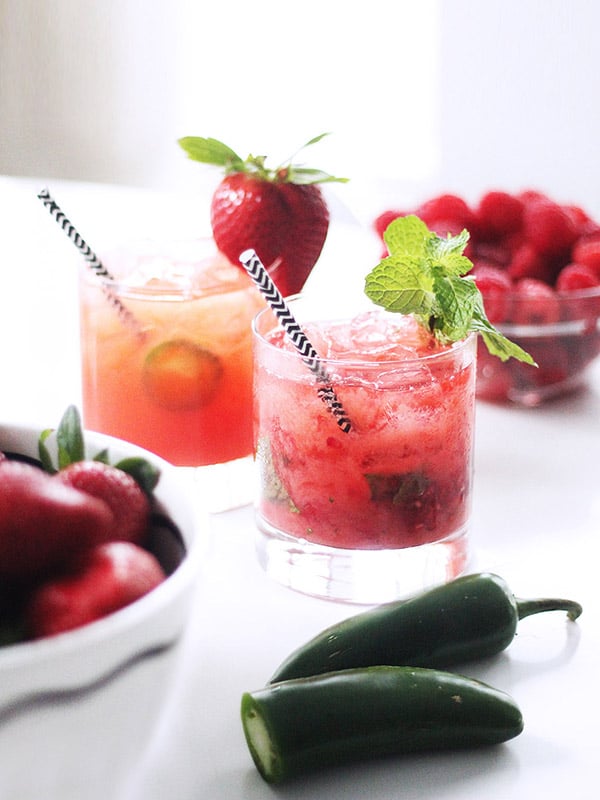 Awww love is in the air!  I hope everyone is having a great week and doing something fun this Valentine's Day weekend.  I have come up with a couple of yummy cocktails that are not only tasty but healthy too.  I know this is about the time we fall of the bandwagon with our resolutions but stay strong friends!!  My body needed to be recharged from the holidays so I enlisted the help of my friends at Nekter Juice Bar in Anaheim Hills to get me back on track. These two cocktails are a great way to indulge without the guilt.  These drinks can easily be altered by adding different liquors and ingredients so have fun with it. However, if you want to keep it simple just add either flavor to a glass of bubbly.  Pick your poison and have a great Valentine's Day weekend!
 
XOXO and Cheers, 
Yuki 
 
Strawberry and Jalapeño Margarita
Serving size: 1 Double Old fashioned Glass  (approx. 13 1/2 ounces)
INGREDIENTS
Favorite brand of tequila
2 Jalapeños peppers
1 Strawberry Skinny Juice from Nekter
Limes
Ice
PREPARATION
In a glass place 3 slices of jalapeño pepper and squeeze the juice from one lime wedge.  Take a pestle or the handle of a large spoon to muddle the 2 ingredients together.  Next fill your class with ice and then add one shot of tequila.  Pour the Strawberry Skinny Juice over the top and finally give your cocktail a good stir and enjoy!
Raspberry Mint Cooler
Serving size: 1 Double Old fashioned Glass  (approx. 13 1/2 ounces)
INGREDIENTS
Favorite brand of Vodka

Fresh Mint
Fresh Raspberries
Raspberry Slimmer Juice from Nekter
Ice
PREPARATION
In a glass place about 5 mint leaves and 1 tablespoon of fresh raspberries. Take a pestle or the handle of a large spoon and muddle the ingredients together. Next fill your cup with ice and add 1 shot of vodka.  Then pour your Raspberry Slimmer juice over the top of your drink.  Stir and enjoy!  Feel free to garnish with extra berries or mint as these cocktails are pretty to look at too.
 Hope everyone enjoys their Valentine's Day!
Recipe by Yuki Pitkin; photo & styling by Erika Brechtel