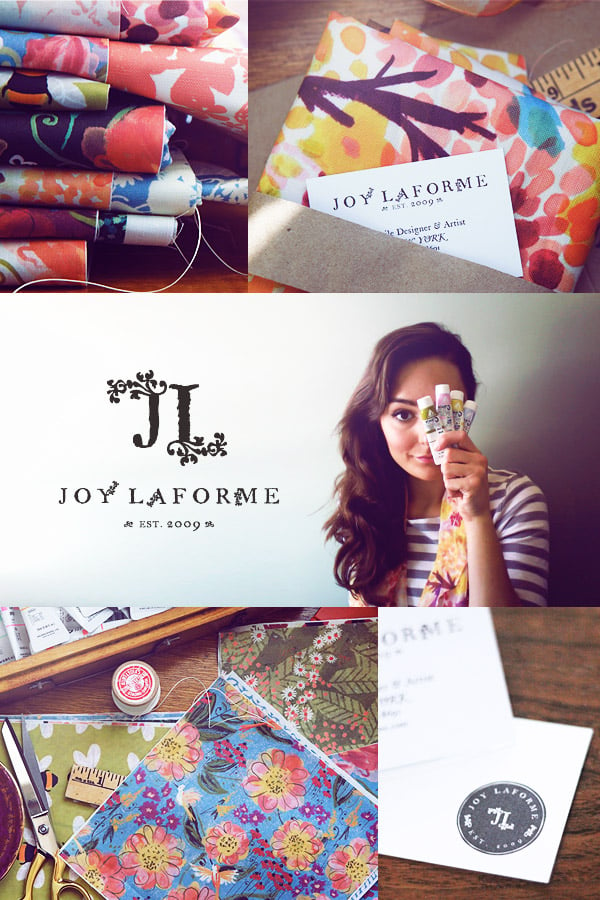 While it's not entirely surprising that energetic, vivacious floral prints would stem—so to speak—from someone so aptly named Joy, her use of color and scale can still be unexpectedly cheer-inducing. This (and more) made designing textile artist Joy Laforme's logo such a pleasure. We at The E List were lucky enough to catch up with Joy and have her share her story and some of her entrepreneurial wisdom!
Name & Title
Joy Laforme
Textile Artist & Illustrator
Company
Joy Laforme
Founded
2009
Location
Hudson Valley, NY
Running a business is a lot of work! What made you decide to start it up and what keeps you going?
After working as a full time graphic designer for several years, I found I wanted to apply my knowledge of graphic design and illustration to a format that translated into home and lifestyle. My passion was and is patterns – anything I could cover in a pattern was something I wanted to work with.
I pulled back and forth between designing my own products, or working from within a company to design theirs. Freelancing was something I had done while I was also working full time – I hoped that I would eventually build enough of a client base that I could work for myself full time. I ultimately fell into licensing my own artwork, designing prints and patterns for textile studios, and taking commission based jobs – a combination of these three is what came most naturally to me. I found I could focus on timeless design, process, and providing clients with unique perspective on trends.
Licensing my artwork and taking commissioned projects allowed me to work within my own aesthetic – to hone it, and to create partnerships with companies that would bring my artwork to life on their products. I see my art as a constant work in progress – I'm always trying to fine tune my skills for my current and future clients.
What keeps me going is my desire to provide others with color and happiness for their homes, my faith, and my husband's loving support and encouragement.
When you initially thought about the branding of your business, what 'brand muses' inspired you?
I was really drawn to the elegance found in Liberty London's branding. I was looking for simplicity with just the right amount of flourish to compliment my work – often what I do can vary a bit client to client, and I needed a logo that allowed me to showcase my work gracefully. Everything I was attracted to in a brand was timeless, earthy, with a vintage whimsy that reflected where my inspiration comes from – but represents me as a modern artist. Looking at Erika's past experience I knew she would understand that and she absolutely did.
Having gone through the branding process, what would you say your 'brand style' is?
My work is very floral and illustrative, while the foundation of my brand is classic and clean, with accents of femininity.
Can you think of a tipping point in your journey, a defining moment that made your business take off?
What steps did you take to get there?
While rebranding with Erika, I was really filtering through all of my work – removing anything that was not a reflection of the artist I wanted to be and the clients I wanted to attract. It was an important step to do this and to create new work I knew would draw others in, as both customers and clients. Hearing from the clients I had dreamed of working with, and hearing how highly they thought of my work, was affirmation that I was headed in the right direction.
Owning a business means you get to touch base with every facet of it from product development, to interacting with clients/customers, to marketing decisions. At the end of the day, what aspect do you find the most rewarding?
There are quite a few things that are very rewarding. When licensing my work, I love seeing my work on a product in the store. Hearing from clients that I've made them, their boss, or their customer's so happy, is amazingly rewarding as well. I know some artists have mixed feelings about seeing their work circulating around the internet – but I love seeing my work on Pinterest unexpectedly with an excited sentiment captioned beneath it. In that moment I've made someone's day a bit brighter and more inspired – and I love that.
Describe a typical day in the life.
Every time I think I have a solid routine, something shakes things up! A somewhat typical day includes an early morning – when I work best and ideas are plentiful – and client work. The afternoon is often reserved for reaching out to clients, taking meetings, and planning new promotional/personal work to continuously further my reach and sharpen my illustration skills.
What's one way that you continue to develop and improve yourself and/or your business?
I'm constantly looking for new applications for my artwork – I'm always looking further ahead at other types of clients who I would make a great fit for, and that process can be strenuous, heartbreaking, or exciting. Learning to deal with those ups and downs is something I feel I've gotten very good at and keeps me motivated to create better work.
Any can't live without software programs or apps that have helped you run your day/life/business better?
The Adobe Creative Suite (Creative Cloud), Wacom Cintiq, Instagram, and WeTransfer.
What piece of advice can you give other entrepreneurs looking to start their own business?
Understand that your ideas need time to take root. Be prepared to tend to them the way you would anything in life (your marriage, your home, your family, etc). Your success will come with the care and time you spend building your business. Take criticism from customers and those you trust – absorb it and apply it. While you need to make your own decisions you feel are best for your business, you also need to listen what people are sharing with and about your work. It will make you a better business owner.
What essentials can always be found in your purse (or on your desk)?
A huge selection of pens and pencils, a yardstick to check the scale of my projects, brushes, a good pair of scissors, water, lotion, my digital tablet, and my moleskine notebooks.
What's one thing we may be surprised to learn about you?
My maiden name Gallucci means "chicken farmer". You'd certainly be very lucky to find me as a chicken farmer!
The future is bright! What is in store for you? Any exciting news to share?
I've been working in apparel fabric for several years and now I'm moving into quilting fabrics which is a completely different kind of market that I am so excited about. I'm also selling my own fabric and artwork which was launched simultaneously with my rebrand. Print reproductions found on my website will soon be available in some online stores – which I am excited to share when the time comes!
Thanks so much for having me, Erika!
Thank YOU Joy!
Be sure to check Joy out here!