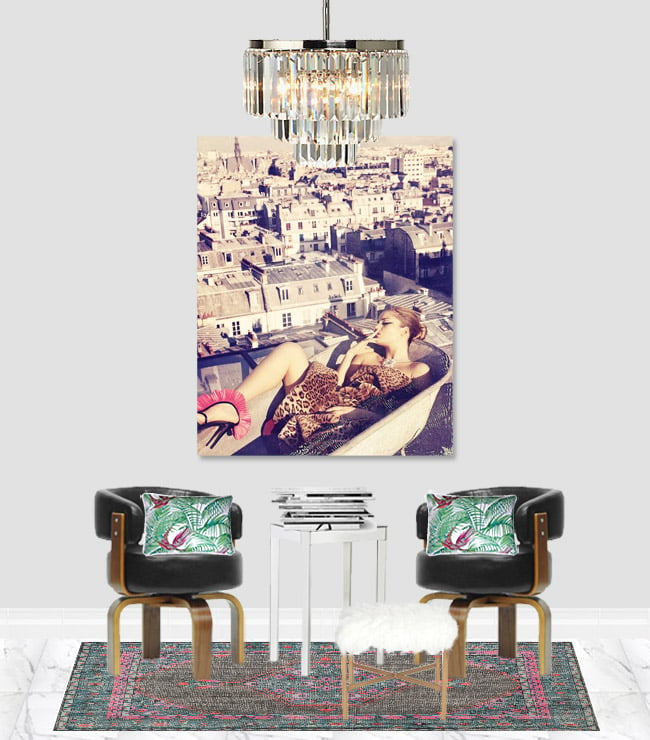 Life has been so full lately, I haven't made much progress on the last few bits of my studio revamp. White carrera marble tile floors have been installed, walls have been painted, my brass etagere/design library is up, but there's so much more I want to do! At least I'm still invigorated by what I've got planned, and thought I'd share one of the designs I've been visualizing/creating: these fun little mockups help me firm up an idea in my head and act as a checklist in the process. It was an interesting exercise for me to attempt to strike that balance between contemporary, couture, edgy, pretty AND tropical, but I'm excited about the solution!
crystal chandelier / artwork, 'Marcus Ohlsson Rooftop View' / Lulu & Georgia 'Mavek' chairs / Matthew Williamson 'Sunbird' pillows (custom made by Ariana Belle) / mirrored side table / Society Social fur stool / Lulu & Georgia 'Mirabelle' rug 
And you know what pulled it together for me: my '5 Pieces' rule of course!
1. Textured/Patterned
2. Shiny
3. Modern
4. Organic/Animal
5. Antique-y
More to come!