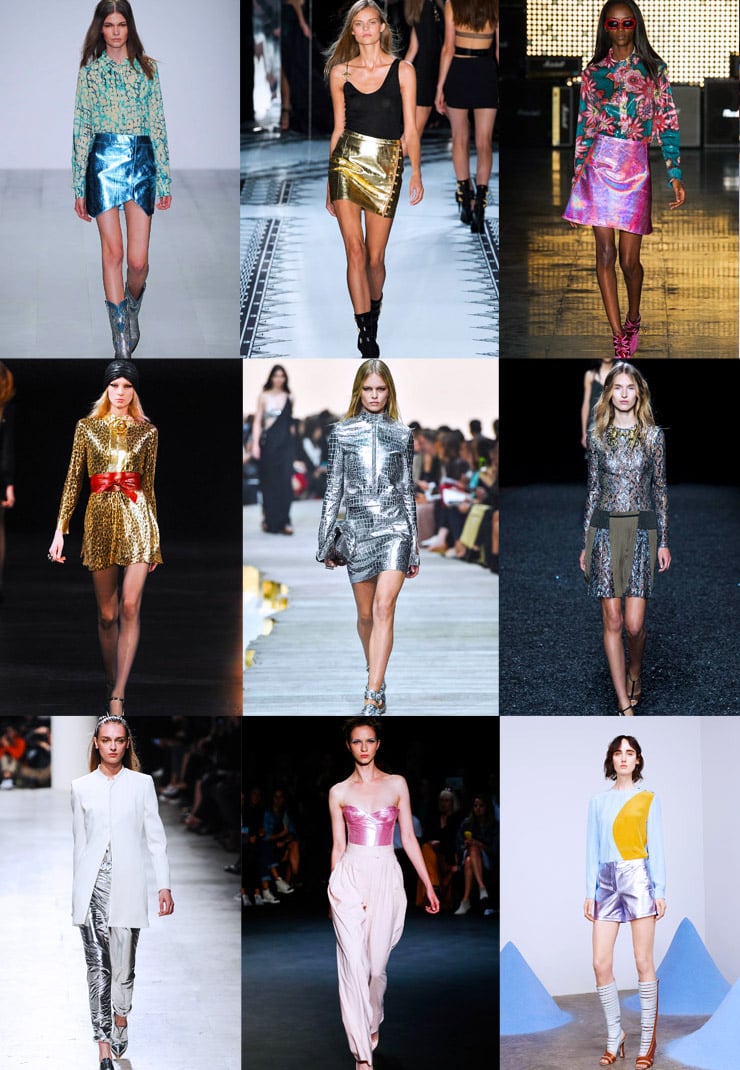 Back from London and Marrakech, and grateful to be back in the land of connectivity and communication! Despite my best efforts, I ended up only getting a few minutes a day on wi-fi which meant very little email/calls/texts, and even less (er, no) blogging. But it was a successful trip and I can't wait to share some goodies! Until then, thankfully my dear friend Jolie E. Smith is filling in for me with another installment of her Front Row Forecast!
The sun isn't the only thing shining this Spring/ Summer 2015 season.  The catwalk is filled with metallics to charge your day and brighten the night lights.  Shimmering richness is found in sleek and luminous metallic styles.  Metallics range from liquid to burnished to matte to the hot trend alert of iridescent offering options for appropriate shine any time or place in your day.  Metallic color staples Gold and Silver are joined by Fuchsia, Pale Pink, Lilac, Olive as well as shades of Blue to name a few.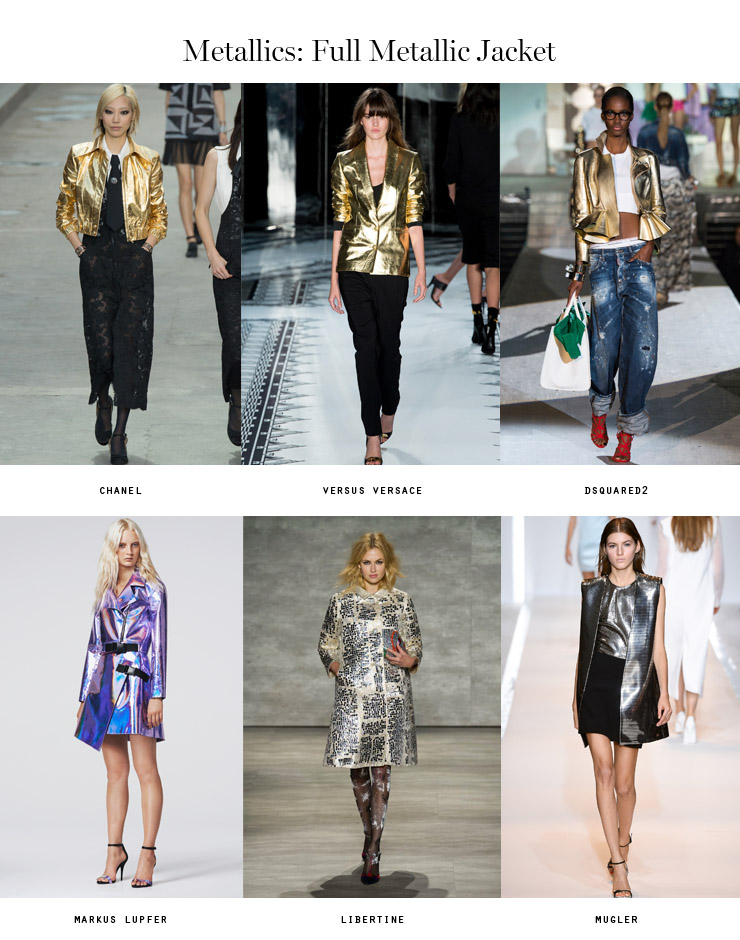 Full Metallic Jackets:  Not to be outdone by the Gold color of choice in coats, jackets, vests and blazers, you will see iridescent and other metallic colors as top cover options that have cool, yet classic silhouettes.  The Marcus Lupfer coat is one I can't stop pining over as a statement piece; it's 'everything'!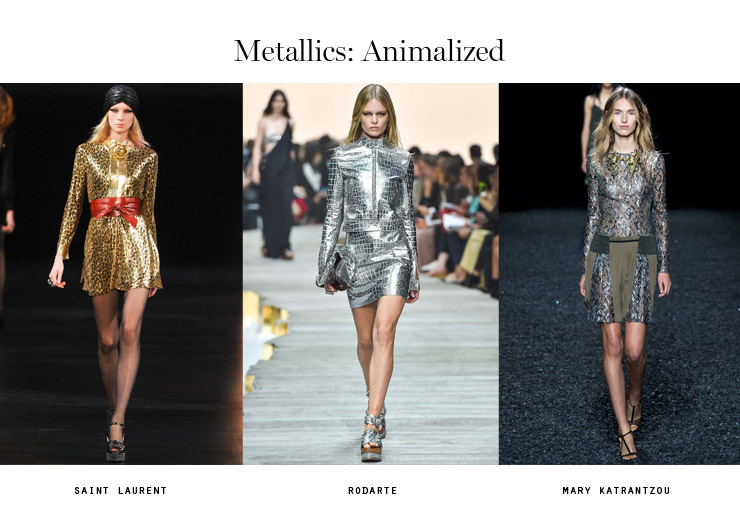 Animalized:  Just as Metallics are now considered a fashion neutral, growing up in the South I have lived by the rule that animal prints are a neutral.  The combination of animal print and metallics is a savvy force of neutral wear that translates as anything but neutral.  This trend option is a statement that you can have it all!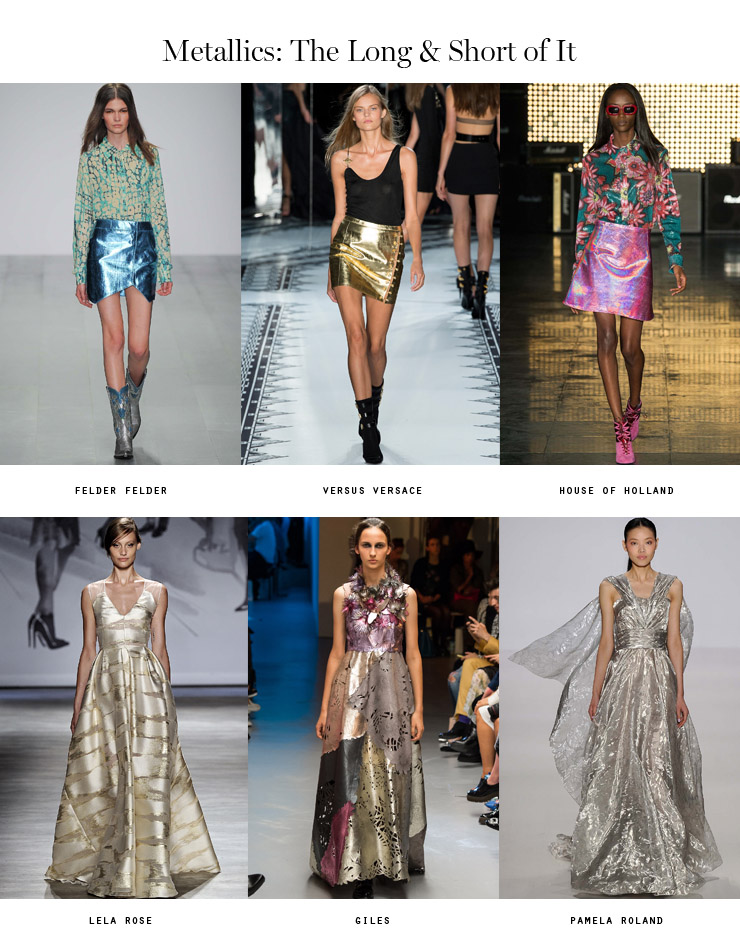 The Long and the Short of It:  Glistening evening styles vary from light sheer fabrics to heavier laser cut gowns.  I'm pretty sure you won't run into someone wearing the same thing if you choose one of these!  On the shorter side are fun and flirtatious skirts that scream glam rock.  The skirts are perfect to mix and match with print or solid tops for versatile causal or dressier looks.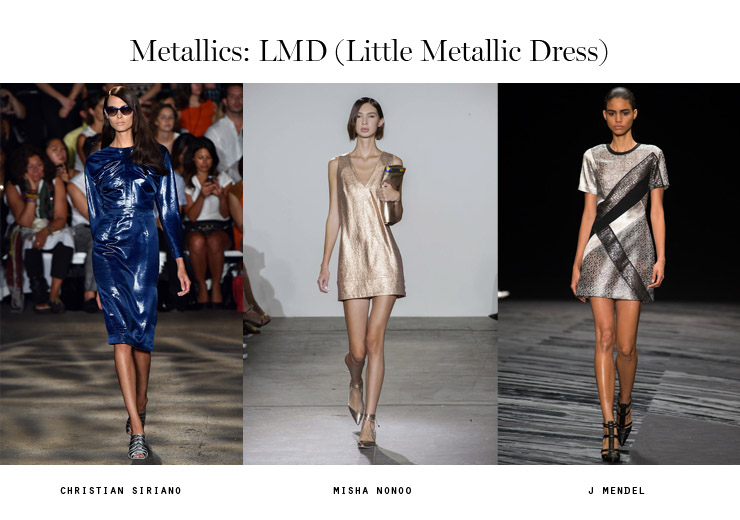 The LMD, Little Metallic Dress:  Ask what is the most important wardrobe staple and you will hear the LBD, Little Black Dress.  Here is the sleek update of that staple piece.  The key for this look will be darker, textured or muted metallics so the dress doesn't out shine the beautiful you!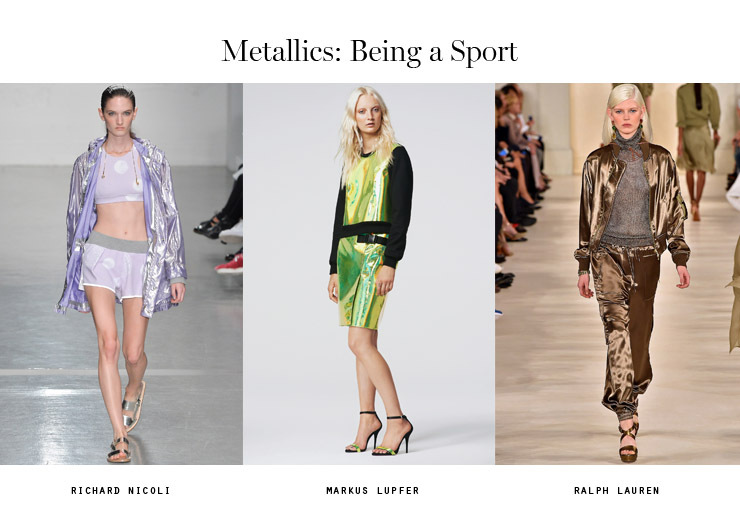 Being a Sport:  Metallics translate fabulously to the popular Sporty Chic SS15 trend.  Top American Sportswear designer Ralph Lauren uses luxe textiles that look liquid while other designers play to the iridescent metallic for their line.  Both ways bring a sophistication to the bright trend in sportswear.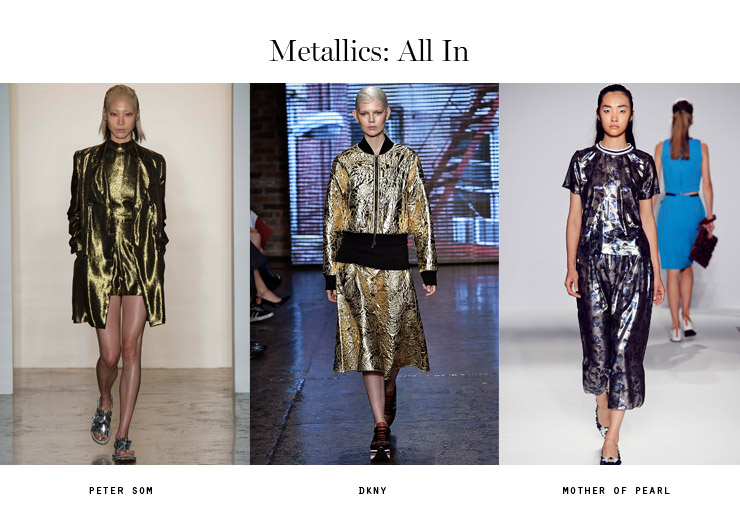 All In:  This is a bold look for those who dare!  The rugby collar used in the Mother of Pearl style, classic silhouettes and embossing are a smart ways to ground full metallic ensembles.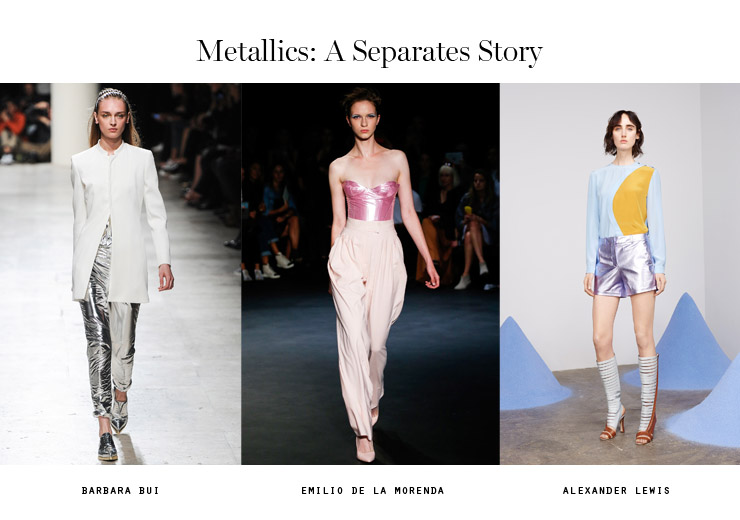 A Separates Story:  Separates are a versatile way to incorporate this trend into your wardrobe.  Bandeaus and corsets are everywhere and an easy piece to use with jackets, shorts, jeans and skirts alike.
Let a metallic piece light the way of your SS15 style update and you will not be disappointed.
Shine bright my fashionable friends!
Jolie E. Smith @joliestandardtime