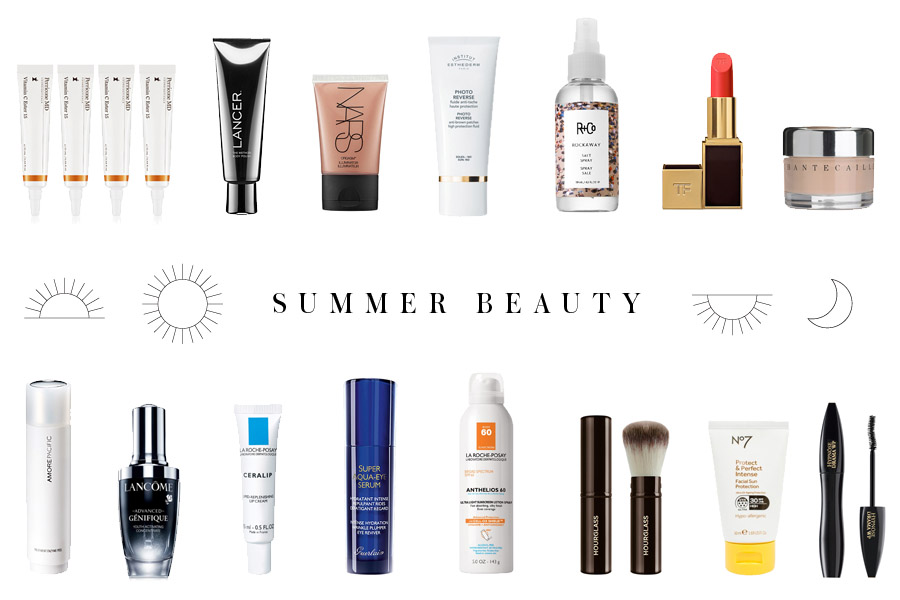 NEW COLUMN!
I'm thrilled to introduce our new mommy fashion & beauty columnist, Sandy Choi Huff!
Have you ever met someone for the first time and hit it off instantly? Such was the case with the two of us. Through a mutual friend, I met Sandy for lunch in Notting Hill on my London trip and it was like we were old friends! She mentioned she used to have a blog, but somewhere between the move to London from New York with her husband and two kids, she stopped, and missed it dearly. With her background in fashion and beauty PR, I thought she would be a perfect fit here! Please welcome, Sandy Choi Huff, a former publicist and now ex-pat living the mommy life in London…
SUMMER BEAUTY
Grey skies are a thing of the past (well, at least for now). The sun is shining bright in London and it almost feels like a resurrection party everywhere, from what felt like an endless cold, rainy winter. Growing up in California, I know a thing about sun and why it's so important to protect your skin from the UV rays. I spent my entire twenties baking in the sun with little or no sunscreen and now, I am paying for those days with dark spots and hyperpigmentation. Well into my thirties, I don't leave the house without sunscreen. And yes, even in the grey London winter days, sunscreen is a must.
I'm a product junkie/hoarder by nature and every beauty product that comes my way excites me. I've learned a thing or two from my past days as a beauty publicist and when it comes to products, I am a voracious shopper. I do my research, read as many reviews I can possibly read and try as many samples I can get my hands on.
Beauty products are always evolving on my shelf. I jump from one great product to the next but if it is hands down the absolute best, I keep on replenishing. And every summer, I keep my regimen light.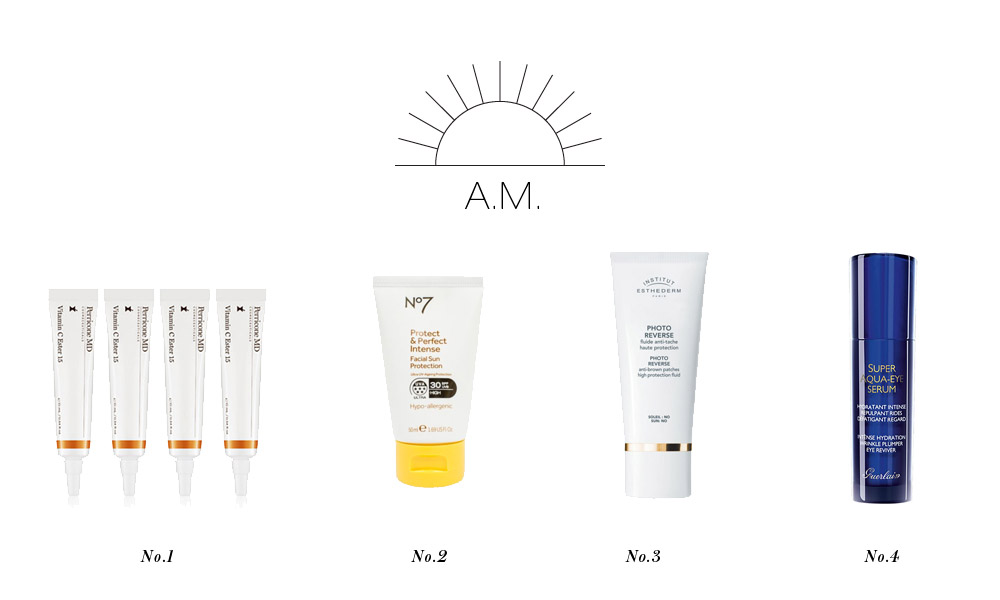 Every morning, I start with cleansing and toning. Then I apply vitamin C to brighten and reverse sun damage. Perricone MD's Vitamin C Ester 15 works wonders. Next I apply sunscreen liberally. UK's drugstore cult brand Boots no. 7 Protect and Perfect Intense Facial Sun Protection SPF 30 is lightweight and non-greasy for everyday sunscreen. For more protection, I reach for Institut Esthederm's Photo Reverse Anti-Brown Patches Fluid. This French range with abuzz in Europe specializes in sun protection and cell regeneration. It's a lightweight luxurious cream that doesn't feel like your everyday sunscreen. I complete my morning skincare regimen last but not least, eye cream. Guerlain's Super Aqua-Eye Serum is my favorite with its gel-like formula that de-puffs and hydrates the eyes.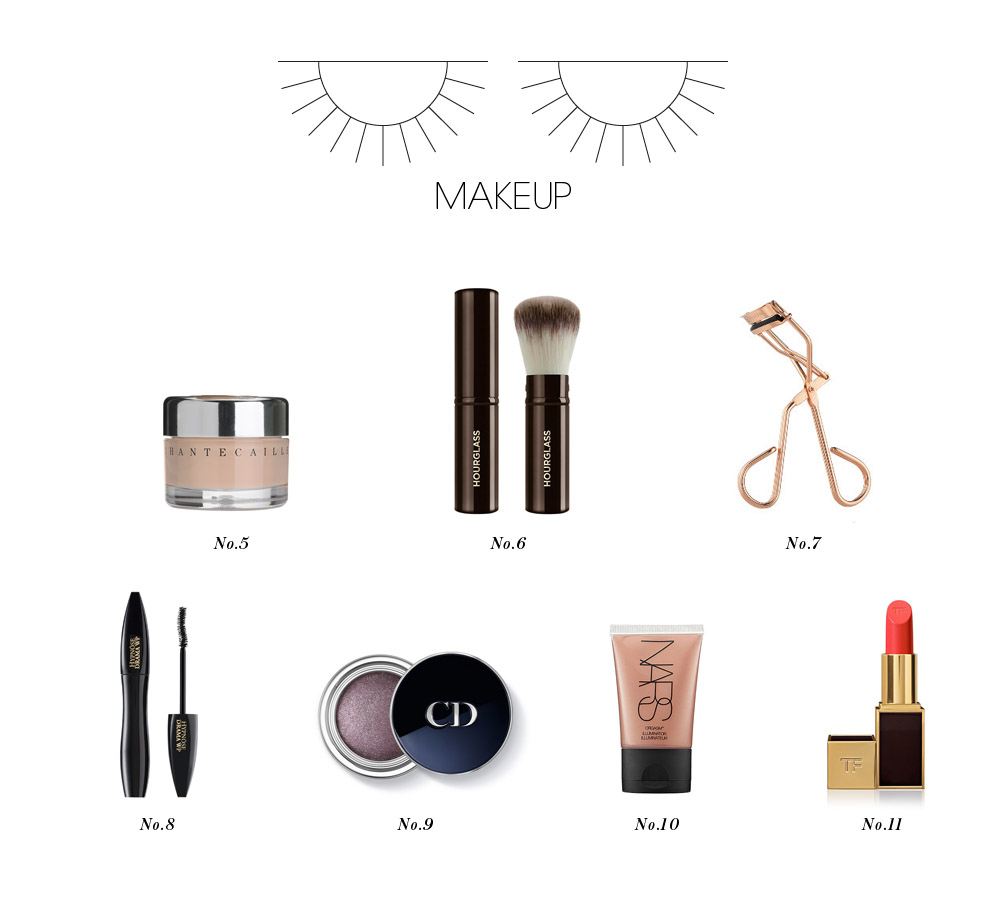 With an exception of special events, I skip full coverage liquid fountain and opt for something lighter. Chanticalle Future Skin Oil Free Gel Foundation provides light to medium coverage, letting my skin breath. It's also buildable so you can build coverage to your preference. I'll use my favorite foundation brush from Hourglass for an even look. For the eyes, I curl, apply mascara and highlight. Tweezerman makes great curlers (I am biased. I use to work for them!). Lancome Hypnose hands down gives my lashes the best volume. And Diorshow Fusion Mono in Myriade is a quick single step shadow you can apply with your fingers to highlight the eyes or wherever as needed. For the cheeks, Nars Illuminator in Orgasm gives a radiant glow. And for lips, I am obsessed with Tom Ford's lipstick in Moroccan Rouge.
No. 5 / 6 / 7 / 8 / 9 / 10 / 11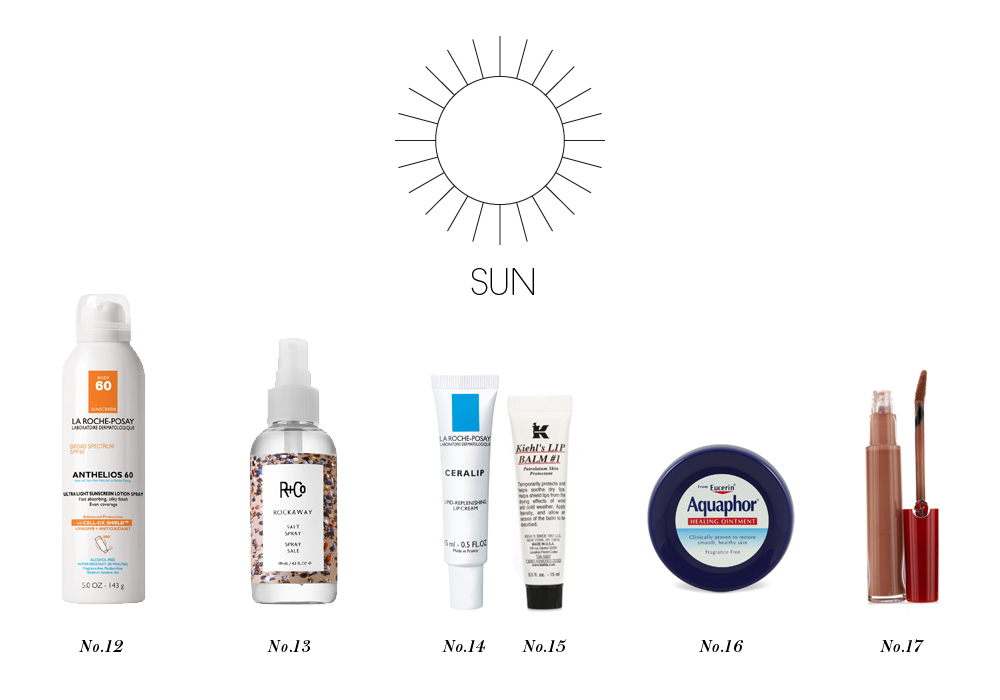 Up your SPF! That sun is hot! The range from La Roche Posay Anthelios Sun Care is lightweight and great. I don't go for anything under SPF 50. As if you've been in the saltwater all day, I spray a little salt spray in my hair for some natural texture. I just picked up R+Co Rockaway Salt Spray and really love it. It's super lightweight so no crunchy business. And protect those lips too! I have a lip balm in every bag, every drawer and just about everywhere! La Roche Posay and Kiehl's make great lip balms but my favorite is Aquaphor, specifically Baby Aquaphor. They come in travel size, similar to a size of a lip balm. Ultra moisturizing and smooth, I wear it under lipsticks and glosses. For some shine, I swear by Giorgio Armani glosses in neutral shades.
No. 12 / 13 / 14 / 15 / 16 / 17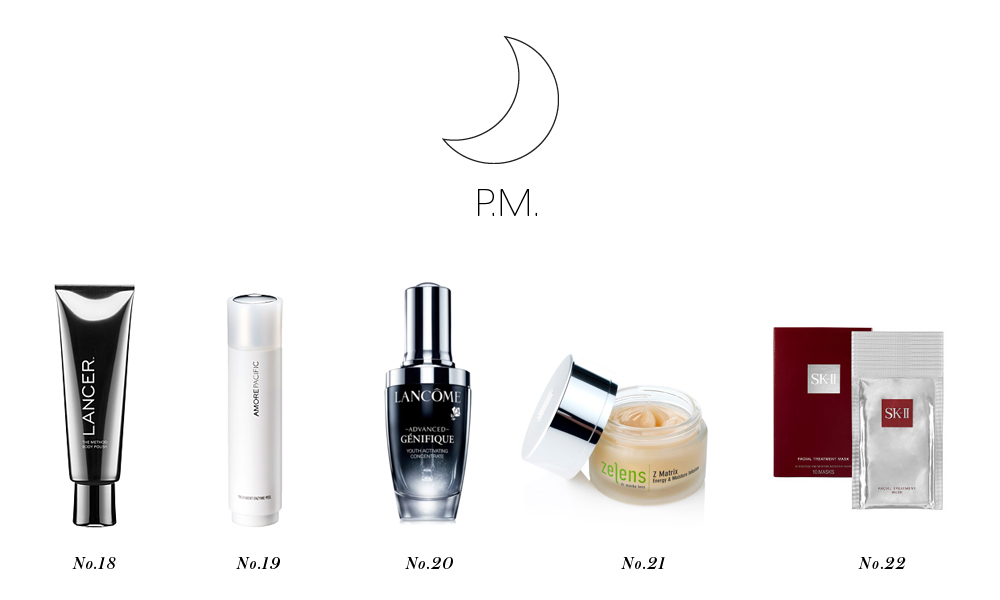 After a few days of constant sunscreen and sweat, I exfoliate with Lancer's The Method: Polish or AmorePacific's Enzyme Peel to clear away dead surface cells. Every evening before bed, I apply Lancome Advanced Genifique, my holy grail of serums. Then I apply Dr. Zelen Energy & Moisture Infusion, a light gel cream that makes my skin smooth and radiant the next day. And occasionally, I treat my skin with a SK II's Facial Treatment mask which hydrates and soothes from all sun exposure. It's essentially magic in a mask.
SHOP ALL: