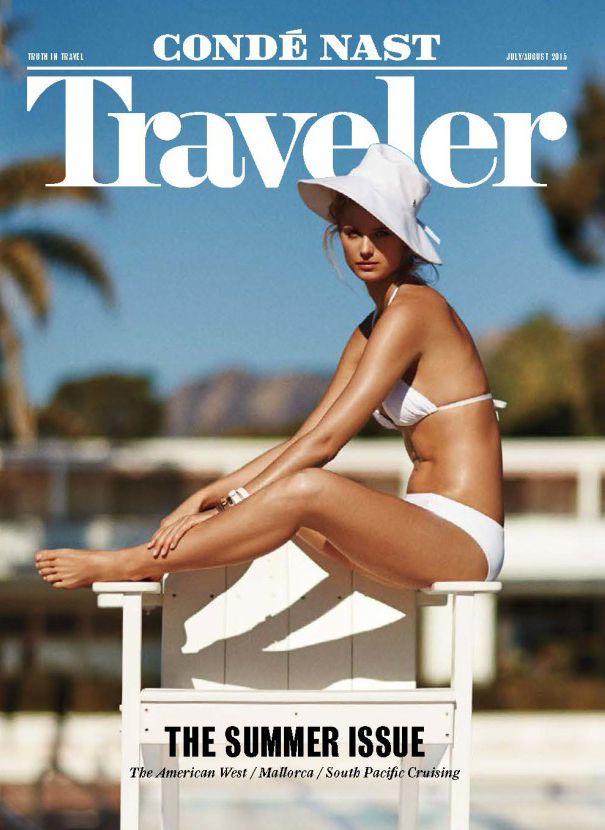 I was so enamored with Conde Nast Traveler's summer issue cover I had to take a photo of it and put it up on my Instagram over the weekend. I had to know, did the publication go through a major redesign? Why am I so drawn to this particular cover? Is this a product of a successful redesign?
Yes in fact, Condé Nast Traveler revealed they went through a redesign just this year, focusing on the rehaul of their logo of 27 years. "Because ours is a business of images and words, of nostalgia and anticipation, we're always thinking about how those dualities combine, about how they achieve that subtle alchemy which shapes how you think and feel about a place," editor-in-chief Pilar Guzman explained. And what they've done here is create a bit of a throwback to the jetsetting age of PanAm and postwar playtime. Who doesn't love a little Jackie Onassis in Capri / Slim Aarons / celebrities in the Riviera glamour?
But it's not just achieved through the new typeface used; pay particular attention to the photography as well. The subject matter, the coloring, the feeling generated from this strategically styled image plays into our sentimentality for a time perhaps when we all had a little more downtime to truly disconnect and revel in the moments.
As a travel publication, their purpose needs to be focused on inspiring their readers and helping their readers create memories. And by tapping into their audience's own memories of an era gone by, Condé Nast Traveler has captured them to start that journey together.
Of course that's just my opinion. What do you think, did they succeed?
Read more about the Condé Nast Traveler redesign here >