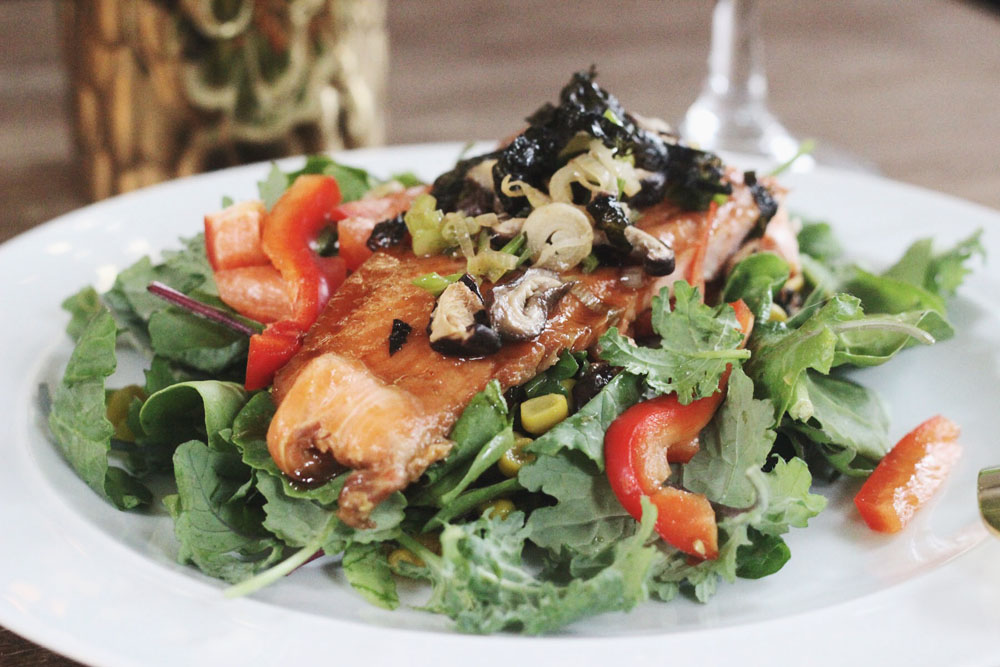 Hi Everyone!
 
Hard to believe it is already August…yikes!!  Well I don't know about you but I am trying to beat this California heat and I am always looking for a reason to be outside and keep dinner simple and light.  One of my favorite salads is yummy and is perfect for entertaining or just a quick and easy weekday meal. Feel free to add or take ingredients out….get creative people!!  I hope you enjoy the last of summer and take it easy!
 
Cheers!
 Yuki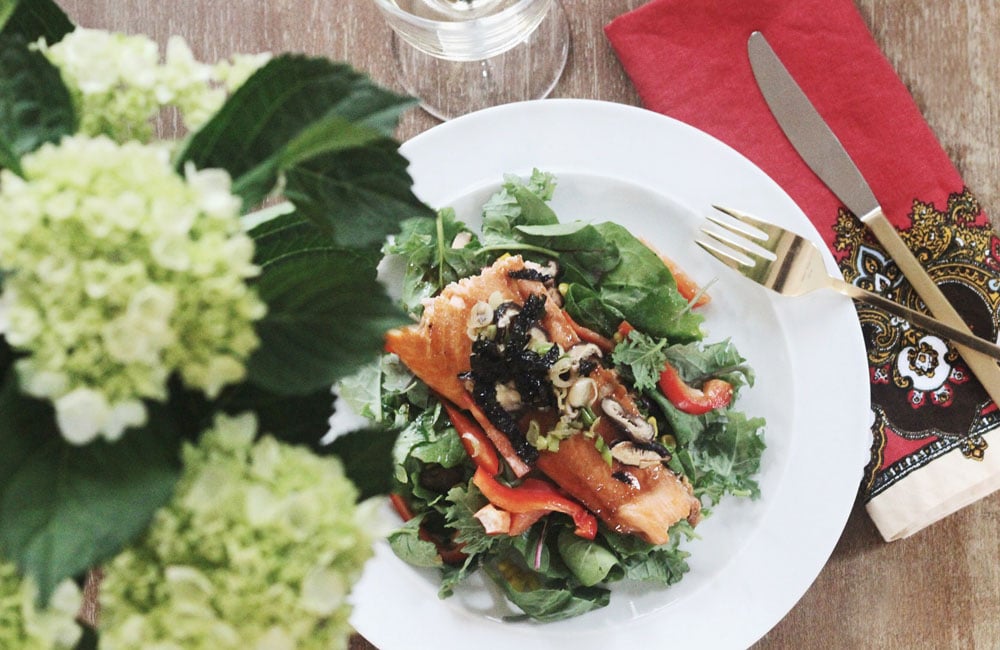 SALMON SALAD WITH SHIITAKE MUSHROOMS & SOY VINAIGRETTE
DRESSING INGREDIENTS:
3 tablespoons low-sodium soy sauce
3 tablespoons rice vinegar
3 tablespoons of green onions
1 tablespoons water
1 teaspoon toasted sesame seeds
1 teaspoon dark sesame oil
1 teaspoon minced garlic
1/2 teaspoon chile paste
1 pinch of crushed red pepper
SALAD INGREDIENTS:
2 teaspoons dark sesame oil
4 cups of thinly sliced shiitake mushrooms
1/3 cup of green onions sliced
1 cup of fresh corn
4  (6-7 ounce) salmon fillets
9 cups of fresh baby spinach
1 cup of fresh bean sprouts
1 cup of red bell pepper strips
1. Preheat broiler
2. We will start with the dressing so combine the first 8 ingredients in a small bowl and set aside.
3. To prepare the salad, heat 1 teaspoon oil in a large nonstick skillet over medium- high heat. Add mushrooms and 1/2 cup of green onions  and sauté' for about 7 minutes.
4. Place the fish on a foil-lined baking sheet and brush with EVOO. Broil for about 8 minutes or until the fish flakes easily.
5. Place approximately 2 cups of spinach on each plate. Top each plate evenly with red bell pepper, mushroom mixture,  bean sprouts and 1 fillet. Drizzle dressing on each plate.
Recipe by Yuki Pitkin; photos by Erika Brechtel