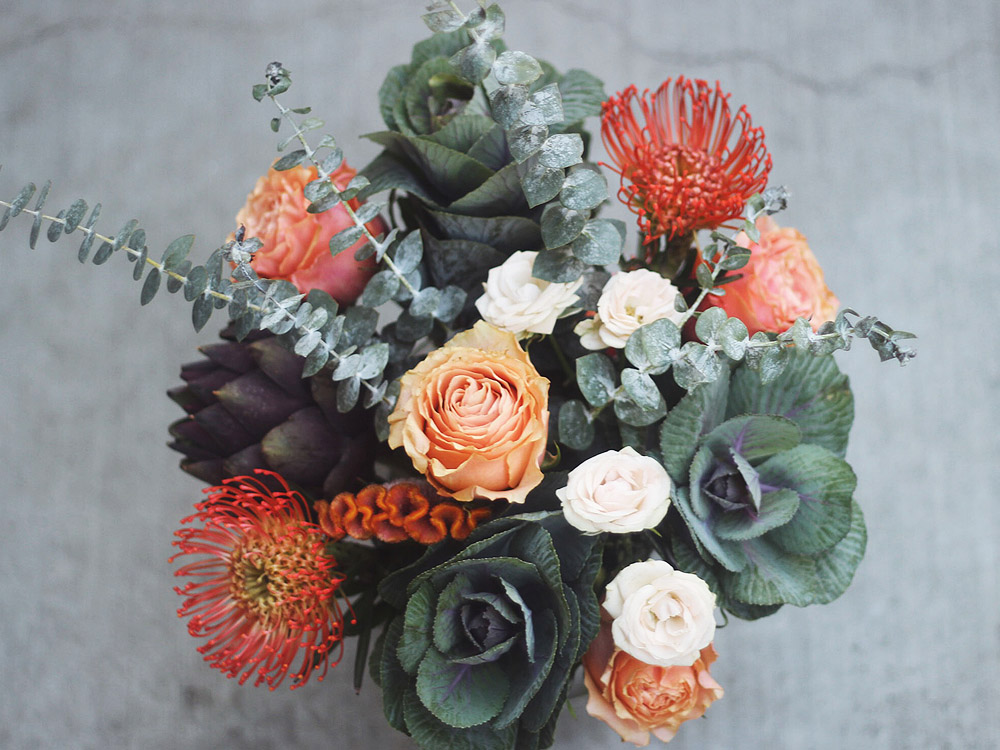 Happy Monday — today is my birthday! Over the weekend I threw a little Moroccan-inspired birthday soirée and Rosé tasting for me and some girlfriends, and I was so pleased with the results!
Whenever I entertain, I very much enjoy creating the floral arrangements for the table. With this particular event, I was clear in my mind that I wanted to work with Rosé-inspired colors and faded greens, but I was pleasantly surprised to find artichoke and kale at the flower stand! It was the first time I had worked with vegetables in my flower arrangements…I'm hooked.
Here's a 5-step D.I.Y. to get a beautiful, bountiful floral bouquet with vegetables:
Step 1: Choose Four Types of Blooms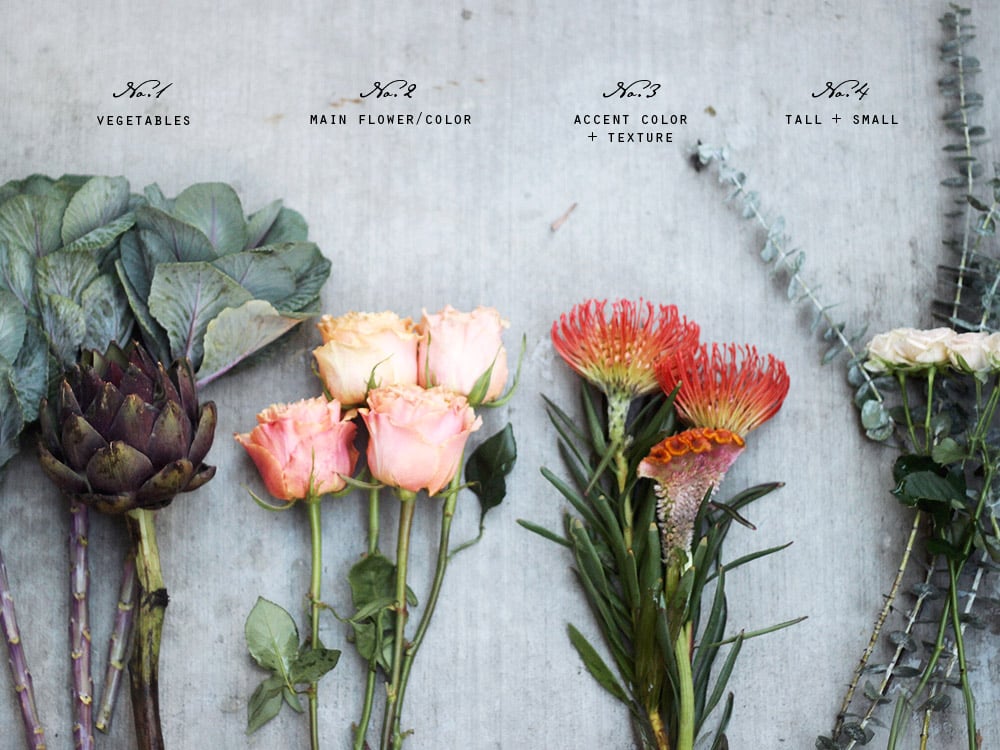 To get the fullness and texture I wanted, I mixed four types of blooms: large vegetables, a main flower/color, an accent color and texture, and tall and small stems.
Step 2: Start with the Vegetables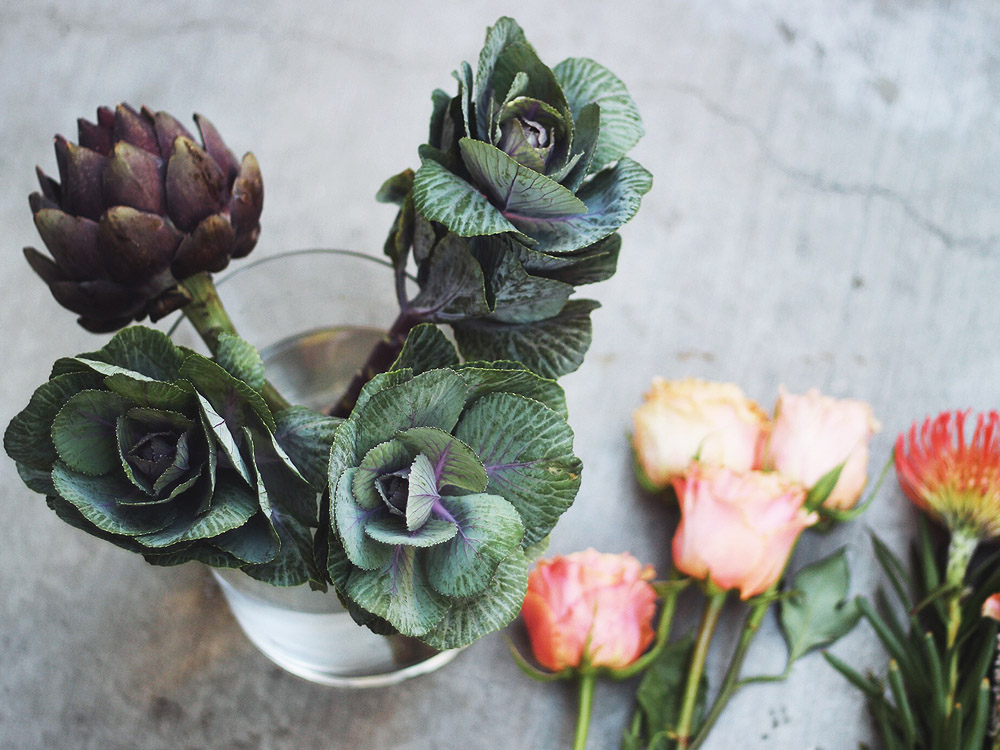 Since the kale and artichoke were the largest in size, I started with these first, spreading them out to roughly four "corners" of an 8″ round vase. (Tip: don't space them out perfectly; be sure to bunch at least two closer together.)
Step 3: Add the Main Color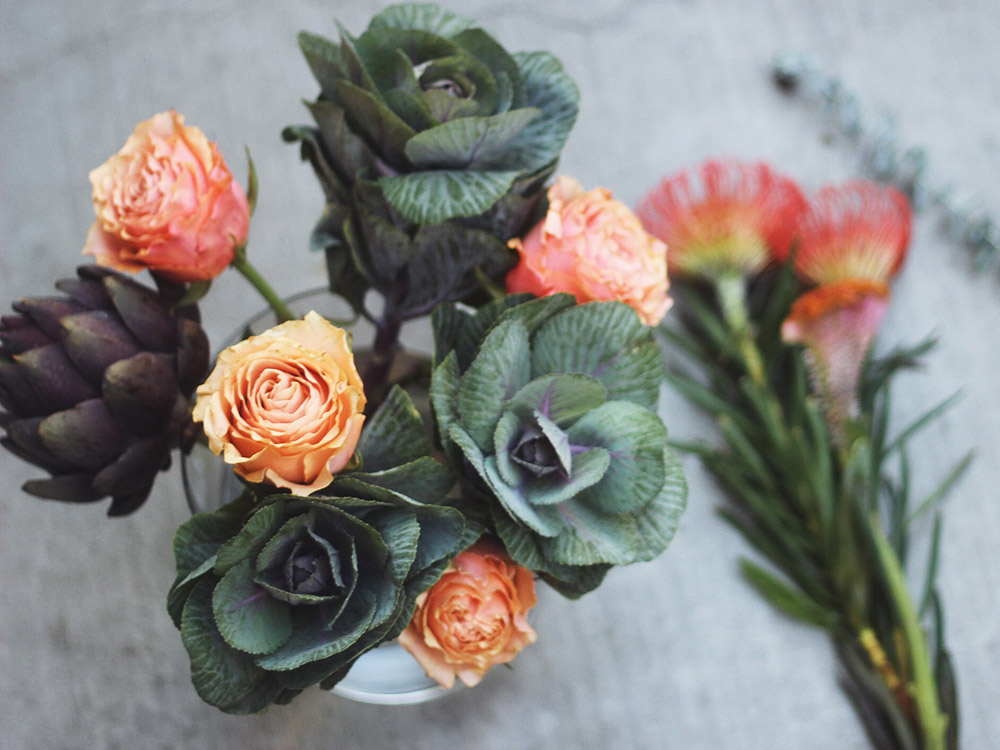 The medium-sized flowers I used also represented the main color tones I wanted. I inserted them within the vegetables, spacing them out fairly evenly (but again, not perfectly!).
Step 4: Insert the Accent Color & Texture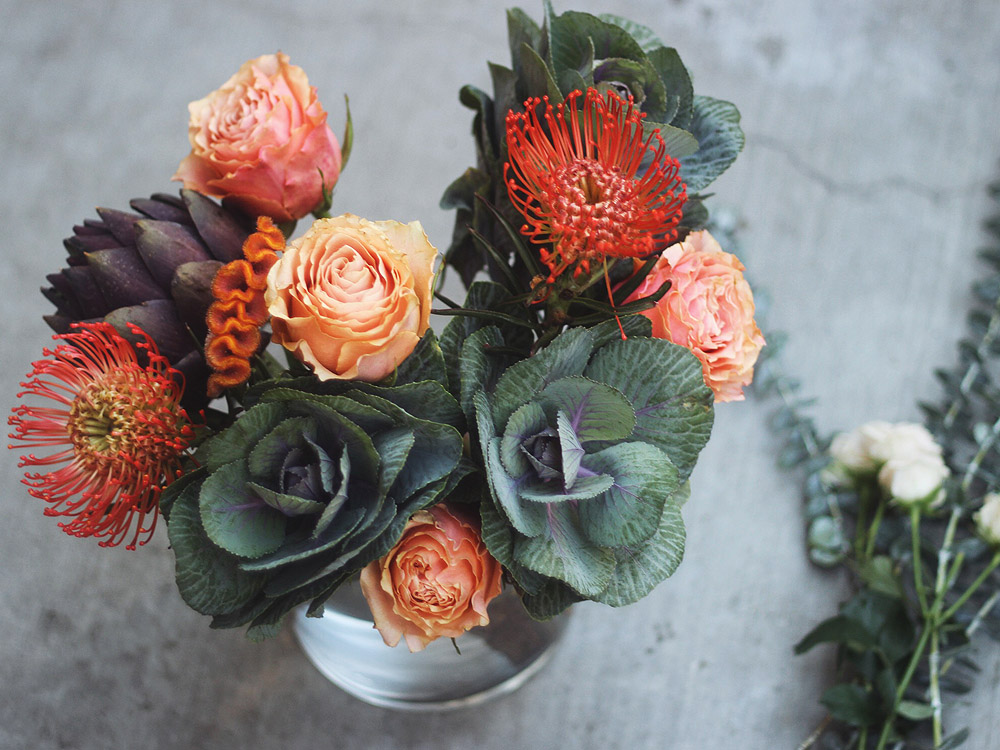 I then included a few out-of-the-ordinary blooms with a lot of texture in an accent tone to add visual interest.
Step 5: Mix in Tall & Small Stems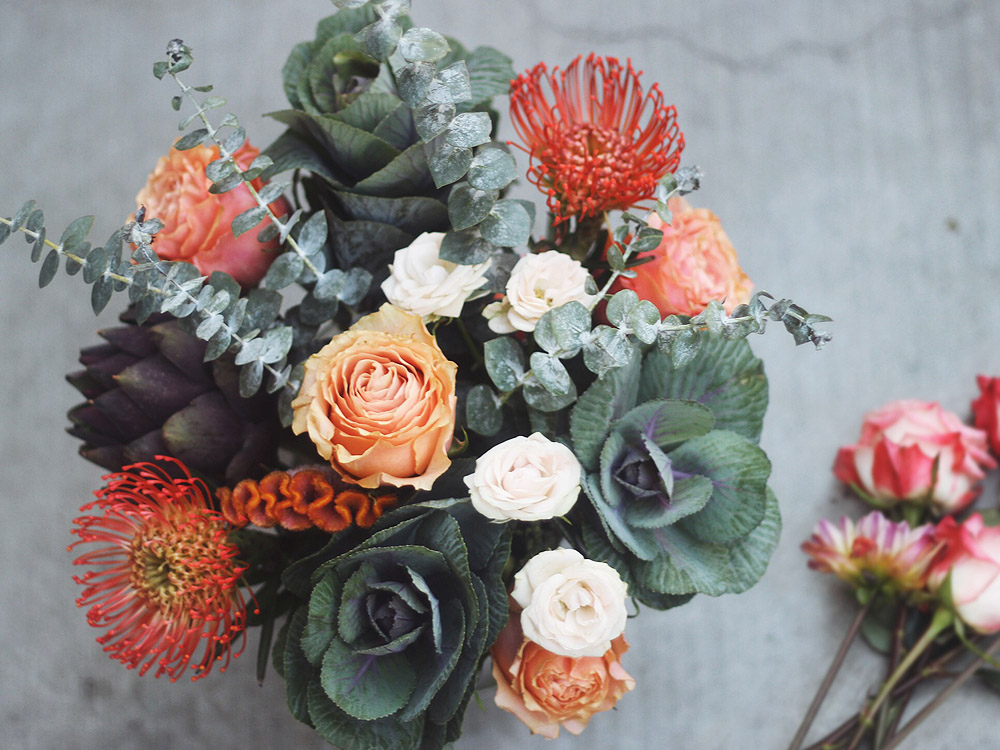 As a final touch, I like to dot in tall stems and smaller blooms that vary the height and weight. I'll usually put in 2-3 spots of tall, spaced out. For the small blooms, I like to bunch them somewhat closer together, rather than spacing them out too much so they don't get lost.
In Situ: Sneak Peek!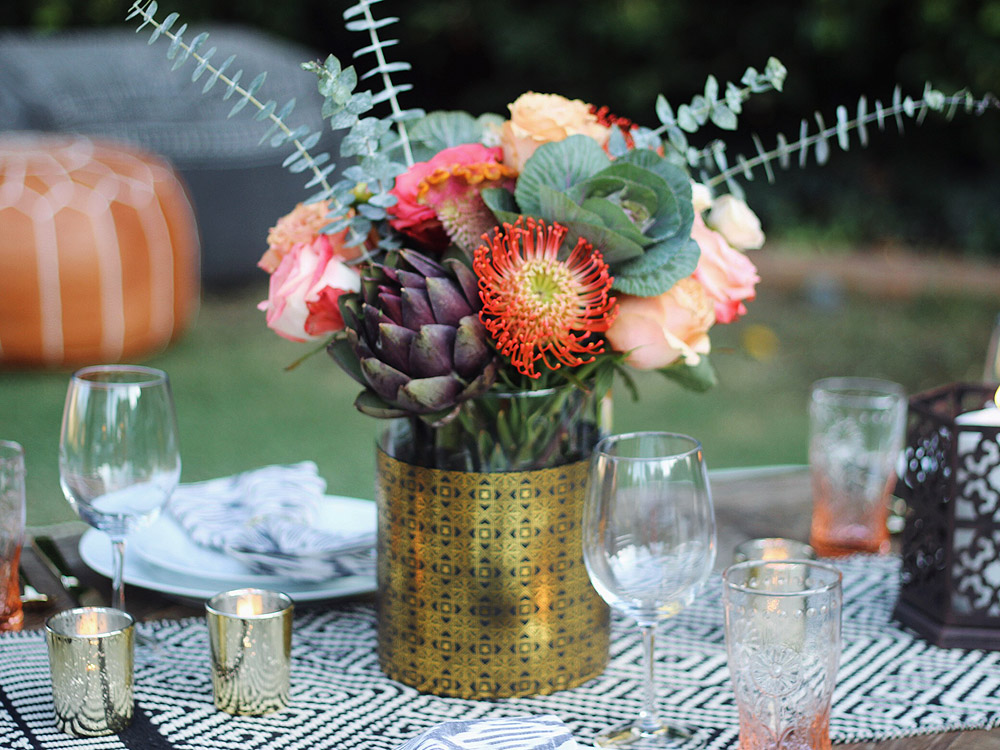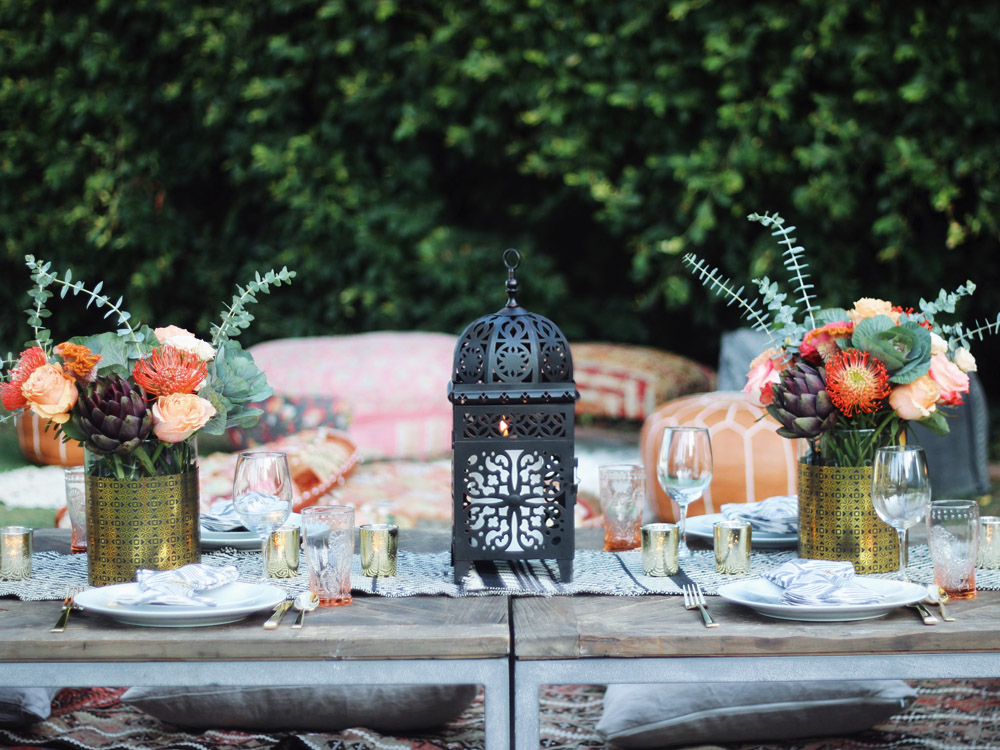 Here are quick pics I took of the table before the party started — in the end, I added in a few bright coral stems to bring the arrangements more into summer colors and really make them pop. And I wrapped a pretty paper around the vases to cover the stems.
More details and DIY's from the event to come!
Photos, arrangements & styling by Erika Brechtel