Sometimes I get these crazy ideas, but they somehow seem to come together…
Like when my friend asked me what I wanted to do for my birthday this year, and I told her what I'd been cooking up. Her initial reaction: "So, you want to work on your birthday." Me: "Doesn't that sound like FUN??!!"
It was a ton of fun, and also a ton of work (as I admitted to that same girlfriend the crazed morning of the party). But it turned out to be an absolute perfect evening with good friends, good food, lots of wine (of course), all set under starlight and string lights.
I could not have pulled it off without Jeni Maus, her team at Found Rentals, and their beautiful vintage furnishings — Moroccan wedding blankets and poufs, kantha and linen cushions, kilim and Turkish rugs, a charming little brass bar cart, and two weathered-wood coffee tables repurposed as one long dining table.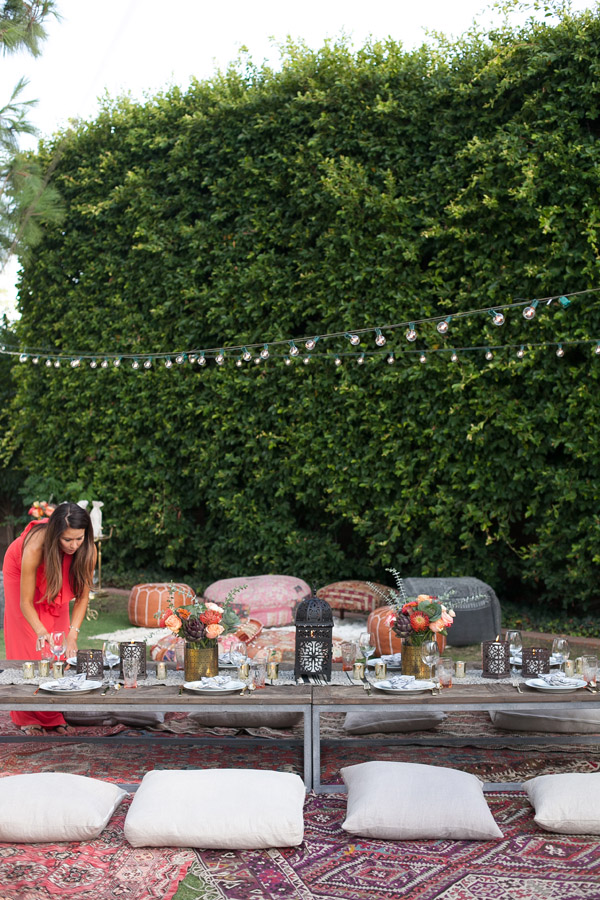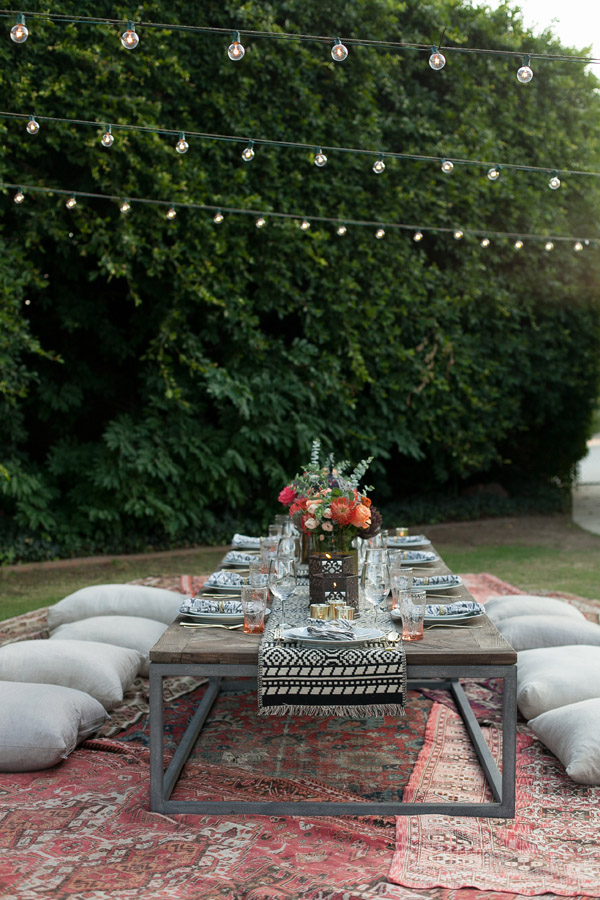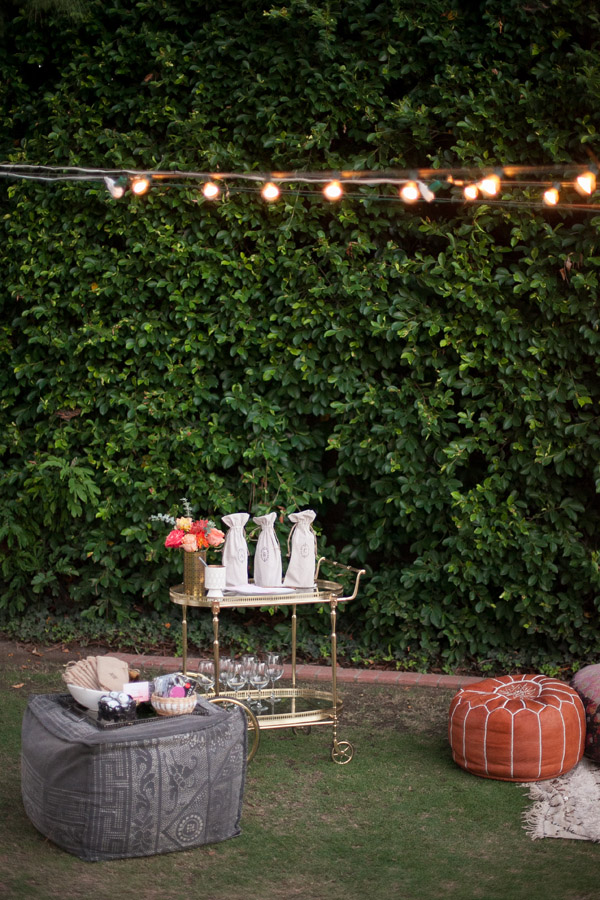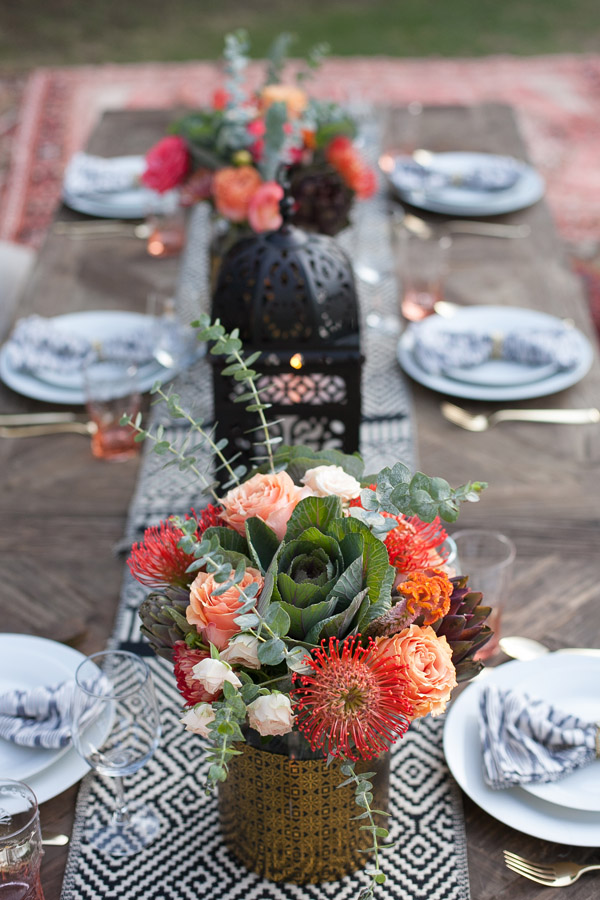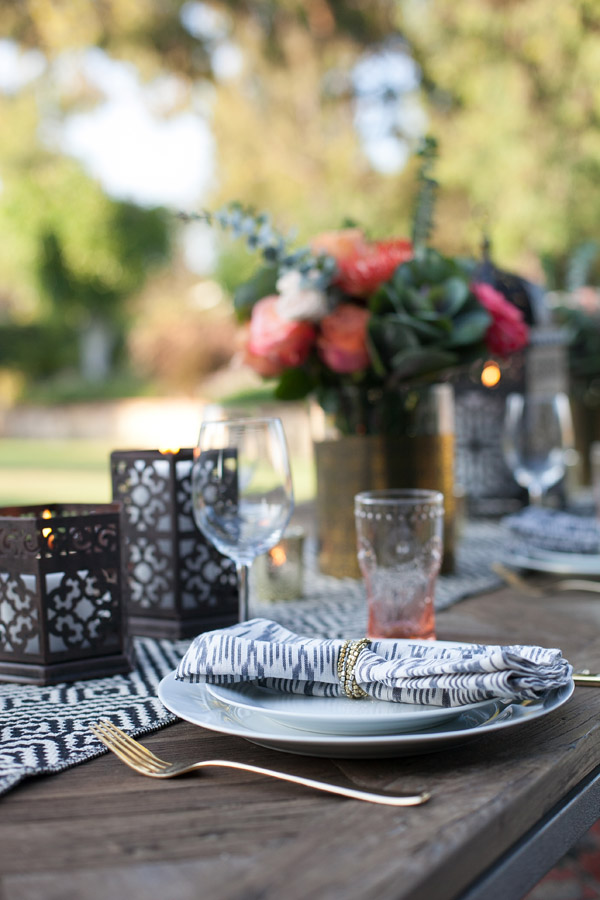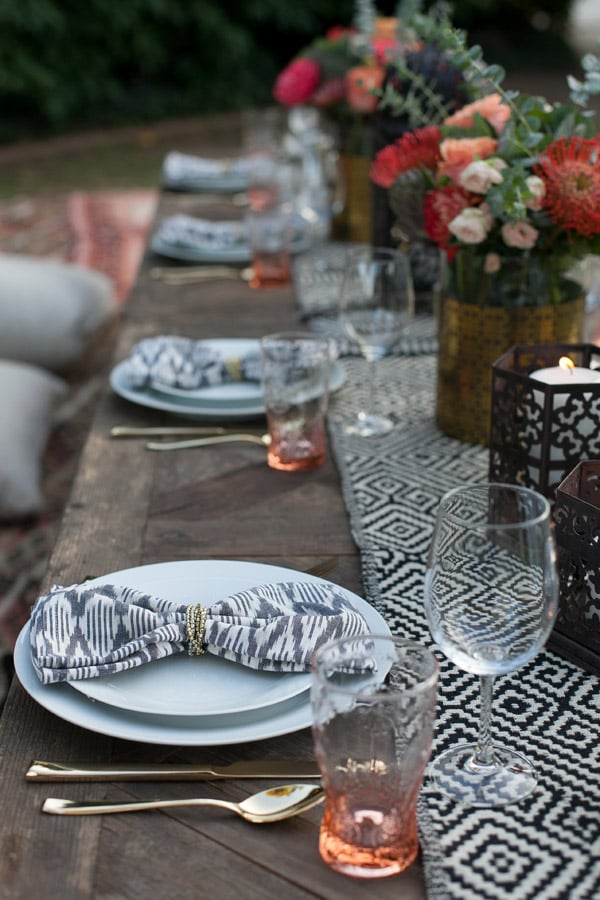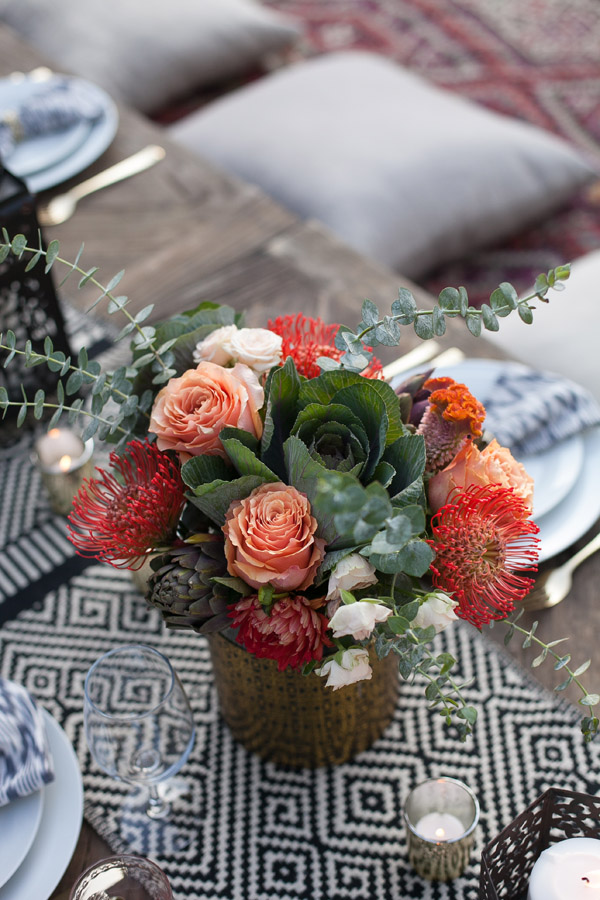 I loved putting the tabletop together, and had so much fun making the flower arrangements using kale and artichoke for the first time (check out my D.I.Y. to make your own!). And fun tip: I used gold and silver bracelets as napkin rings that doubled as party gifts for my fabulous guests.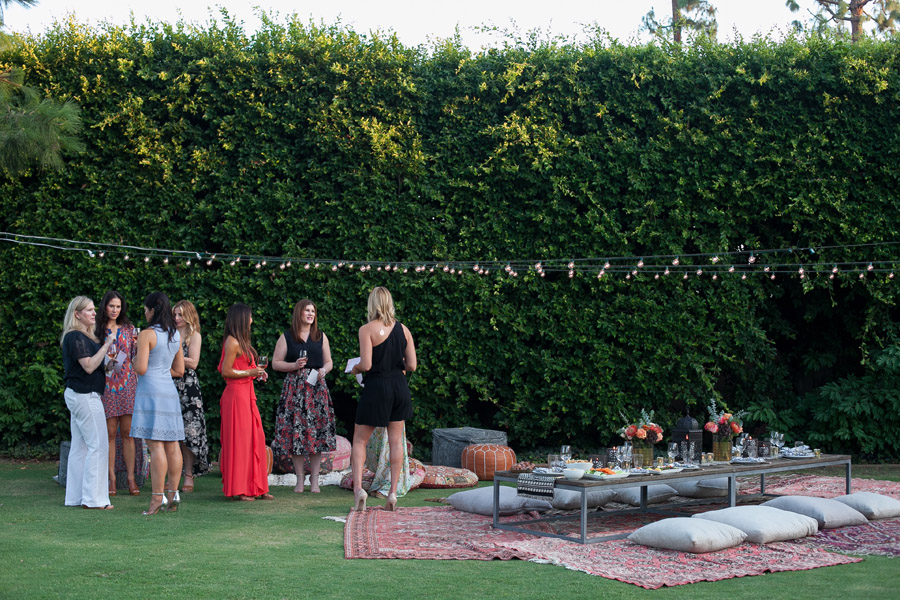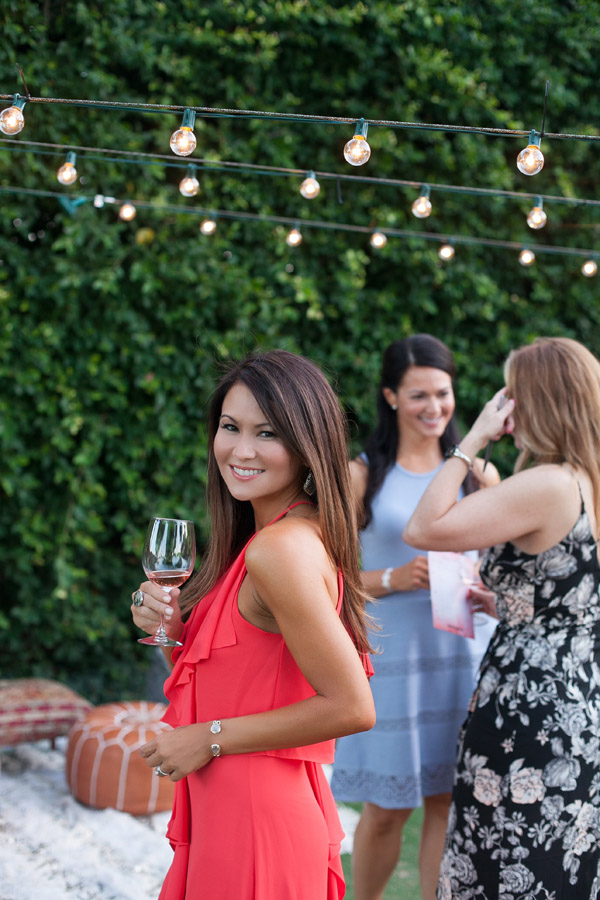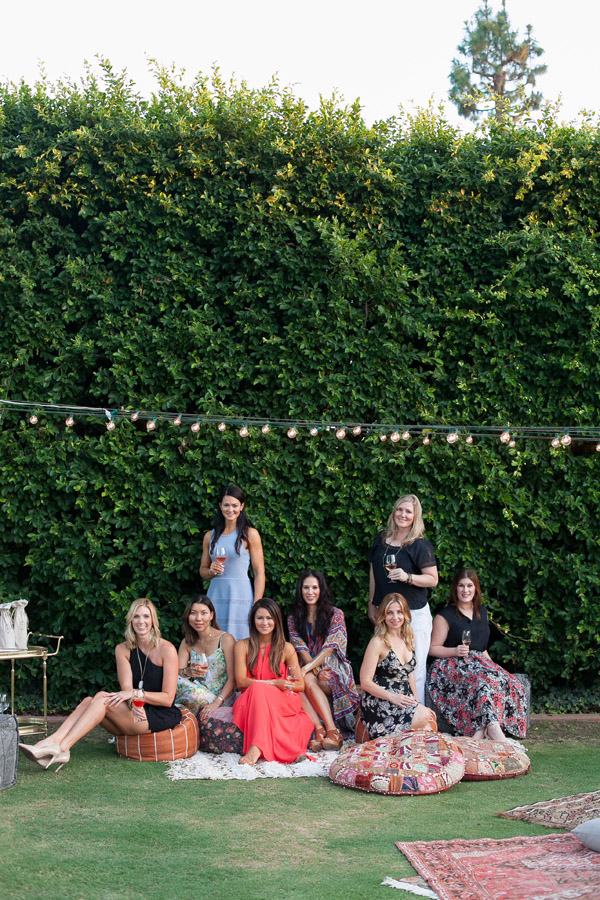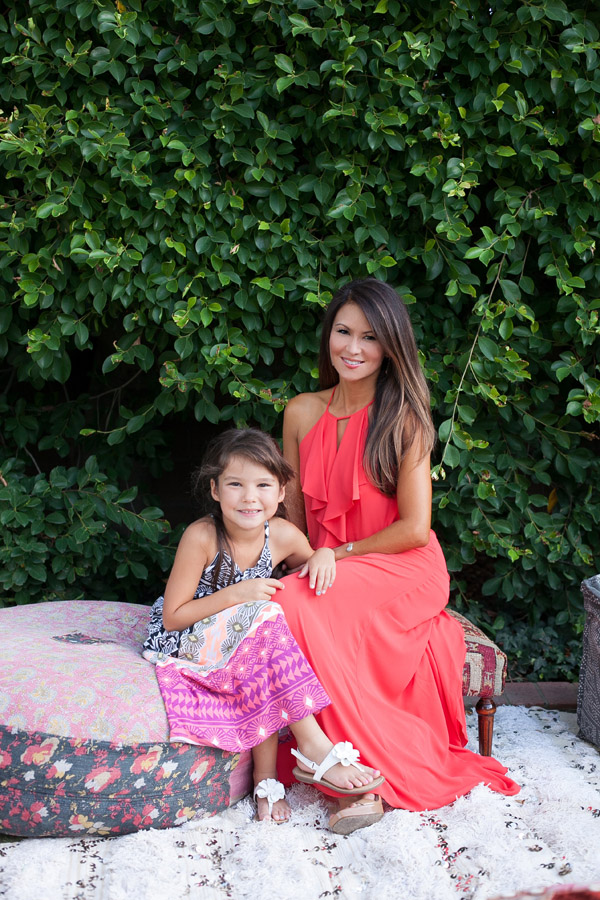 Clearly I was in my element, surrounded by my girls — including my little one who tried her very best to insert herself whenever she could, even volunteering to be our entertainment for the night…sweetie pie.
Her grandpa, Tom Inlay, our Napa Valley Insider and my dad, helped me plan the rosé tasting and pick out the wines (ICYMI, check out his most recent post on rosé wines). He even provided me with a "tasting notes" template, which I made pretty to match the party theme. Download the pdf for your use use here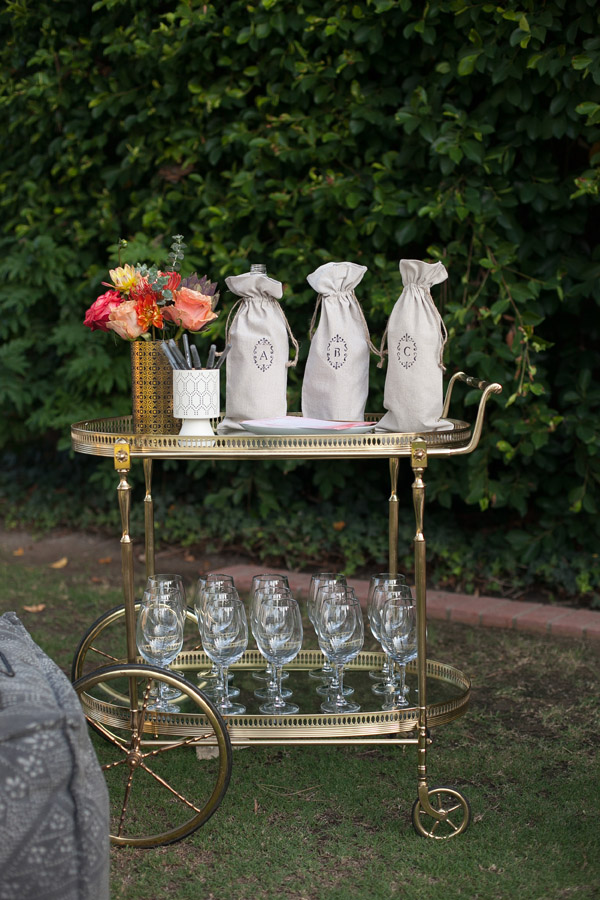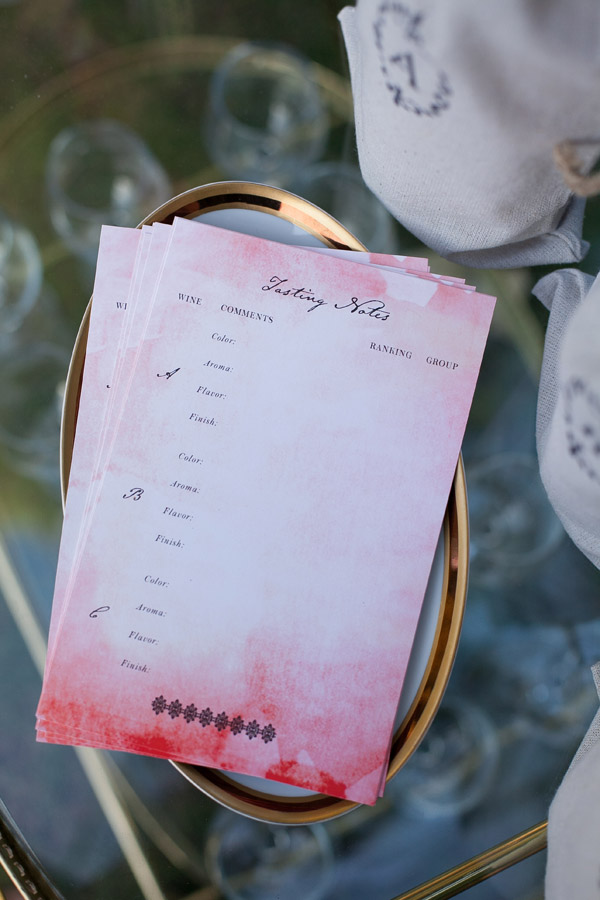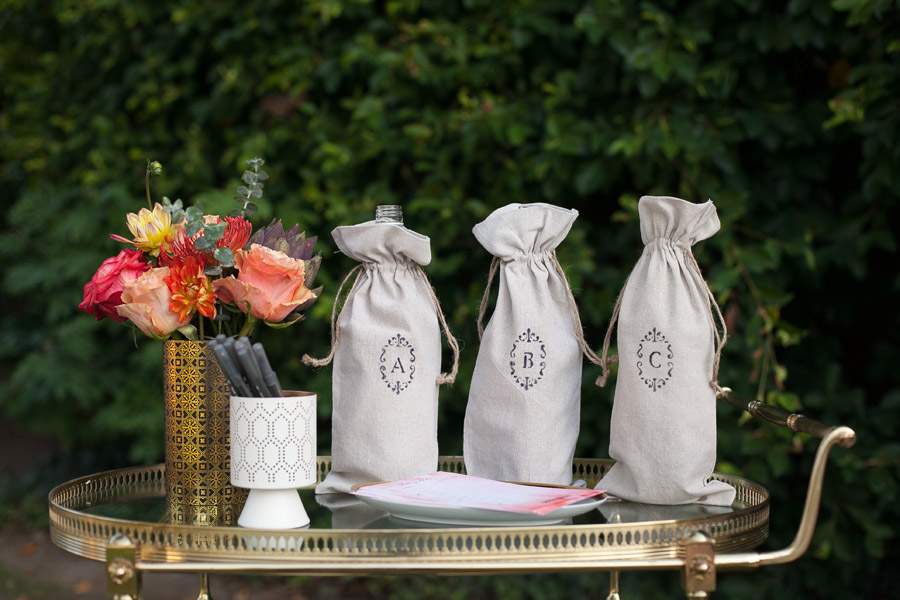 My daughter and I embellished the favor bags and linen wine bottle bags ourselves with craft store stencils and a black sharpie — a perfectly kid-friendly D.I.Y.!
I set up a "favor station" with goodies from Flash Tattoos (which we all thoroughly enjoyed!); a much-loved and highly-recommended cleansing product from fashion and beauty contributor Sandy Choi Huff (who happened to be in town from London!); and a yummy, all-natural beet and cacao lip balm made by nutrition and wellness contributor April Norris (check out her D.I.Y. to make it yourself!).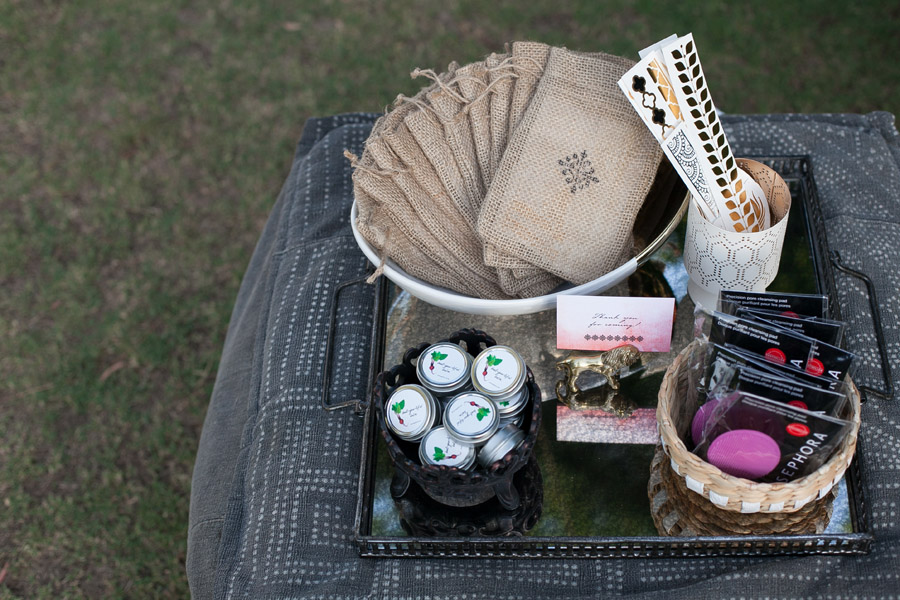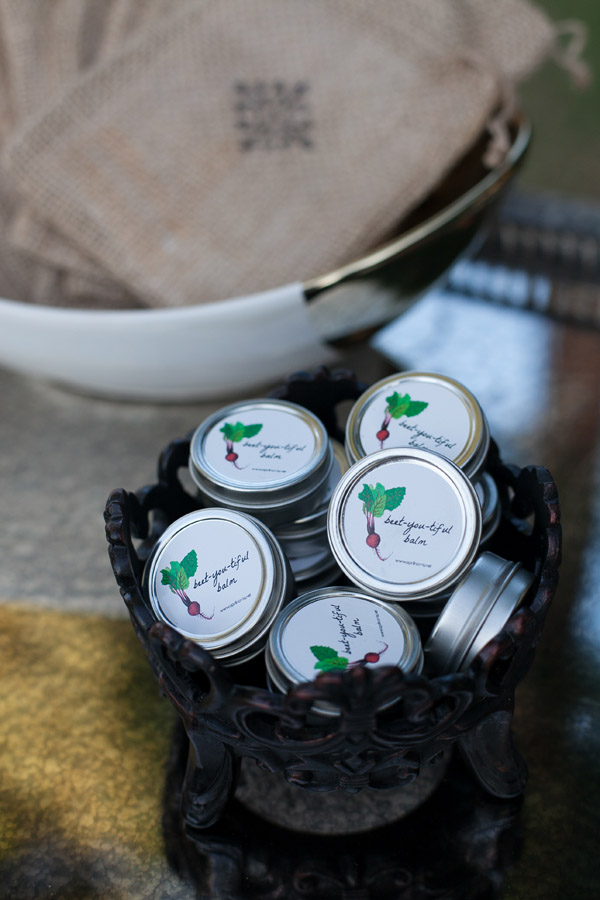 My always-stylish dear friend and fashion contributor Jolie E. Smith helped me with my ensemble (per usual!). And my all-around amazing friend and food contributor Yuki Pitkin planned — and cooked — the entire menu which included stuffed grape leaves, Prosciutto-wrapped figs, couscous with currants and pine nuts, and lamb tagine. Get the recipes here!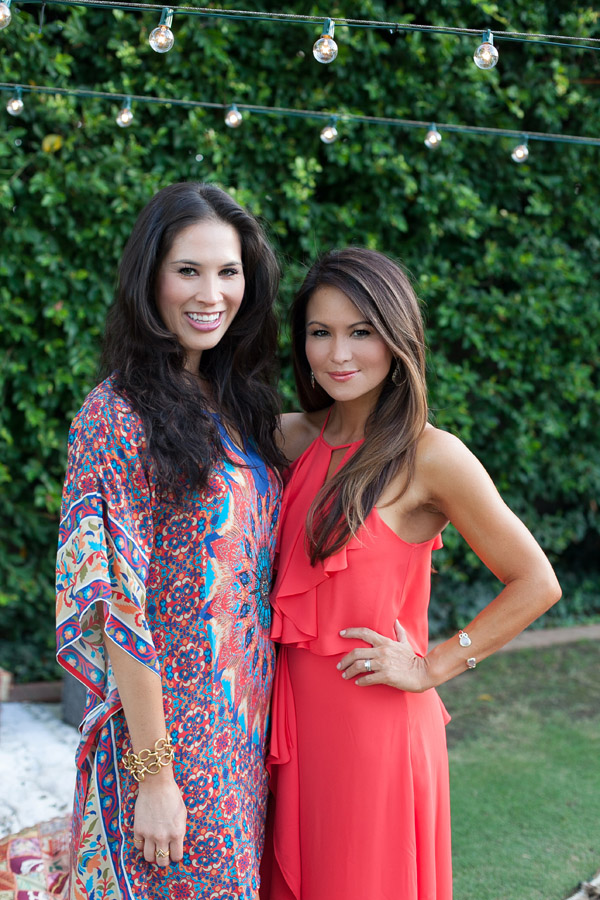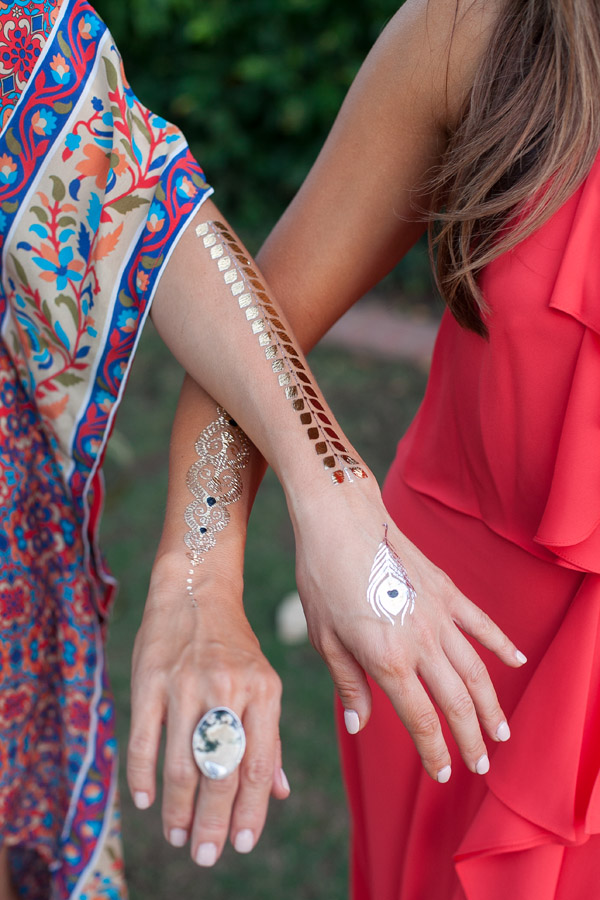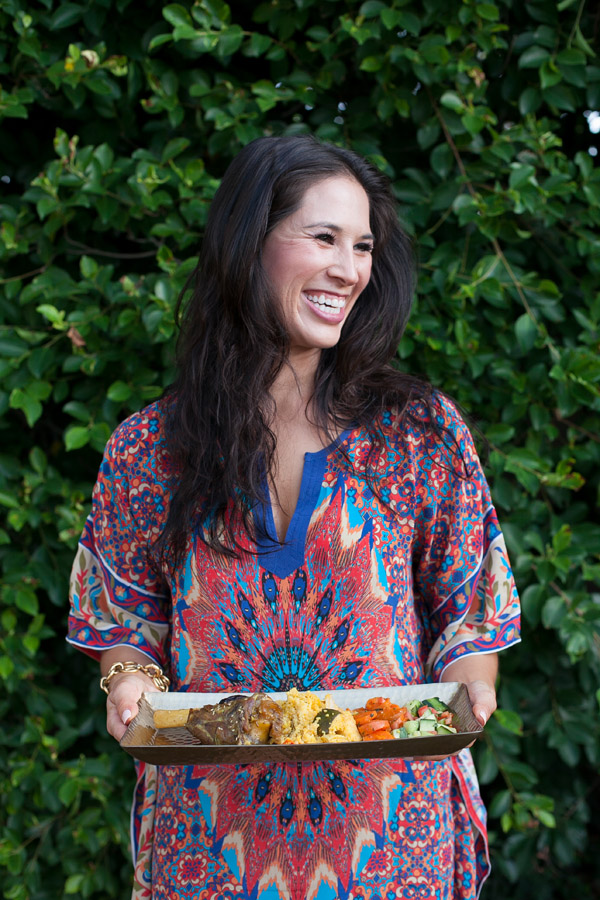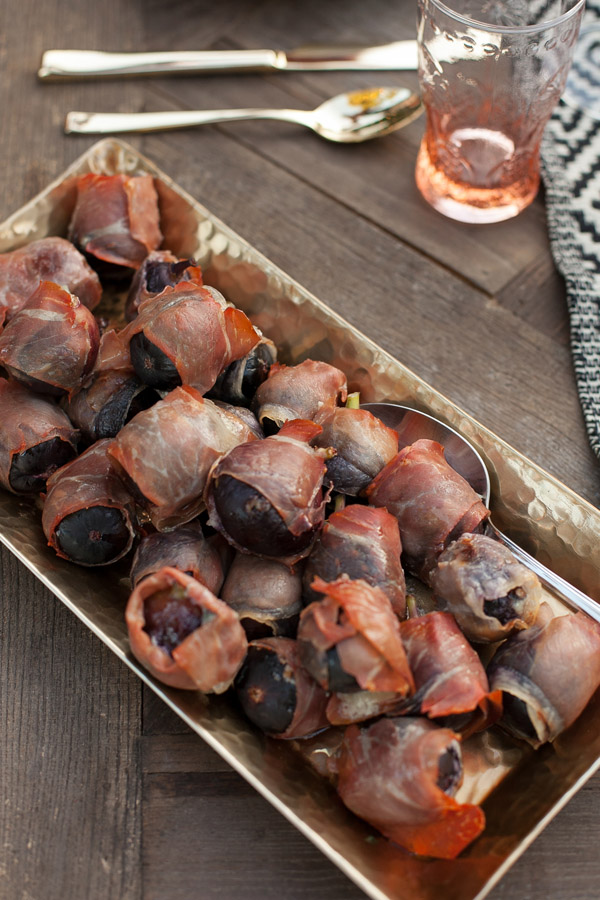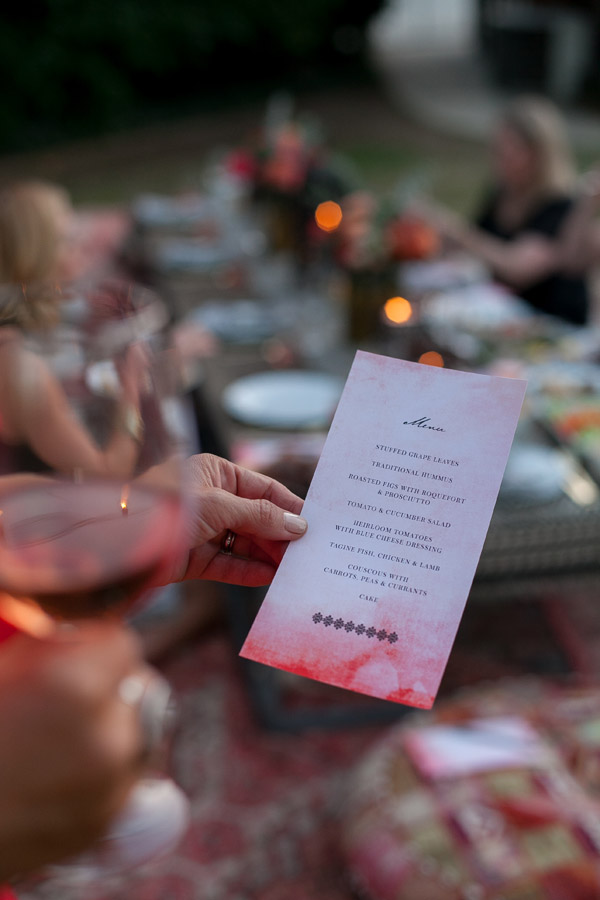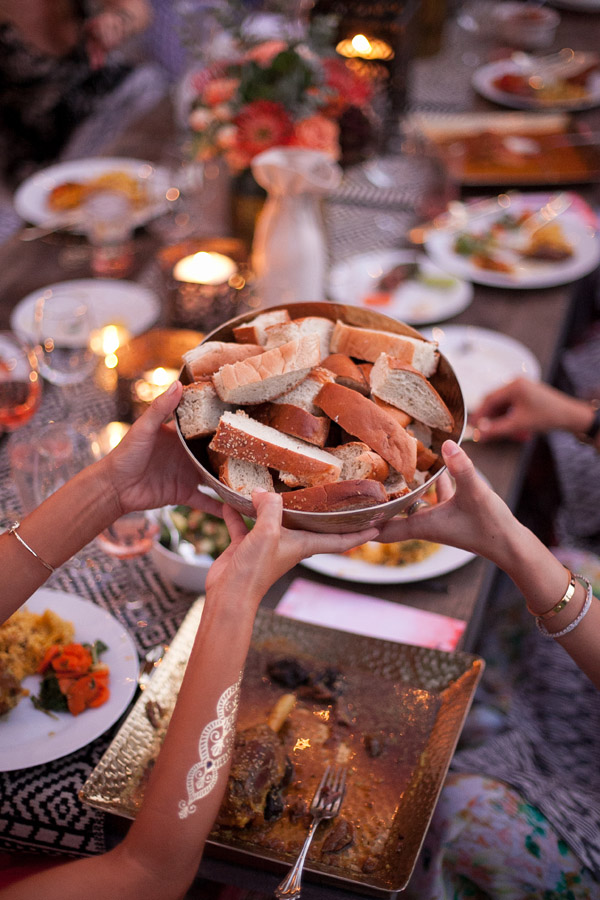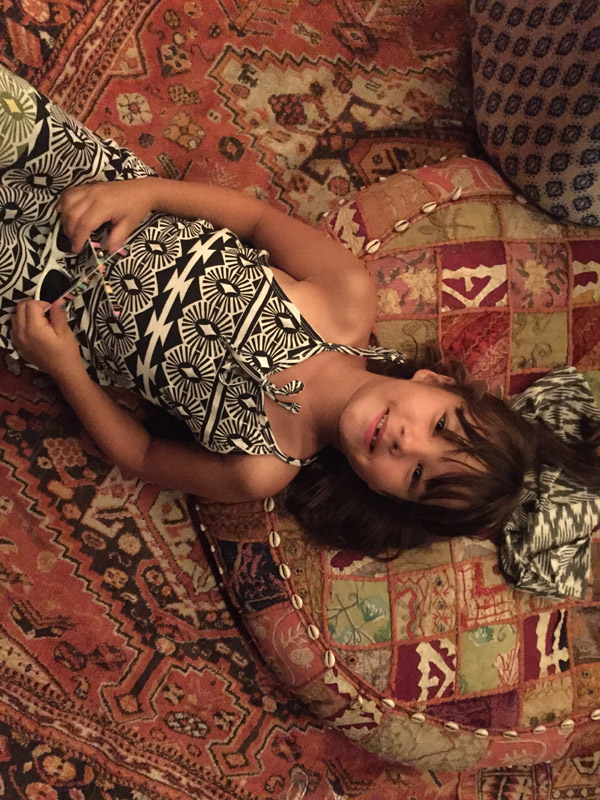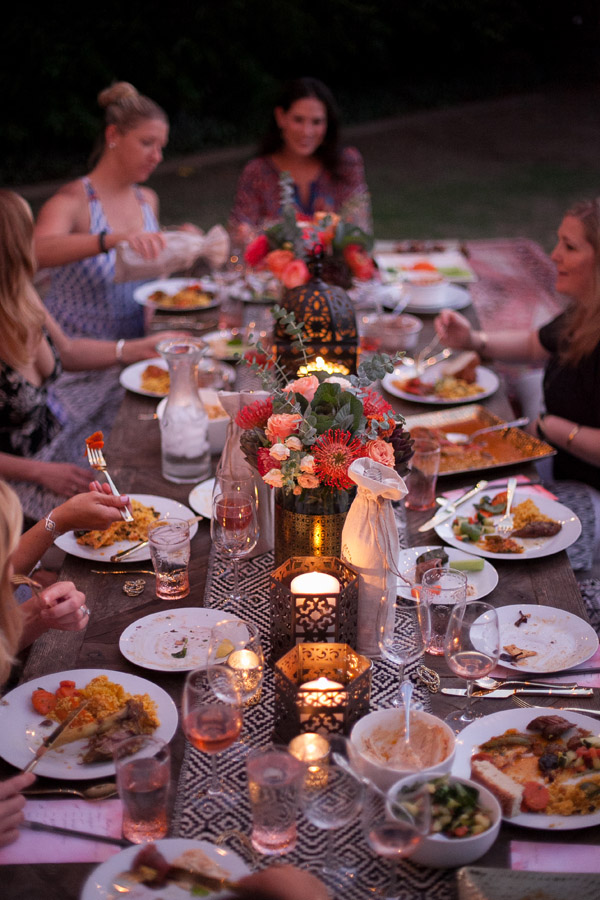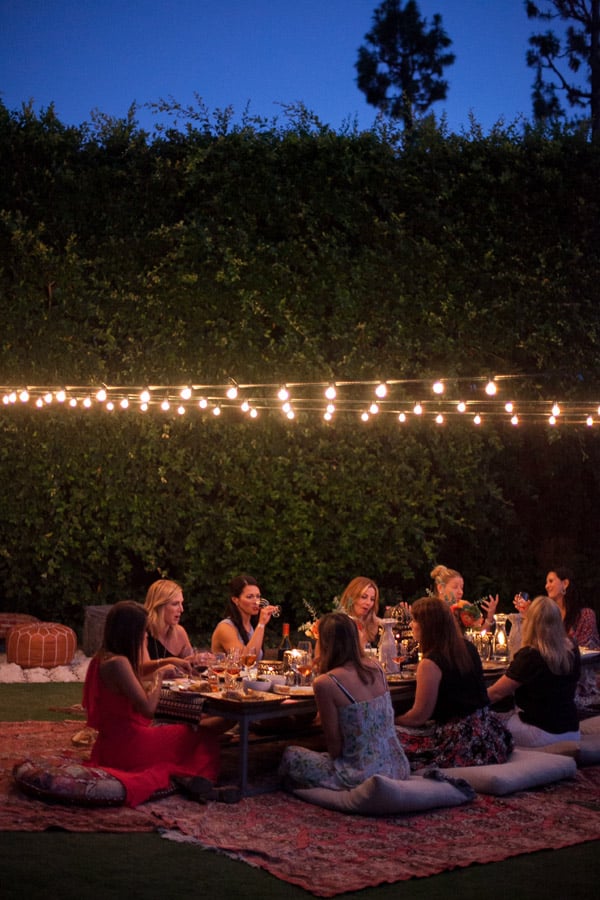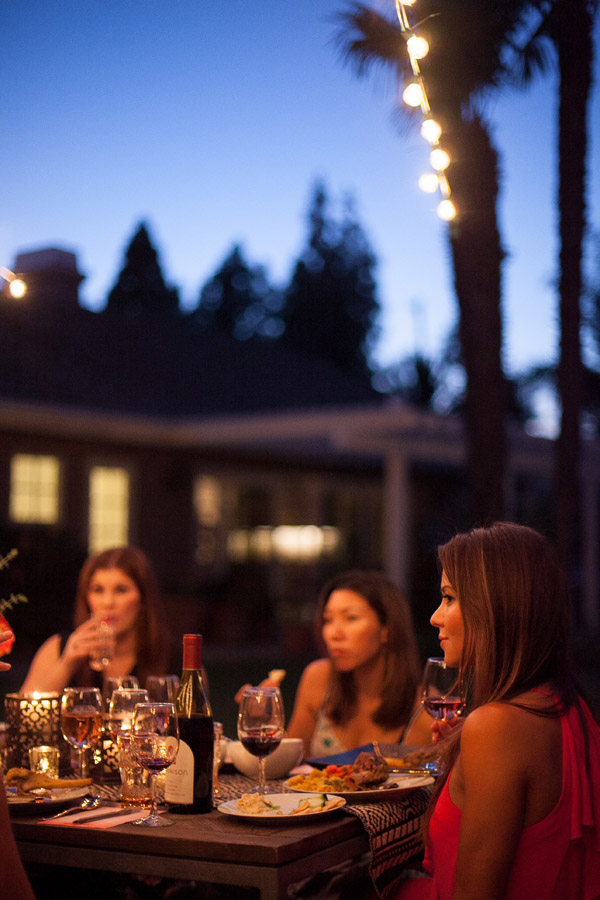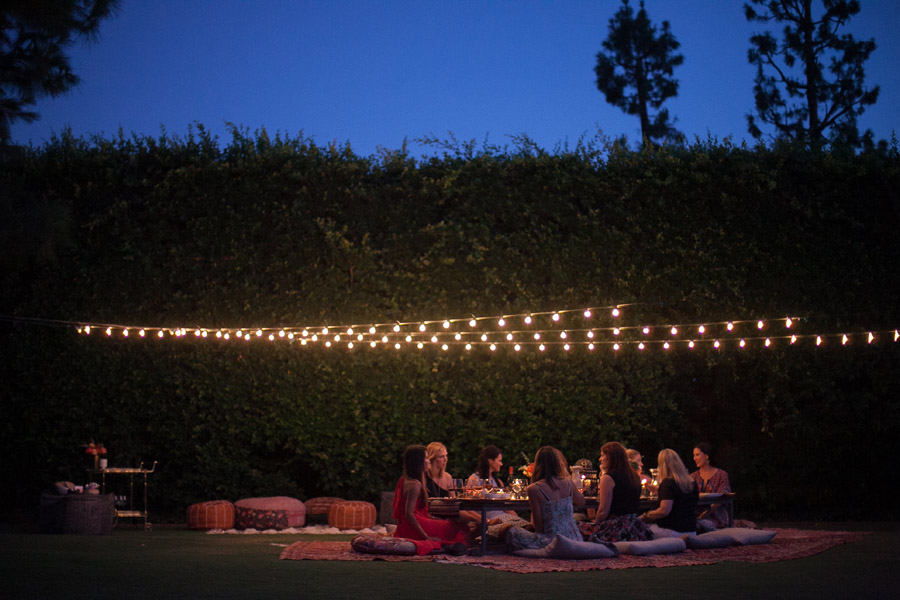 I will always treasure this one…a perfect evening!
GET THE LOOK:
black + ivory Kilim table runners / white dinner plates and salad plates / gray + white Ikat napkins / gold flatware (similar) / rose-colored hand-embossed glasses / gold-hammered rectangular serving trays / gold-hammered square platters / gold-hammered bowls / lanterns / gold mercury glass votive holders / clear globe string lights
Photography by Jennifer Daigle; furnishings provided c/o Found Rentals; tattoos provided c/o Flash Tattoos; beet lip balm provided c/o April Norris; event styling and art direction by Erika Brechtel
**An enormous THANK YOU to my in-laws for letting us invade their backyard for an evening, and to my husband who spent a good portion of the 90F degree afternoon putting up the string lights. And of course, thank you to my party guests for humoring me and letting me "work" on my birthday!