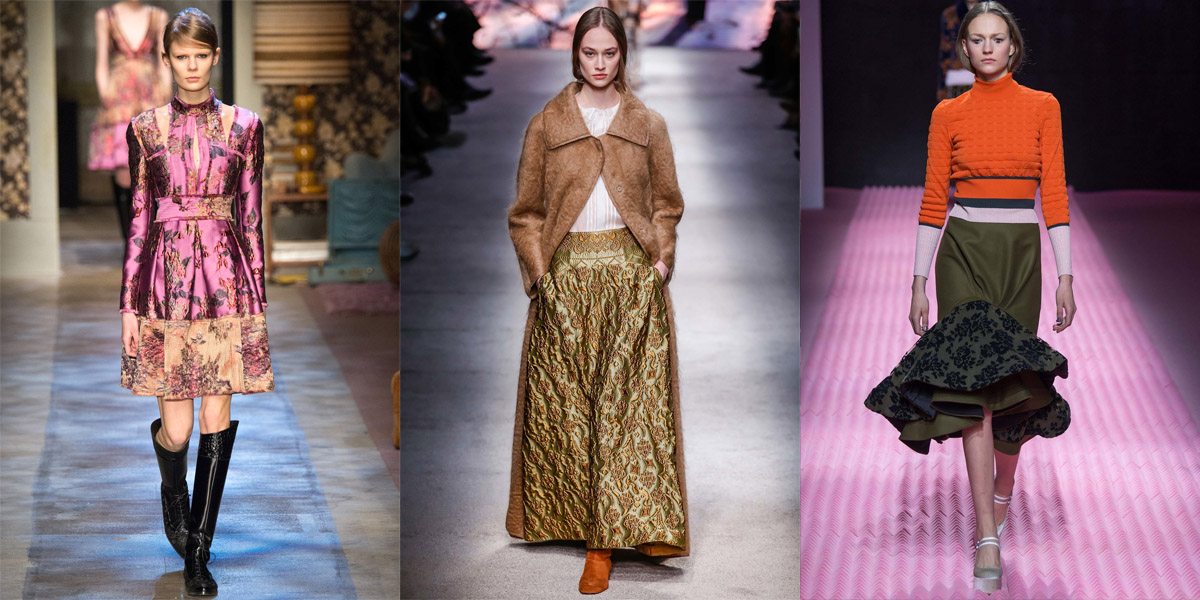 September 23rd was the Autumnal Equinox officially beginning Fall. With Fall comes new lineups not only on Primetime TV and football fields, but also on the runway. Autumn/ Winter 2015 (A/W15) brings new silhouettes, textiles and a sophisticated androgynous color palette to your wardrobe.
A roundup of the color trends to try this season:
DESERT SAGE
This cool green color acts as a neutral anchor this AW15 season. It ranges from earthy mint to green-grey in color. Top trends seen here include the floor length coat, opulent brocade and the staple white shirt. The hot piece you want is the floor length coat. It continues the long over long look (see my '12 Trends for Spring 2015' post) and is versatile. The mohair long coat is cozy and perfect for the cool weather coming!
STORMY WEATHER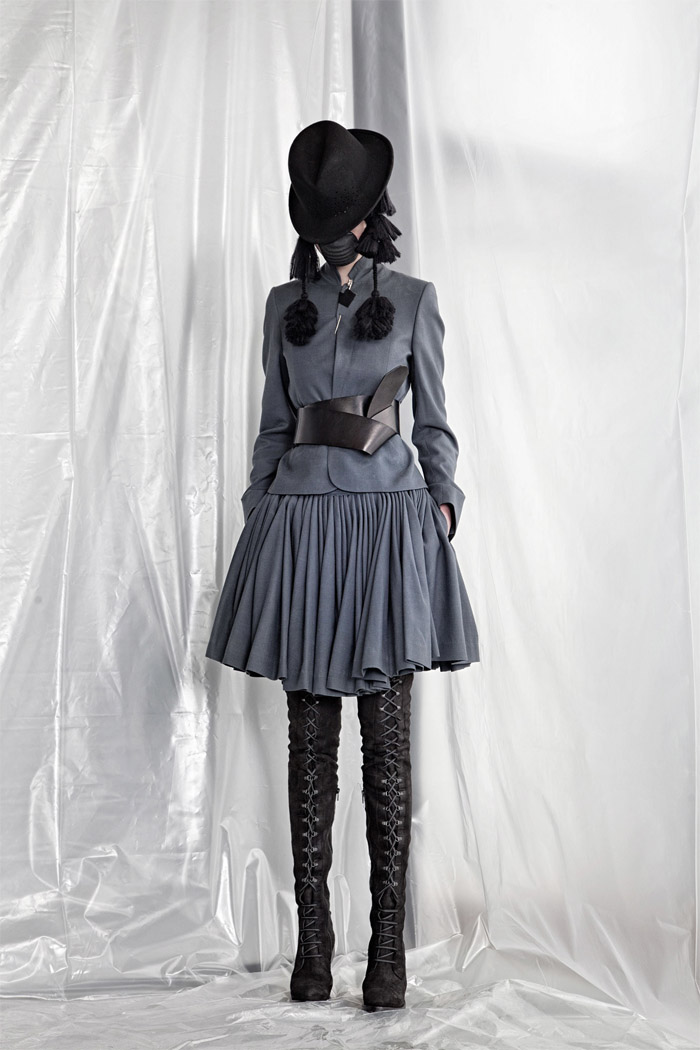 A sophisticated and powerful blue-grey color, Stormy Weather is perfect for cool winter skies. The fancy waist detail cannot be missed this AW15. It is everywhere and I mean everywhere! Cinching waists across the runway thin and thick belts are an accessory that must be added into styling! Perfect for winter months is the skintight lace up boot trend that will keep you covered while being unapologetically sexy. Above is a short version of this season's flouncy skirt silhouette allowing flirtatious movement.
OAK BUFF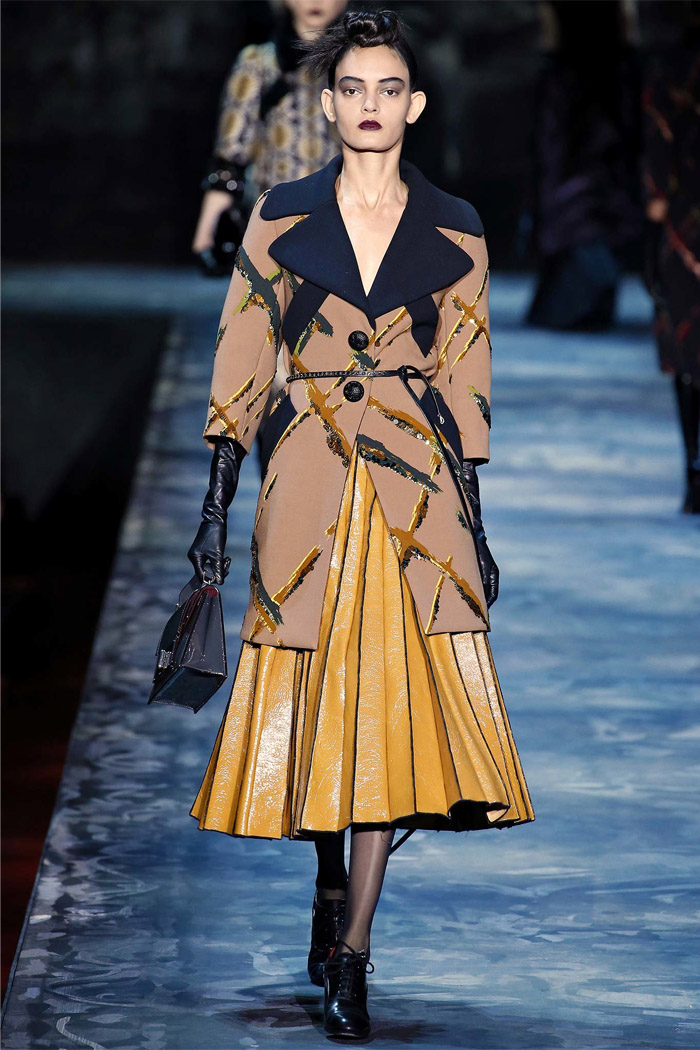 Bringing warmth and good feeling when the weather takes a chilly turn is golden Oak Buff. It especially glows when seen in leather, like the pleated skirt above. SPOILER ALERT: Pleats are the everything trend in 2016. Leather is always an AW staple and now is taking stage in the elbow-length glove. Classic or edgy deepening on your style, the elbow-length glove is a hot accessory for your consideration! Strong this season is Victorian influence seen here with a dark, goth edge where the elbow-length glove pairs well. See waist belt detail? I told you…
DRIED HERB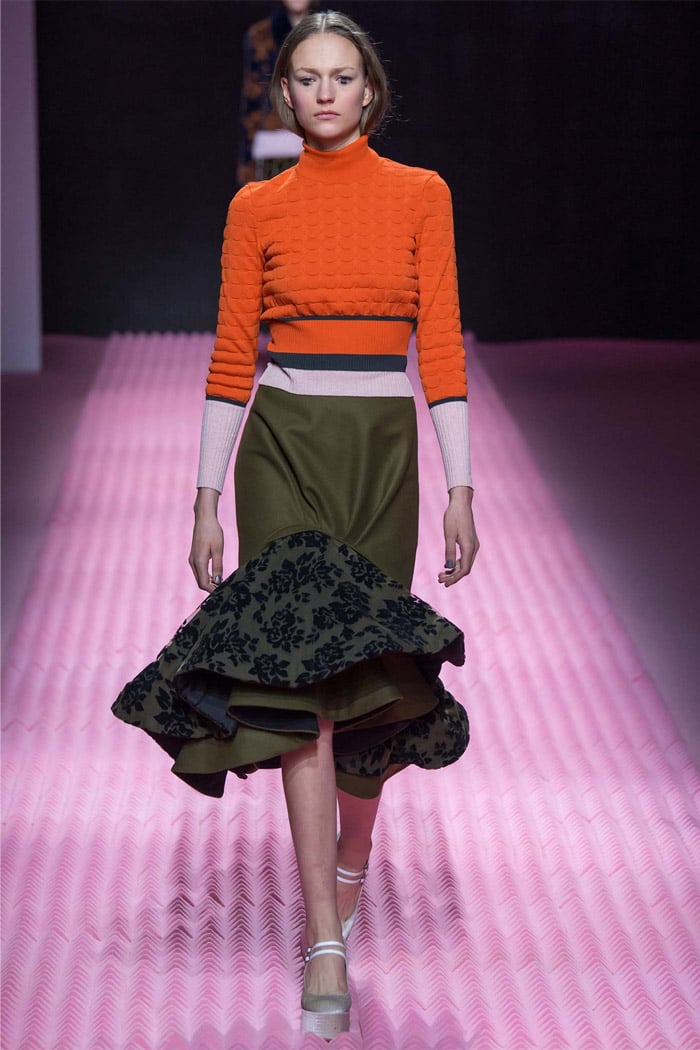 Another trendwatch has been the color Green and I am here to tell you it is on the scene and the upswing through next year. This year Olive Green is elevated as seen in Dried Herb. The happiest hem, the flounced hem, is combined with florals which is another continuing trend (see my '12 Trends for Spring 2015' post). The damask pairing of Dried Herb with Reflecting Pond is comfortable and gorgeous. Cadmium Orange another AW15 color is the top of the dress which has a Sport vibe carrying over from Spring 2015. The mock turtle neck and waist definition are two other silhouette details seen this season.
MARSALA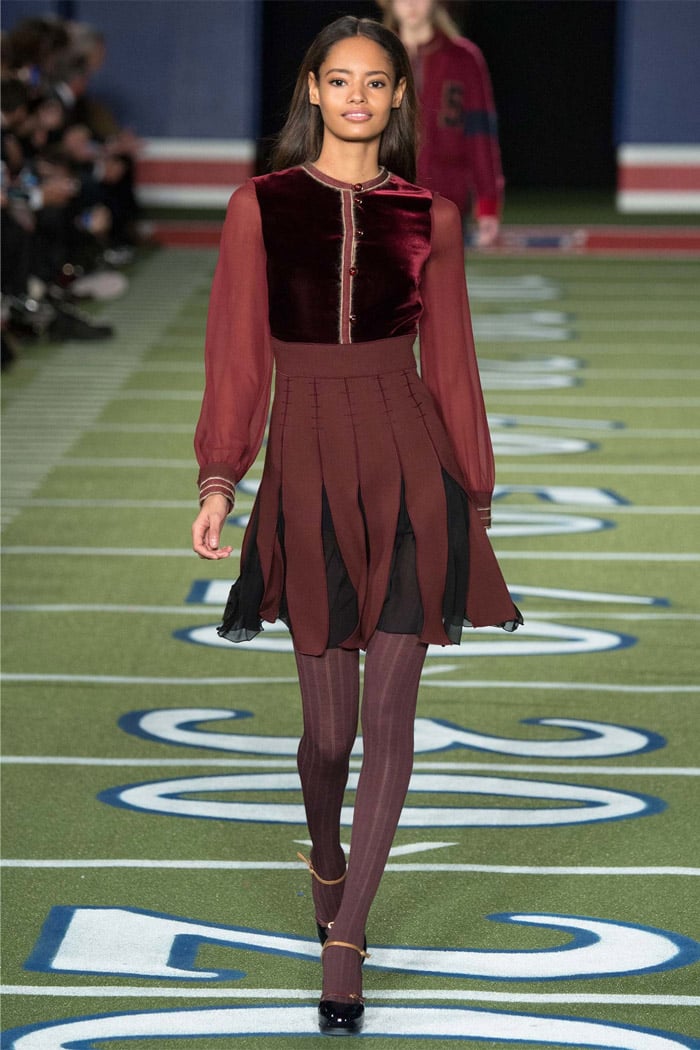 In my post 'Color Trends for Spring 2015' I shared Marsala is the Pantone color of the year. Its earthiness and sophistication is perfect for the velvet trend this season seen in combination with the sheer trend carrying over from SP'15 (see my '12 Trends for Spring 2015' post). Living in Southern California there is not much need for covered legs, but all the stylish tights that hit the runway and are now in stores make me wish the temperature would drop! As pleats continue to become a main attraction the carwash pleat is perfect to showcase stylish tights and the legs you work so hard at the gym to shape.
BISCAY BAY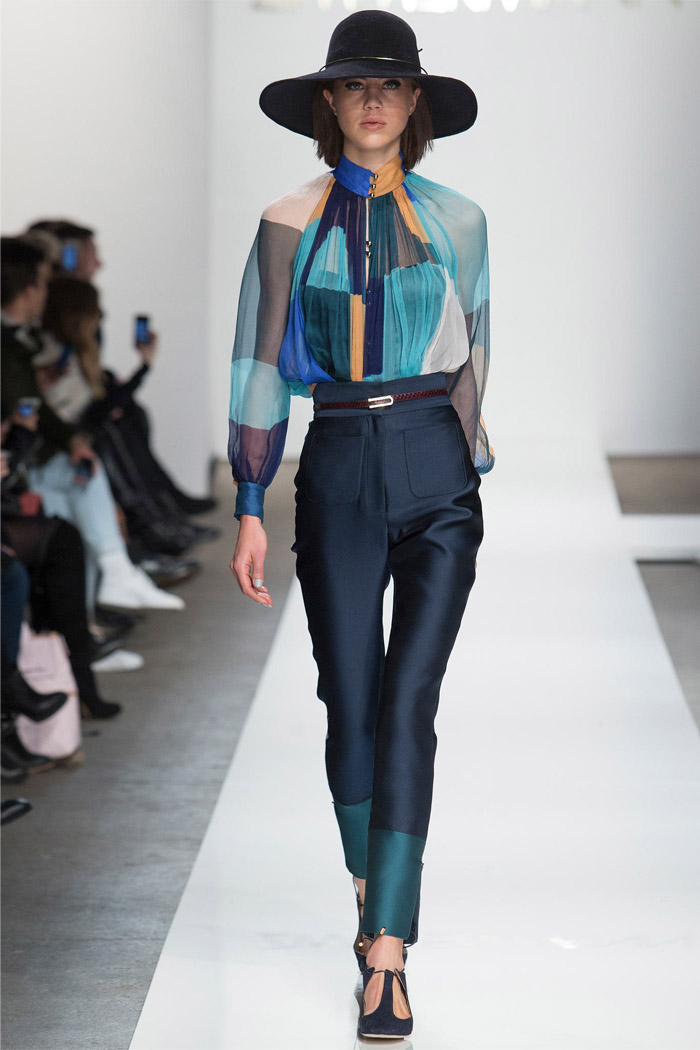 An inviting and cool blue with a green attitude this color takes you to warm tropical waters as winter ice freezes. Androgynous tailored pant suits are popular this season and the pant is a high-waist pant. You will find with this pant waistline that not only the skintight boot height is rising. The high-waist pant cinches the waist and is perfect to accessorize with a fancy belt. Chic patchwork is seen in coats, slip dresses, pants and blouses like the above sheer Victorian influenced high-neck blouse.
CADIUM ORANGE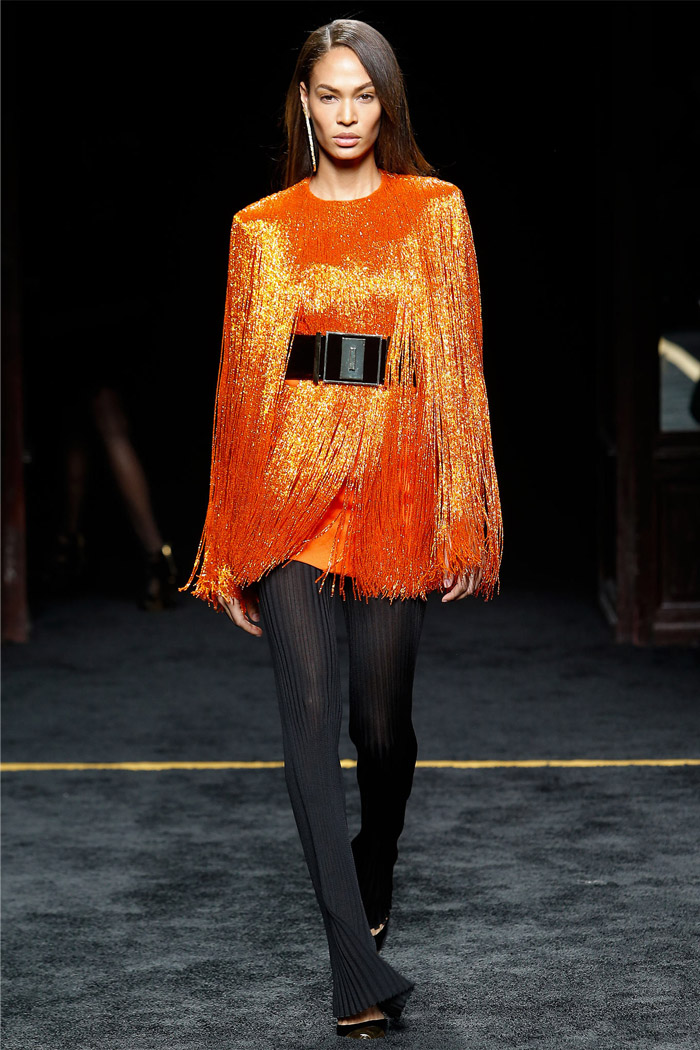 Warm, welcoming and dramatic is Cadmium Orange. A color not needing more of a statement Balmain took it over-the-top with the shimmer and fringe trend cinched with a thick belt. Fringe was a top SP15 trend and there is no sign of it stopping as it continues to be seen in shoes, handbags and apparel. Somewhere between a tight and a pant is the pleated legging seen above. To top off this trend packed look the model is wearing one-earring which is an accessory trend carrying over from last year. This is the new Rock and Roll!
CASHMERE ROSE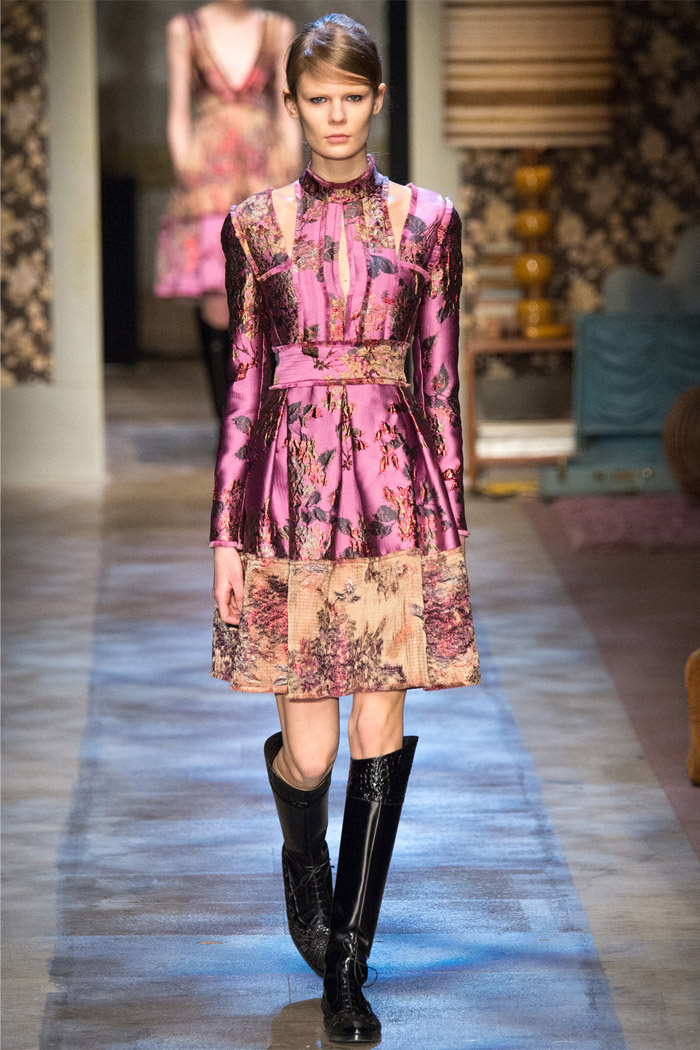 The color name itself is indulgent. It is both effortless and exotic. This color in opulent brocade with high-neck and waist defining detail is captivating. I had to share this jacquard dream!
REFLECTING POND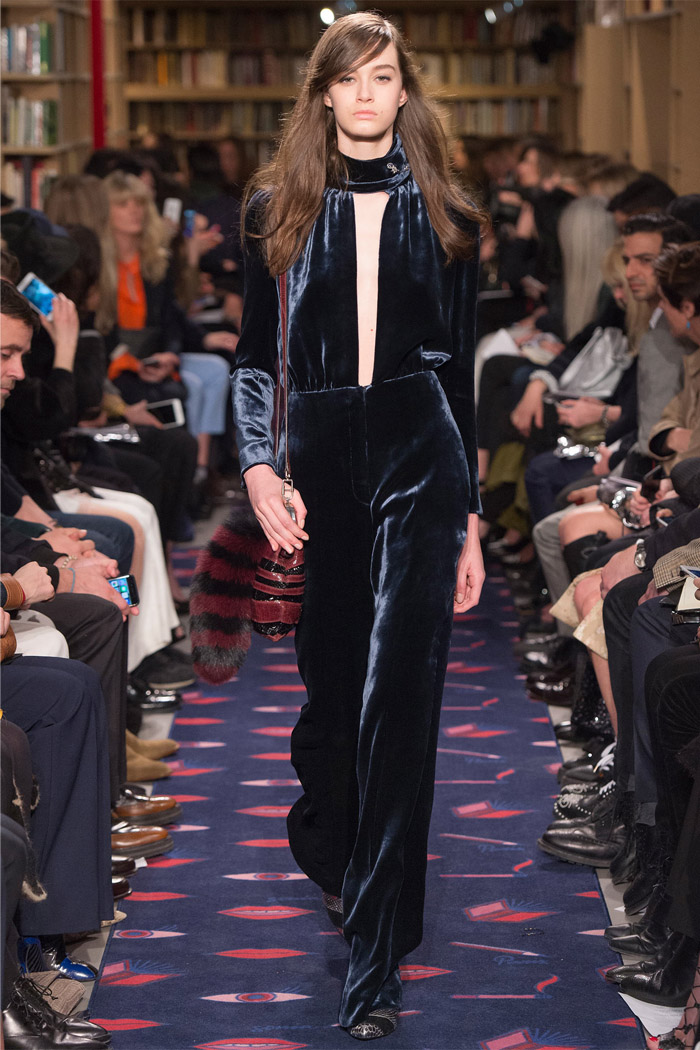 Dimensionally composed is the new cool blue Reflecting Pond. A color with depth and stability it is a great pairing for the pallet this season. As a GRIT (Girl Raised In The South) velvet dresses and separates were an AW staple until put away as the rule on February 14th. I am elated to see rich velvet on the runway and in stores in large as I have missed it! The high-neck of the velvet jumpsuit romantically exaggerates the plunging neckline trend continuing from SS15.
AMETHYST ORCHID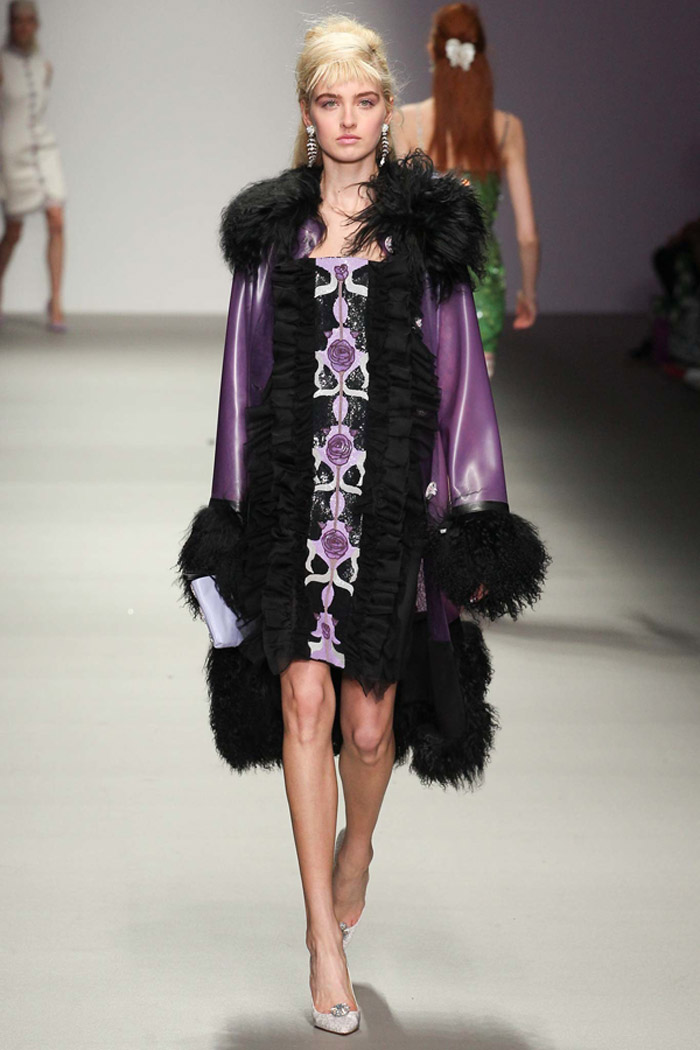 Lending its creative vibe to the runway in solids and prints Amethyst Orchid is a vibrant and enigmatic hue. Trending in coats is the long sleeve "no hand" appearance which will keep your fingers warm if you forget your elbow-length gloves. Fur and faux fur in the form of a stole tucked in to a belt, shoes, handbags and cuffs is a trend with enough item variety to be an easy wardrobe add.
There is no doubt you will see SP15 and trends from last year as street style this AW15 in the earthy shades shared along with new trends that will carryover into 2016. Find your wardrobe staples then add your favorite trend in the colors of the season to the outfit. It doesn't take much to stay fashionable my friends!