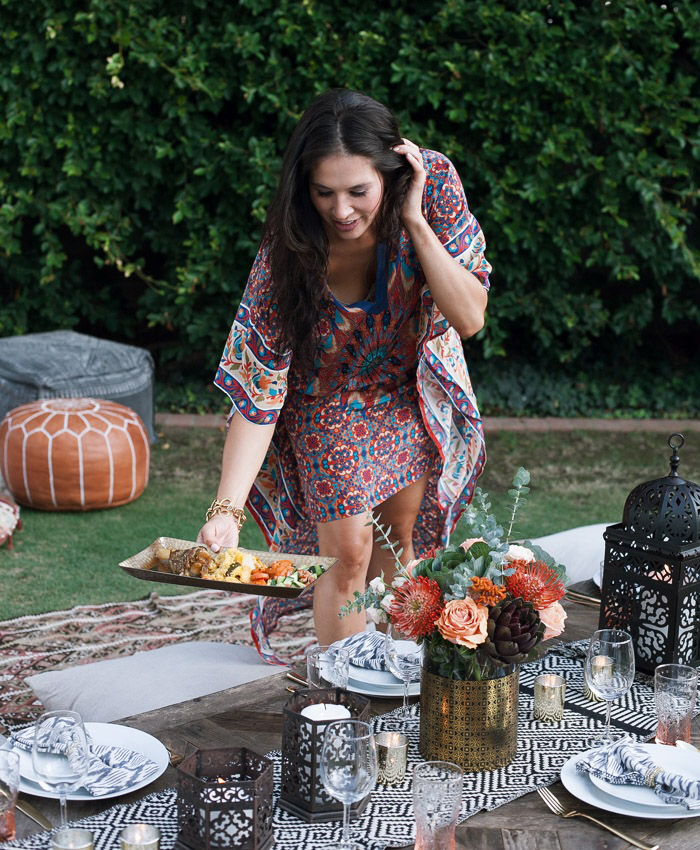 What a special evening it was to get together with all my girlfriends to celebrate our dear friend Erika on her big day. What do you give the girl that has everythying!?! A dinner party of course!
Well I must be honest when Erika first told me about her idea, I asked if she really wanted to work on her birthday, but this event was nothing but fun and definitely an evening to remember! So to honor this queen bee I needed to come up with a menu that was just as elegant and sophisticated as she. This is a great menu for entertaining now because a lot of these items can be found in fall and winter but are unique enough to serve at your next dinner party. Taking advantage of seasonal veggies always makes dishes that much better so feel free to modify any of the ingredients listed below.
Cheers!!
Yuki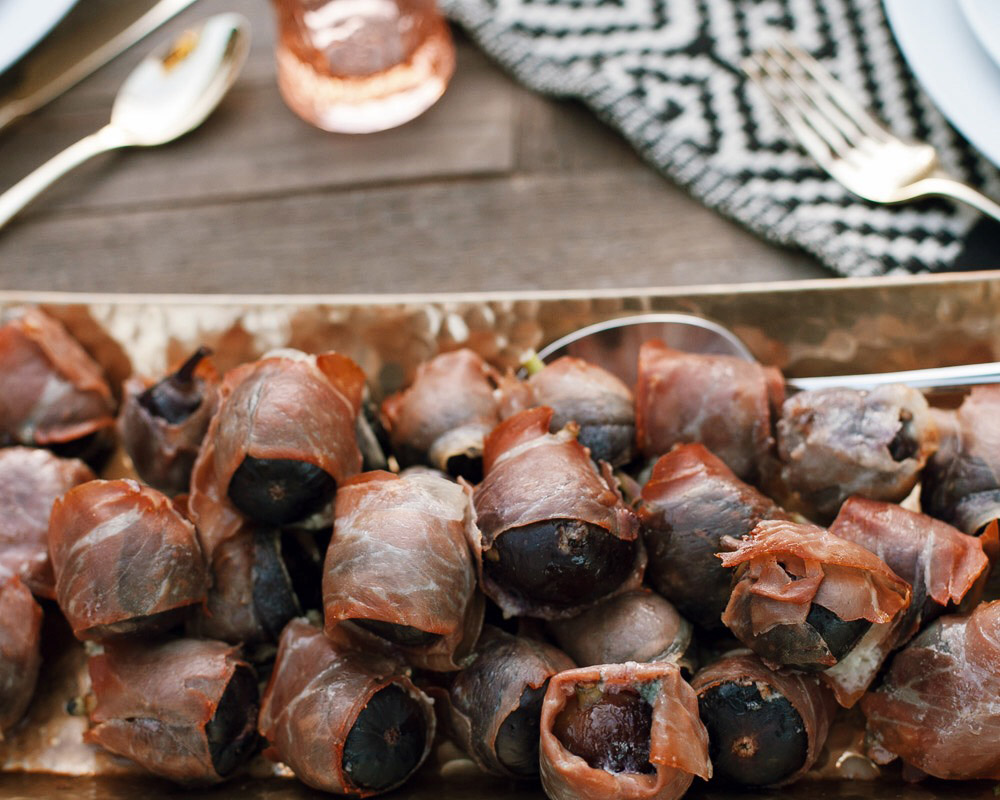 PROSCIUTTO-WRAPPED FIGS WITH MELTED BLEU CHEESE
Serves 6
1 cup of blue cheese cut into large chunks
12 Mission Figs
6 slices of prosciutto cut in half- length wise
3 tablespoons extra virgin olive oil
First preheat the oven to 350 degrees. Rise the figs under water and pat dry. Take once slice of prosciutto length-wise and place the fig in the center. Next place one piece of blue cheese in the center next to the fig and feel free to add as much cheese as you would like. Fold the prosciutto over and begin to roll the fig until it is completely covered and place it on nonstick pan or a cookie sheet lined with parchment paper. Once all the figs are rolled and stuffed with blue cheese place the pan in the oven and let them bake for approximately 12 -15 minutes. The edges of the prosciutto should be golden brown. Serve these tasty treats at room temperature and enjoy!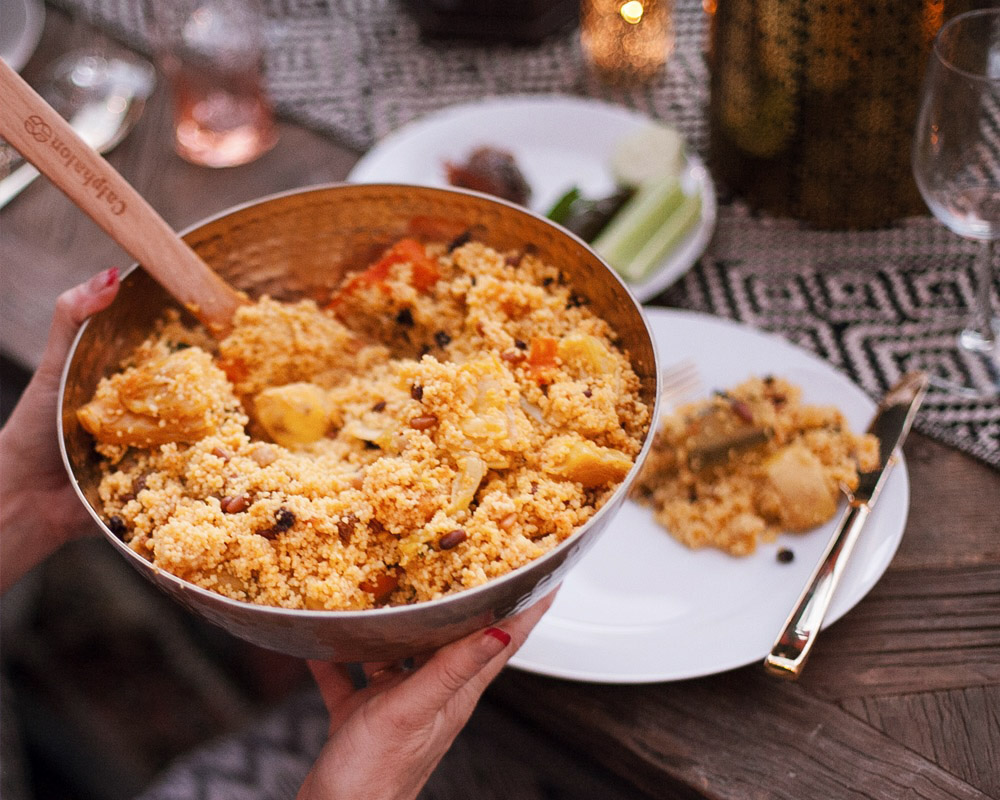 ROASTED VEGETABLE COUSCOUS WITH CURRANTS & PINE NUTS
Serves 6
2 tablespoons olive oil
Kosher salt
Freshly ground black pepper
1 1/2 cups Chicken Stock
2 1/2 cups of roughly chopped green cabbage
1 large onion chopped
4 carrots chopped
2 cups or 3 whole zucchini chopped
2 tablespoons unsalted butter
1/2 teaspoon ground cumin
½ cup of dried currents
½ cup of roasted pine nuts
1 teaspoon saffron threads
1 ½-2 cups couscous (10 ounces)
Preheat the oven to 375 degrees.
Place the cabbage, onions, carrots, and zucchini on a baking sheet and toss with the olive oil, 2 1/2 teaspoons salt, and 1 teaspoon pepper. Roast for 25 minutes, until all the vegetables are tender and be sure to turn over half way through.
In a saucepan, bring the chicken stock to a boil and turn off the heat. Add the butter, 1 teaspoon salt, 1/2 teaspoon pepper, cumin, and saffron threads and steep them for 15 minutes.
Bring the chicken stock just back to a boil. Place the couscous and cooked vegetables in a large bowl and pour the hot chicken stock over them. Cover tightly with plastic wrap and allow to stand at room temperature for 15 minutes. Toss the couscous and vegetables with a fork, and serve warm or at room temperature. Sprinkle pine nuts and currents over the top before serving.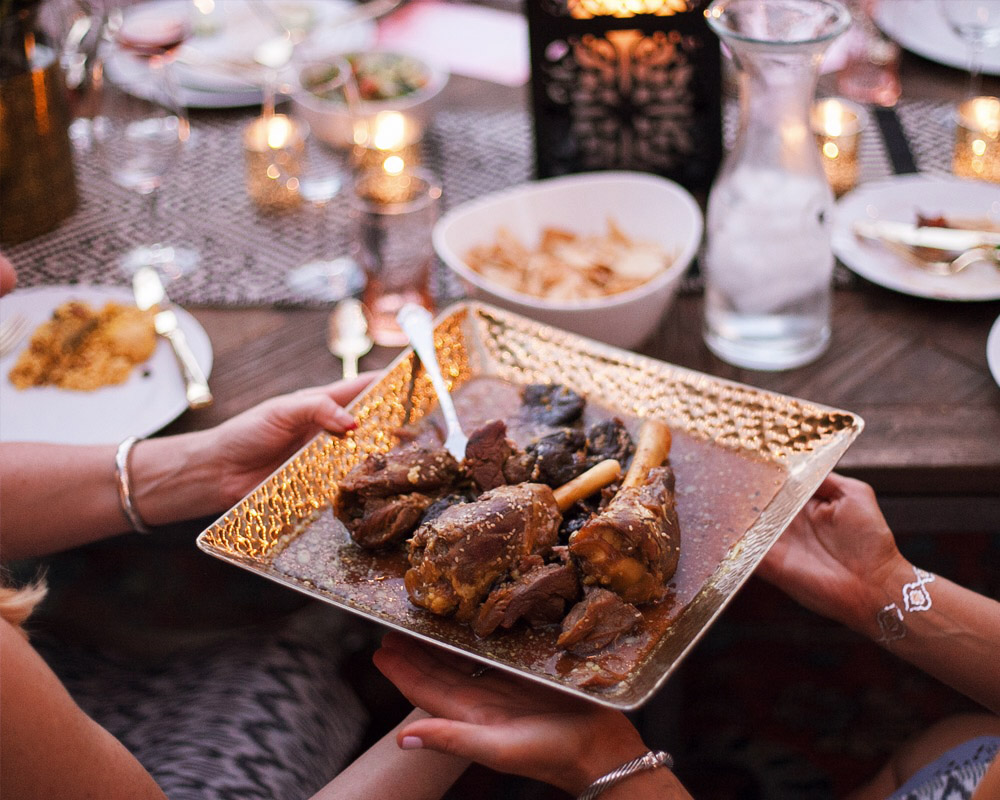 ROASTED LAMB SHANKS IN RED WINE
Serves 6
6 1 1/2lb lamb shanks
2 large carrots roughly chopped
4 cloves of garlic chopped
3 bay leaves
3 sprigs of rosemary
1 bottle of a good full-bodied red wine (this amount is personal preference, I use the full bottle)
3 cups of beef stock
1 tablespoon of brown sugar
2-3 teaspoons of cornstarch
Olive oil
Salt and pepper for taste
Preheat oven to 325 F degrees. Season the lamb shanks generously with salt and pepper. In a large dutch oven brown the lamb shanks on all sides in the olive oil; remove from pan and put into them into a large dish and cover with foil.
In the same pan put in the carrots, onions, garlic, bay leaves and rosemary and cook slowly for approximately 5-8 minutes.
Pour in the red wine, beef stock, and brown sugar into the saucepan and stir gently bringing it to a low boil or until the sugar is dissolved. Put the lamb shanks back into the Dutch oven and gently pour your ingredients in the sauce pan over the lamb shanks. Make sure there is enough liquid to cover the lamb and if need be top off with water.
Cover and put your dutch oven in and cook for 2 1/2 – 3 hours until very tender. Remove the lamb shanks and keep warm and skim the fat off the top. Mix together the cornstarch with just a bit of cold water and whisk the mixture into the red wine juices until desired consistency.
What an amazing evening! Be sure to check out all the details from our little Moroccan-inspired soiree here!
Photos by Jennifer Daigle; event styling by Erika Brechtel; food by Yuki Pitkin