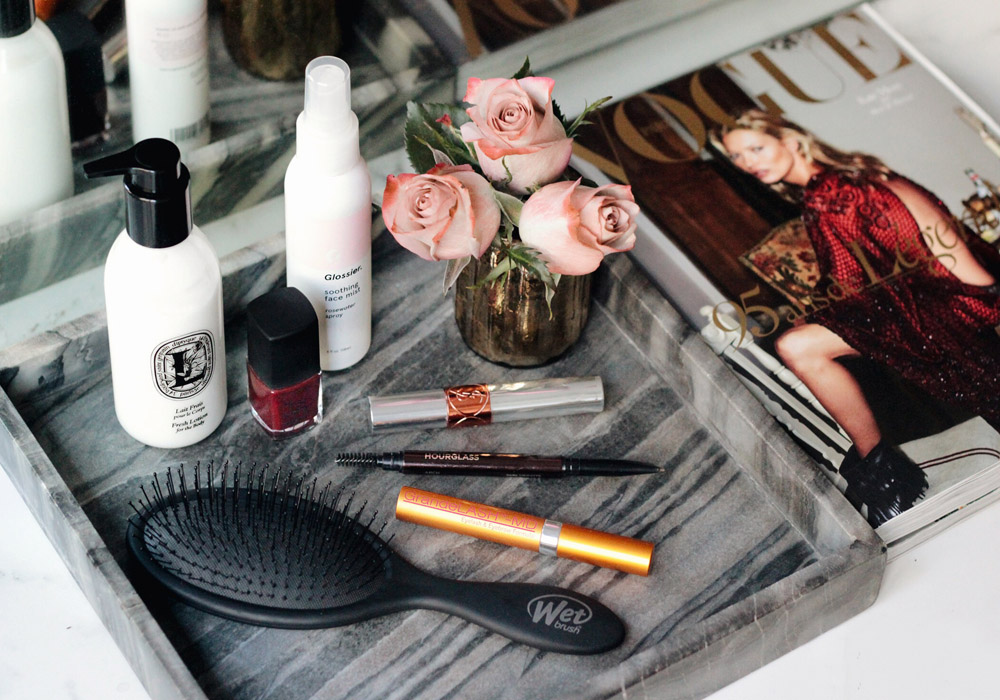 I've been slammed with work and life lately, that now more than ever, I need a little pick-me-up to make me feel refreshed and ready to tackle the next challenge. These 7 picks have me beauty-obsessed (many of which I keep at my desk!):
A MUST! I originally got it for my daughter's hair and had to get one for myself! A no-hurt, no-harm detangler. Honestly, I was AMAZED at well The Wet Brush works. And certainly gives me the 'appearance' of being more polished than I feel!
OK, maybe not so "quick" but amazing nonetheless! One of my besties (Yuki Pitkin, my food contributor) introduced me to this and it's pretty ridiculous. Lashes for days. Apply the Grande Lash MD Serum every night like a liner on your lashes. (If you have fake lashes, you can still use this to grow your natural lashes simultaneously.) Takes just a few weeks to see a noticeable difference. Great lashes can take off 10 years!
Hourglass Cosmetics never disappoints. Their Arch Eyebrow Sculpting Pencil gives you tons of natural-looking control and all-day-long color. I don't know about you, but I always feel like my eyes are bigger and brighter with some well-defined brows!
Don't be scared off by the saturation — this tint-in lip oil leaves a hint of color but a lot of moisture and shine. It certainly always makes me look less pale and tired. I have it in 3 shades!
Like a spray of rosewater-scented reenergizer: I keep this face mist at my desk and spray it every so often throughout the day to keep me (and my makeup) refreshed. Got this one as a birthday gift from my super sweet assistant Jenny Rose (thank you again dear!).
I'm a big fan of NARS, and this polish is the perfect dark red — sultry and sophisticated. Nothing like a pedi to get you feeling pretty again!
Also keep this indulgent lotion handy at my desk — the orange blossom and almond oil scent is heavenly, and the macadamia nut oil is crazy soft. It's been a fave of mine but I had run out — lucky me, got this one as a birthday gift from my beauty contributor Sandy Choi Huff (so sweet!).
What are your go-to pick-me-up products lately?
SHOP THE PICKS:
Photography & styling by Erika Brechtel