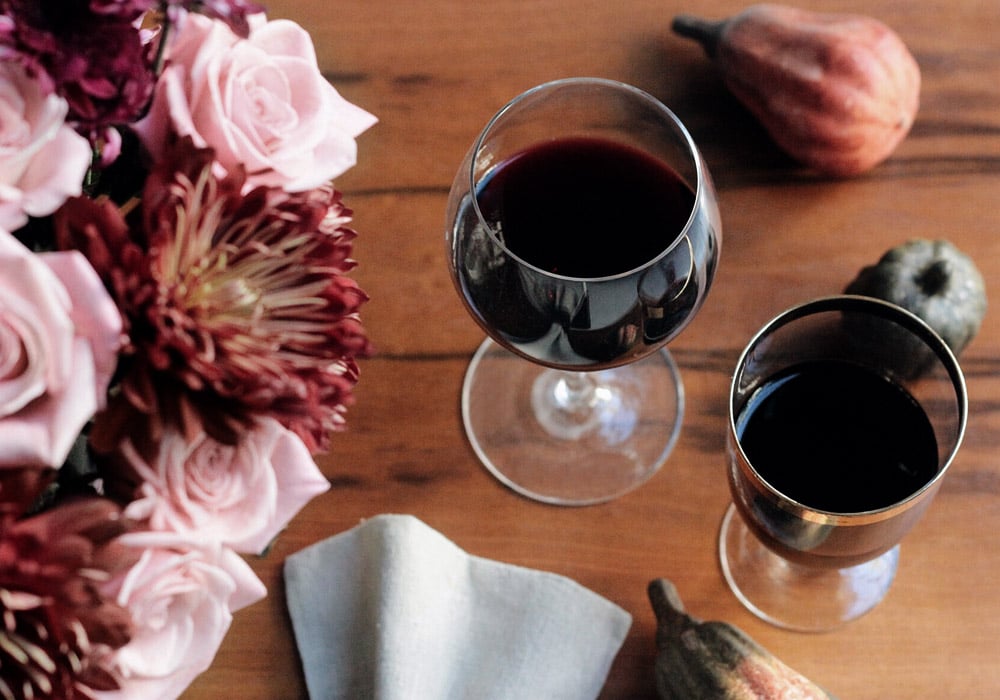 "No thing more excellent nor more valuable than wine was ever granted by the gods to man."
~ Plato
WINE FOR THANKSGIVING & THE HOLIDAYS
What makes it so challenging to select wine for a big Thanksgiving or other holiday meal? There are a couple of factors that really do make this a challenge.
First, we typically have a large group with mixed preferences in wine. Don only likes sweet wine, Joyce hates sweet wine, Mary likes big reds, and so on. Second, the variety of food and flavors at one of these meals can be daunting when selecting wine to match. Appetizers, turkey with gravy or without gravy, cranberry sauce, ham, pineapple, corn on the cob, stuffing, pumpkin pie….? Where do we begin?
With a large group I might just open a few different wines and let people help themselves. But if we are entertaining a smaller group, say 6 to 8 adults, I will probably want to be more selective. Even though I tell people the secret to food and wine pairing is to eat the food they like and drink the wine they like, there are a few suggestions for these holiday meals that always seem to help.
Tip #1: Starting with a sparkling wine is always festive and met with oohs and aahs from guests.
The basic Blanc de Blancs or a Sparkling Rosé are great on these occasions. You can even go semi-sweet with a "Sec".
Tip #2: Avoid very sweet or oaky or tannic wines.
As opposed to oaky Chardonnays, dessert wines, and young, big Cabs, wines with a good balance of fruit and acid with a softer finish tend to be more versatile (such as my recommendations below).
Tip #3: Have both a white wine and red wine available for the sit-down part of the dinner.
My favorite for a versatile white wine is a dry or off-dry Gewurztraminer or Riesling. You might also enjoy a non-oaky Chardonnay if you want a little more heft in the wine. For red I usually open a Pinot Noir or Syrah with nice fruit and clean on the finish.
And, of course, you can always bring out an aged Cabernet Sauvignon for the Cab lovers.
My recommendations for your Thanksgiving & Holiday Wine+Meal Plan:

Schramsberg Brut Rosé / Claiborne & Churchill Dry Gewurztraminer / Chateau Montelena Chardonnay/ Saintsbury Pinot Noir / Elizabeth Spencer Syrah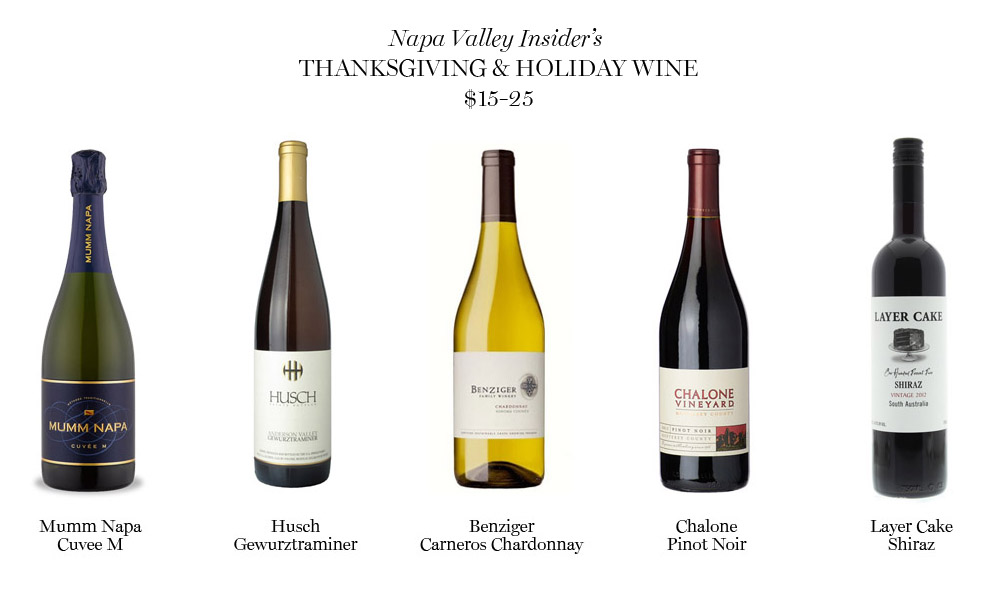 Mumm Napa Cuvee M (Sec) / Husch Gewurztraminer (off-dry) / Benziger Carneros Chardonnay / Chalone Pinot Noir / Layer Cake Shiraz
Cheers,
Tom
Photography & styling by Erika Brechtel