Seeing a lot of gorgeous centerpiece ideas for your Thanksgiving table but don't know where to start? Today I'm dissecting my fall foliage-inspired table decoration in six easy-to-follow steps.
SUPPLIES
Long-stemmed fall foliage
Two small flower arrangements
Six persimmons
Six votives
Two small pumpkins
One large flower arrangement
Tips:
Think about your color scheme and select foliage and flowers within those hues — I chose dark purple hues with pops of orange and dark red.
For the flower arrangements, I used the same flowers in each but added more to make the larger arrangement: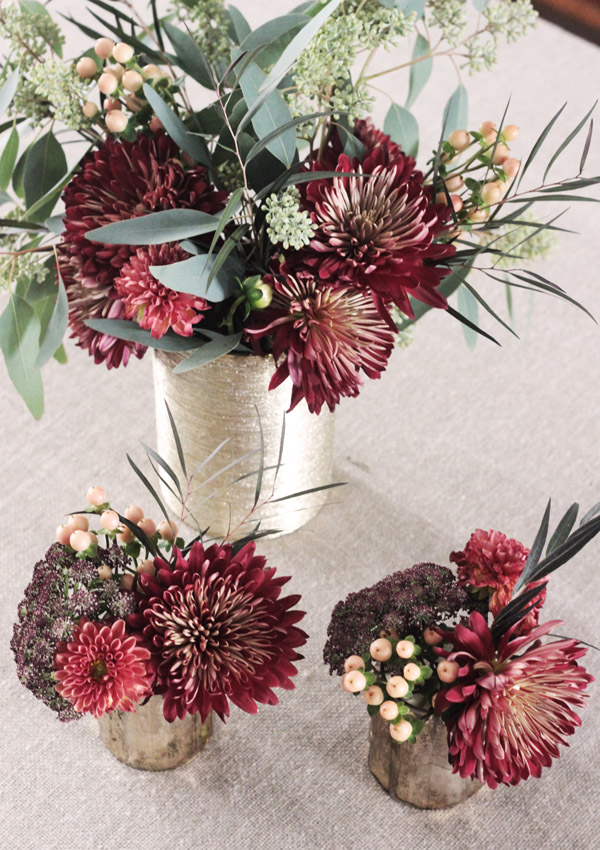 STEP 1: LAY OUT YOUR FALL FOLIAGE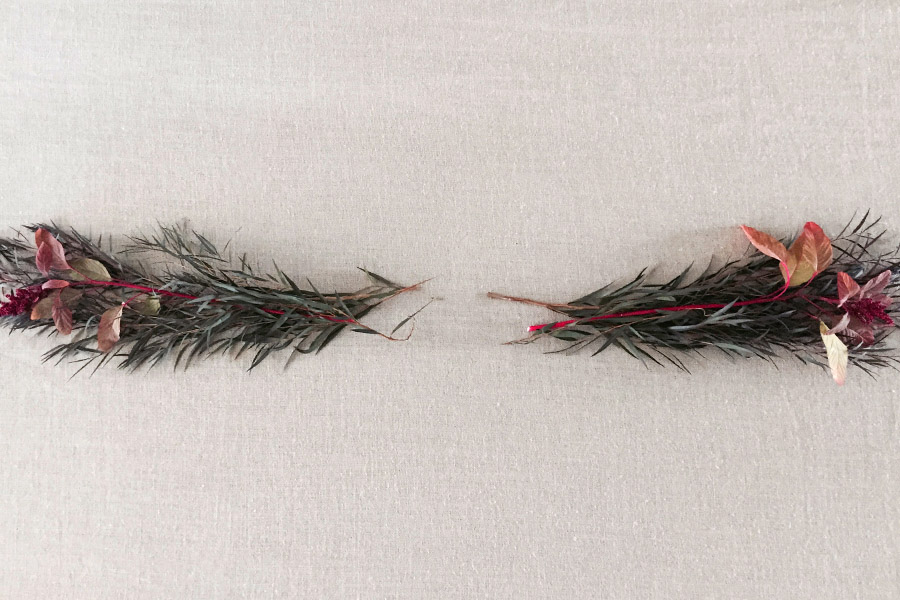 We're going to start out and work our way to the center. Split up your stems into two groups and layer them on either side of your table. (Be sure to reserve a few pieces to layer around the center at the end.)
STEP 2: ADD IN THE SMALL FLOWER ARRANGEMENTS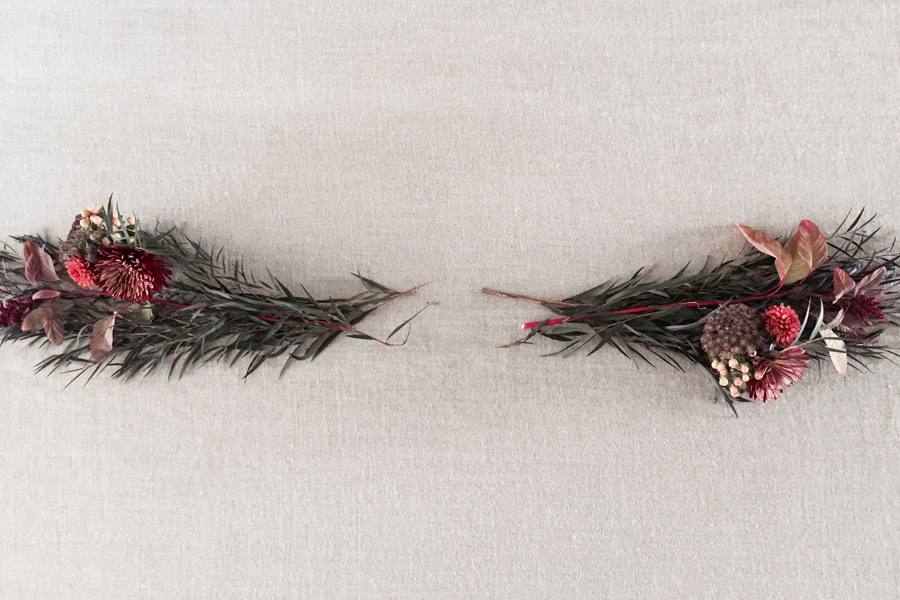 Since we'll be putting the large flower arrangement in the center at the end, let's put the two smaller ones on either side.
STEP 3: DISPERSE THE PERSIMMONS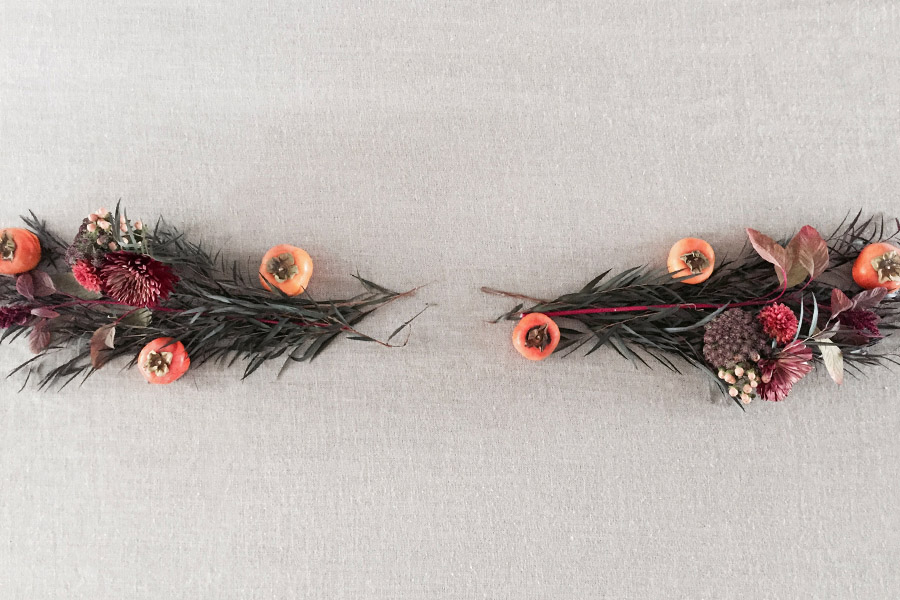 Next, add three persimmons to each side. I try not to make each side an exact mirror of the other, to give it more of a natural look.
STEP 4: ADD THE CANDLES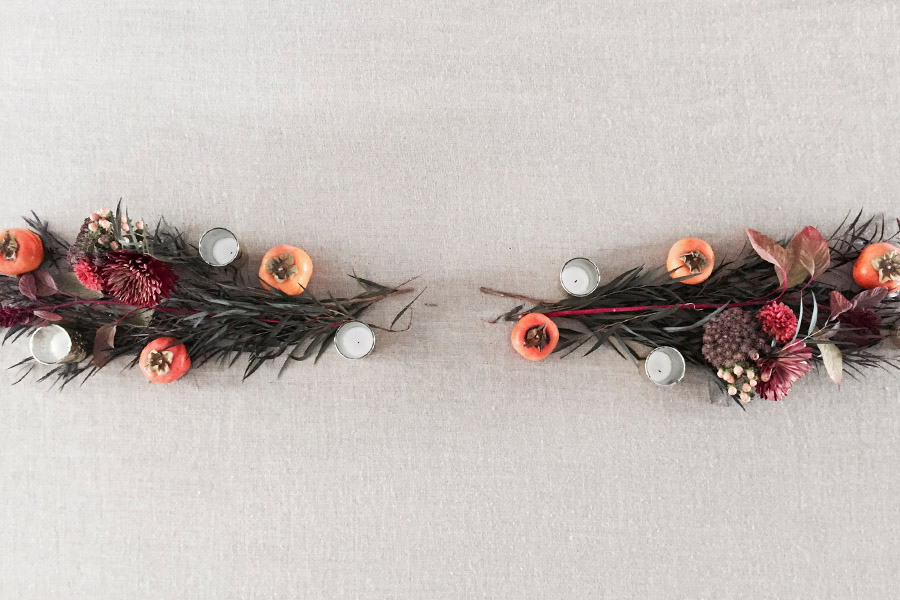 Mix in your six candles, three on each side. Vary the spacing so they're not too evenly spread out. (And it goes without saying: be careful not to place your candles where the flame may be too close to any leaves or flowers!)
STEP 5:  DROP IN THOSE PUMPKINS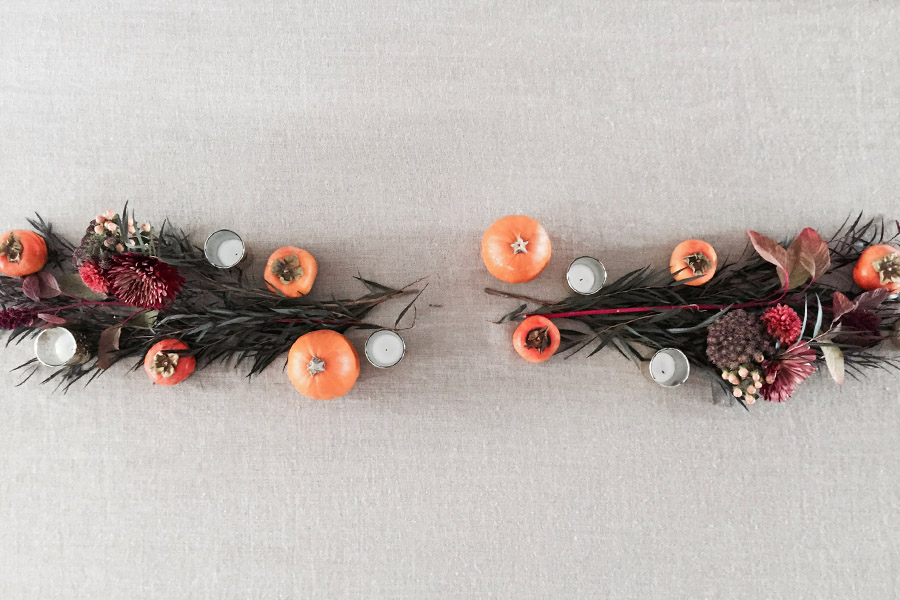 I had a few small pumpkins left over from Halloween that I put in towards to center, bulking up the middle area just a bit.
STEP 6: TOP IT OFF WITH YOUR LARGE FLOWER ARRANGEMENT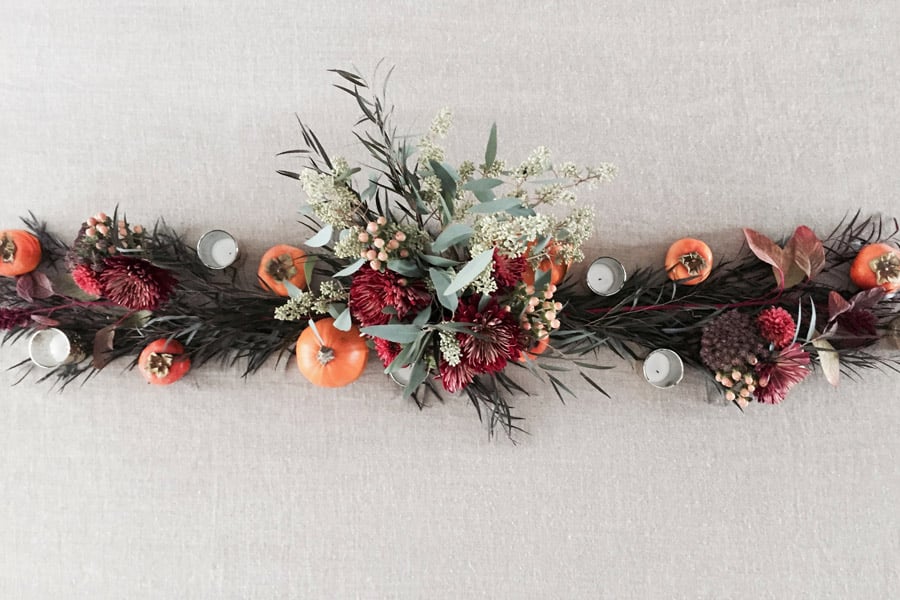 I like a little height and bulk at the center of my table. Wrap a few of those extra foliage pieces from Step 1 around the center vase to incorporate it into the full arrangement.
VOILÀ! YOUR TABLE IS READY TO PARTY!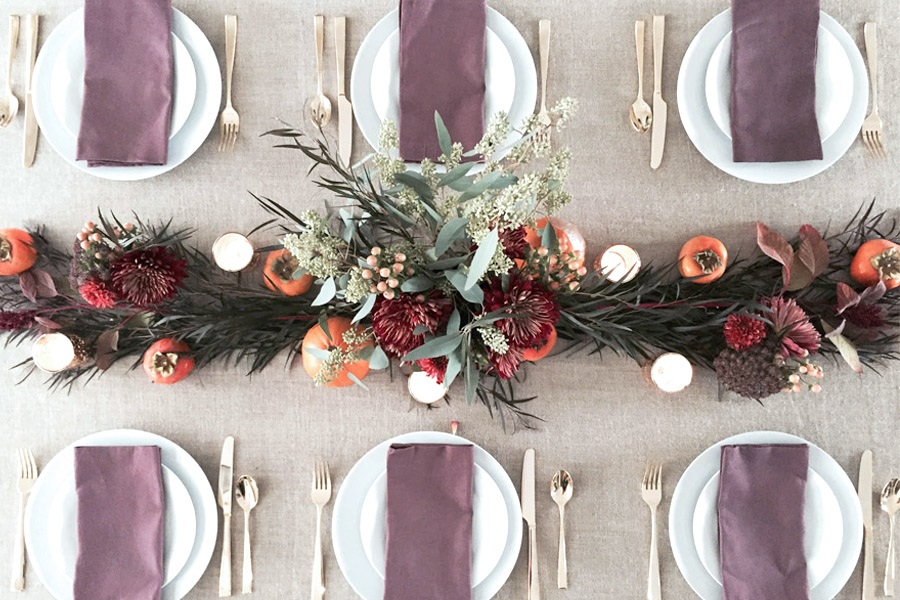 I kept the rest of my table fairly simple, to keep the focus on the centerpiece.
Here are some detail shots of the various pieces for your reference: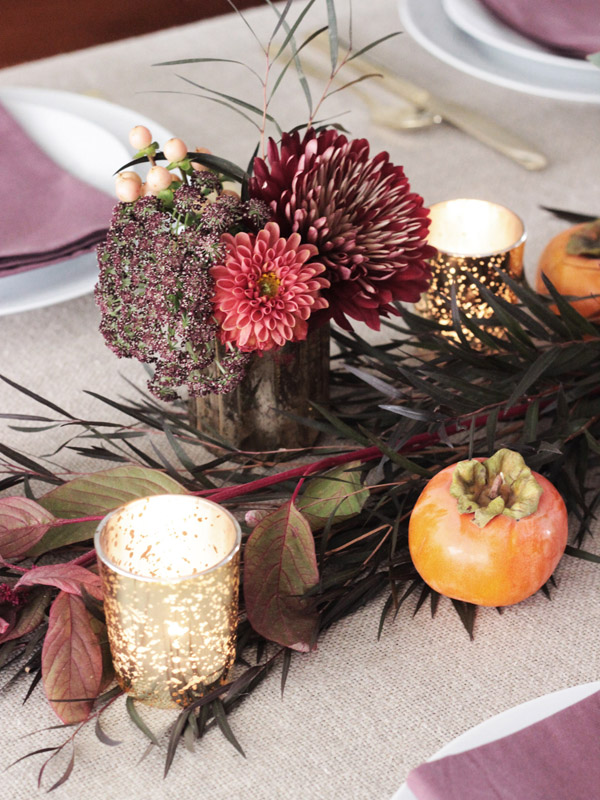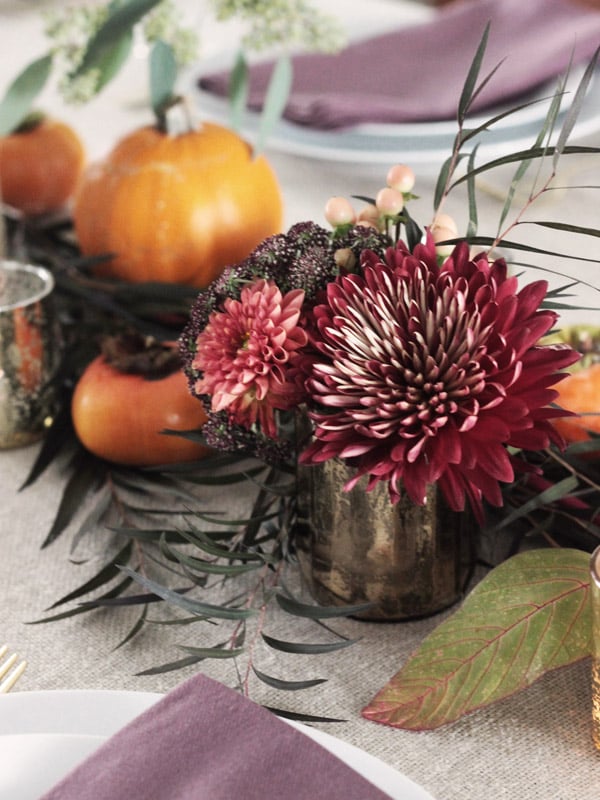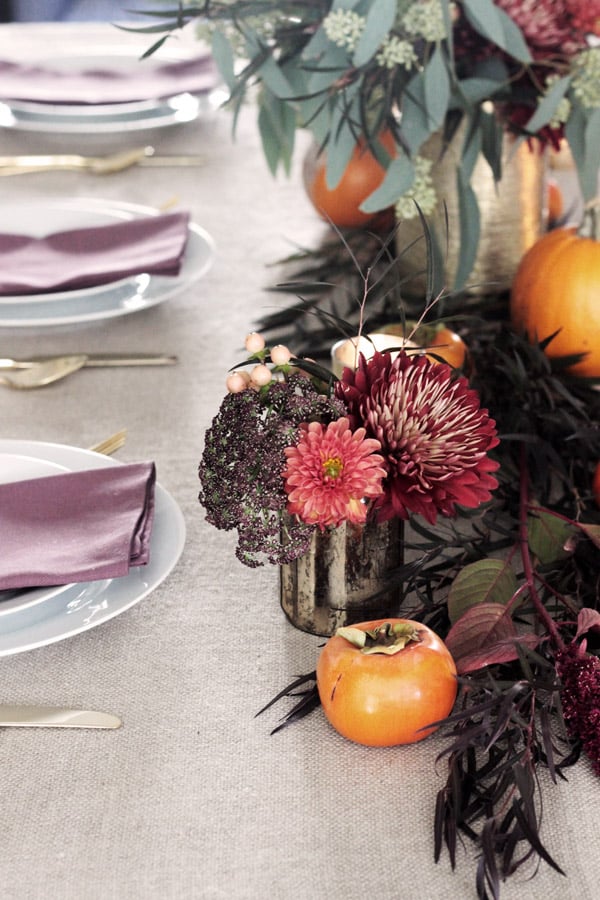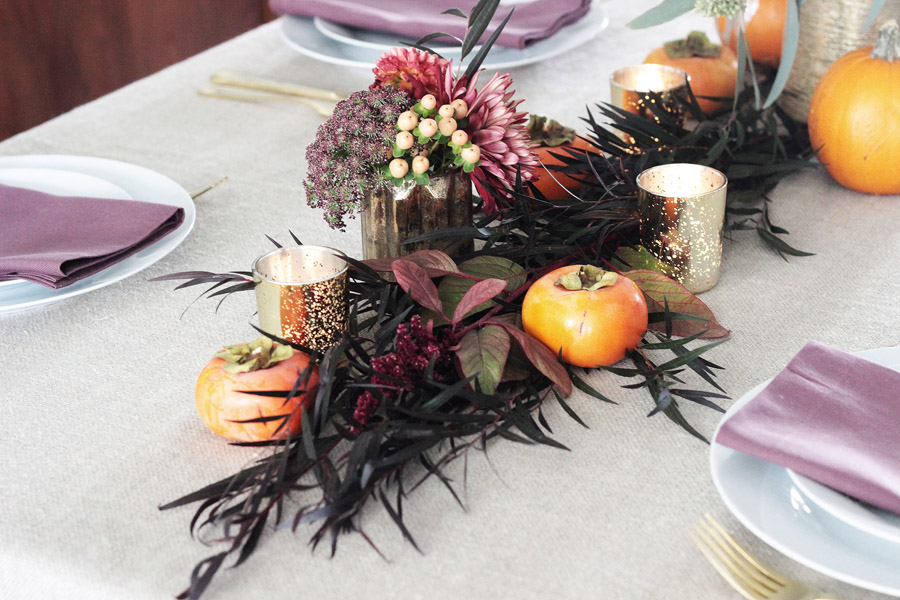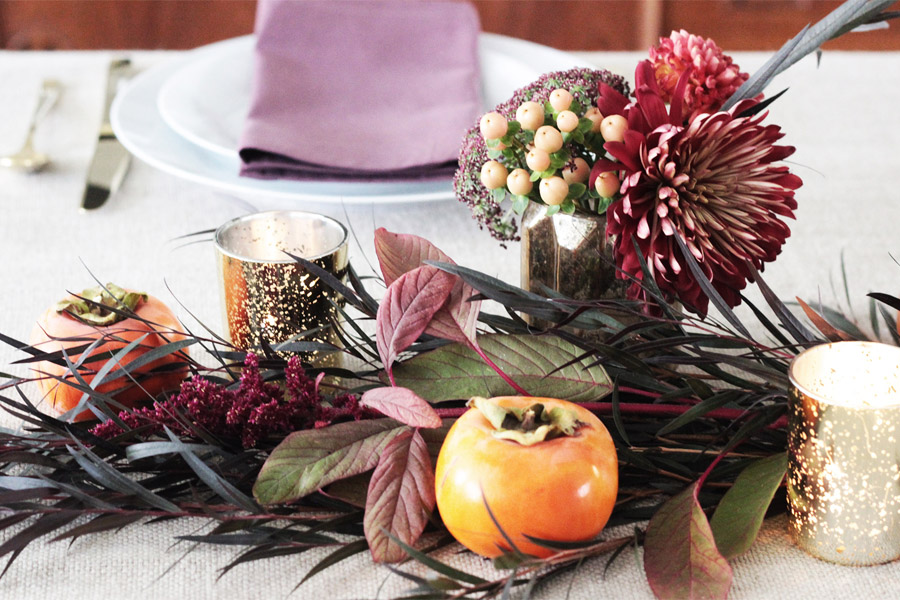 For those celebrating on Thursday, hope you have a wonderful holiday!
Photos & styling by Erika Brechtel