Christmas is hands down my favorite holiday of the year.
What's not to like about Santa Claus, sparkly lights, wrapping presents and an excuse to eat all the decadent treats? In London, preparations for the holiday starts early, I mean super early- right after Halloween since Thanksgiving isn't celebrated here. London has transformed into a beautiful city with bustling holiday spirit.
For years, I've pride myself in being a great gift gifter. By that I mean I put a lot of thought, research and preparation into what I'm gifting and for whom. I always like to gift something I would like to receive or something I own that I absolutely obsess over. No matter big or small, a gift should mean something.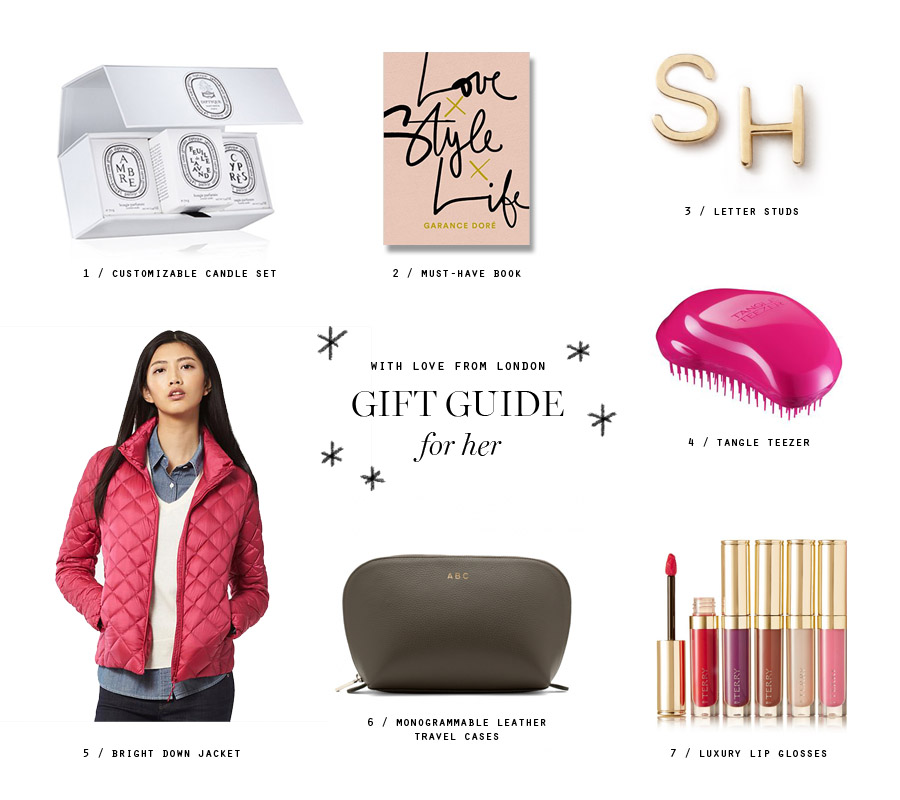 FOR HER
1 / Diptyque Custom Mini Candle Set, $96: Choose three of your favorite scents from this luxurious iconic Parisian perfumer.
2 / Love, Style, Life by Garance Dore, $18: If you're a lover of fashion and style, this book is a must for the shelf, desk or coffee table.
3 / Maya Brenner 14K Gold Lettter Stud, $98: Simple and elegant, pick a single or a pair for a subtle personalized look.
4 / Tangle Tweeze, $15: Best of British beauty brands, this detangling hairbrush is pretty amazing. I now use it on the whole family!
5 / Uniqlo Ultra Light Down Quilted Jacket, $49.90: Light but incredibly warm, this chic jacket is my everyday essential with too many colors to choose from.
6 / Cuyana Leather travel case set, $95: Comes in many gorgeous colors, this set is for the jet-set.
7 / By Terry Lip Baume Set, $89: Enriched with Rose Wax and Shea Butter, these travel-sized glosses are luxury at best of beauty.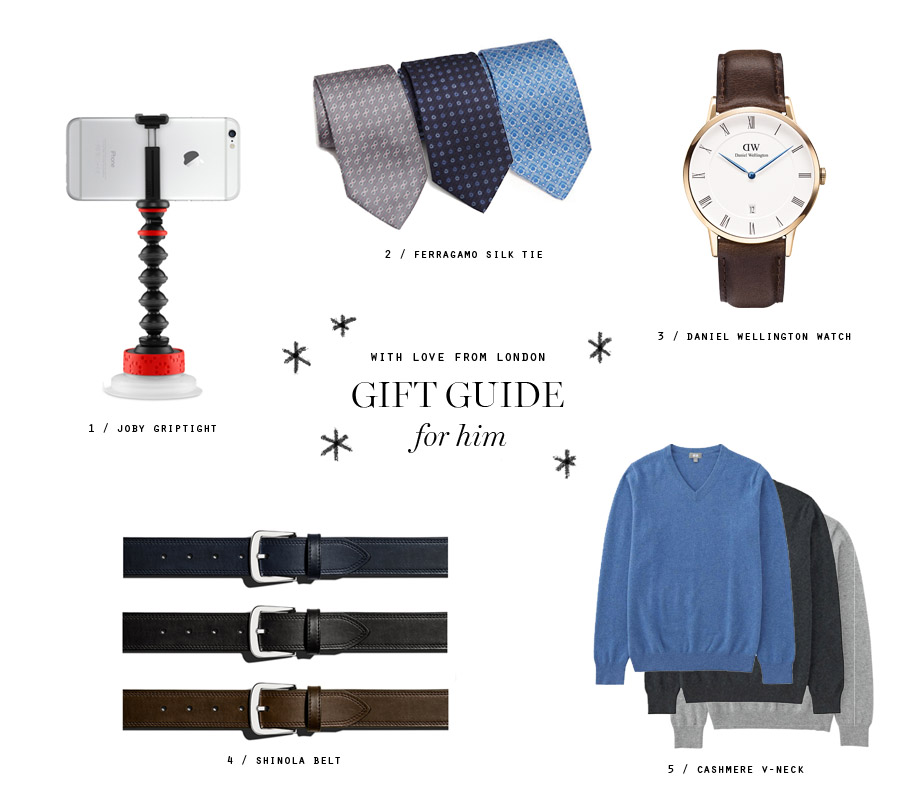 FOR HIM
1 / Joby Griptight with Suction Cup and GorillaPod Arm,$49.95: The anti-selfie stick, this iphone accessory is for the man who loves to snap away.
2 / Ferragamo Silk Tie, $190: A little bit of indulgence, Ferragamo makes the best looking ties with often very subtle whimsical prints. My man's a fan and he's hard to please.
3 / Daniel Welligton's Dapper Bristol Watch $299: Timeless and classic, this handcrafted watch is here to stay.
4 / Shinola Double Stitch Belt $125: American-made Shinola is all the buzz and no man can go wrong with this belt.
5 / Uniqlo Stretch Cashmere V-neck Sweater $49.90: Dress up or dress down, this V-neck is a classic in any man's wardrobe.
With love from London,
Sandy