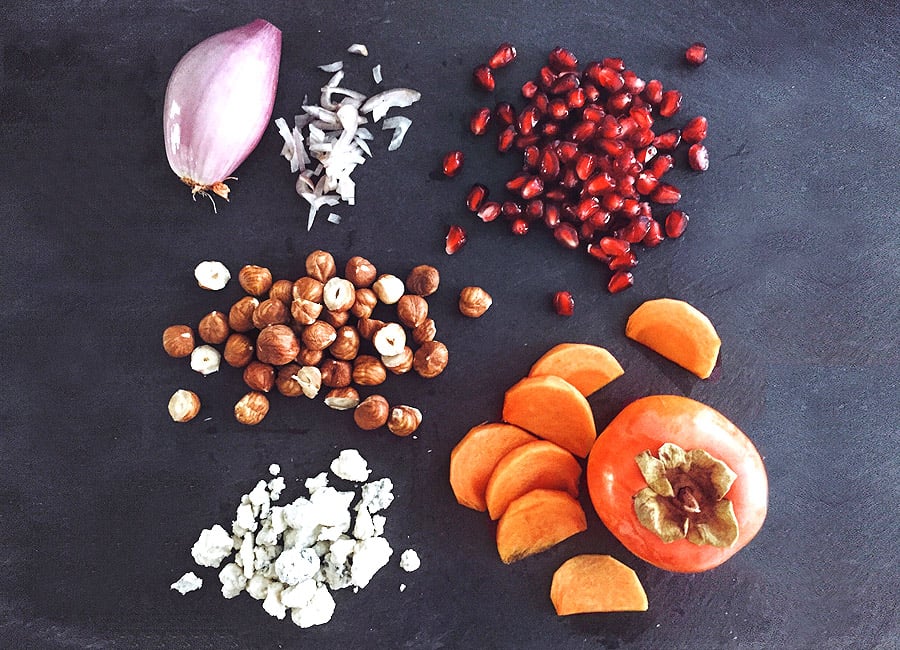 A little Christmas red to kick off your holiday meal.
I made this salad for Thanksgiving because my mom brought me some persimmons, and it was so pretty (and well-received!), I thought it would be perfect for Christmas too.
POMEGRANATE PERSIMMON HAZELNUT SALAD
Serves 6
INGREDIENTS:
2/3 cup hazelnuts (roasted, chopped)
2 small shallots, thinly sliced
3 tablespoons fresh pomegranate juice, plus 1/2 cup pomegranate seeds
1 tablespoon sherry vinegar
2 teaspoons rice vinegar
1 tablespoon apple cider vinegar
1 tablespoon honey
1 tablespoon fine granulated white sugar
3 tablespoons extra-virgin olive oil
2 small persimmons, thinly sliced
1/2 pound arugula or mixed greens
Crumbled Gorgonzola (to top, if desired)
DIRECTIONS:
In a small bowl, combine chopped shallots, pomegranate juice, sherry and rice vinegars, and salt; let stand 5 minutes. Whisk in olive oil, and add in honey & sugar to taste.

In a large bowl, toss persimmons, sliced shallots, and pomegranate seeds with dressing; season with salt and pepper. Gently toss with arugula or mixed greens.

Arrange salad on a serving platter, and garnish with hazelnuts. Serve immediately.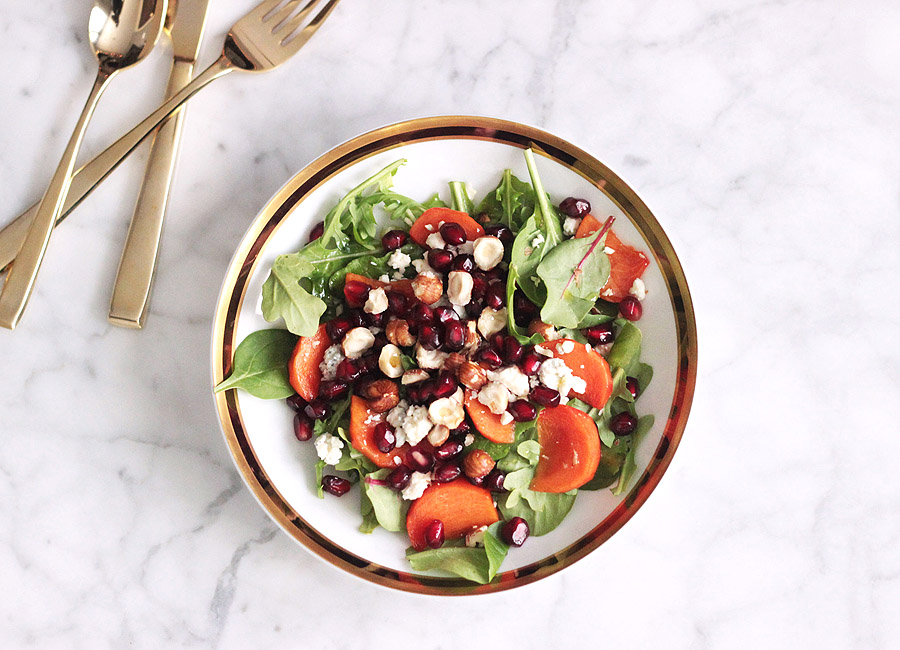 I put the Gorgonzola in a separate dish, as I know not everyone loves a stinky cheese like I do.
And I played around with the dressing a bit to get the right sweet to sour balance.
Enjoy!
Photos & styling by Erika Brechtel; recipe adapted from Martha Stewart