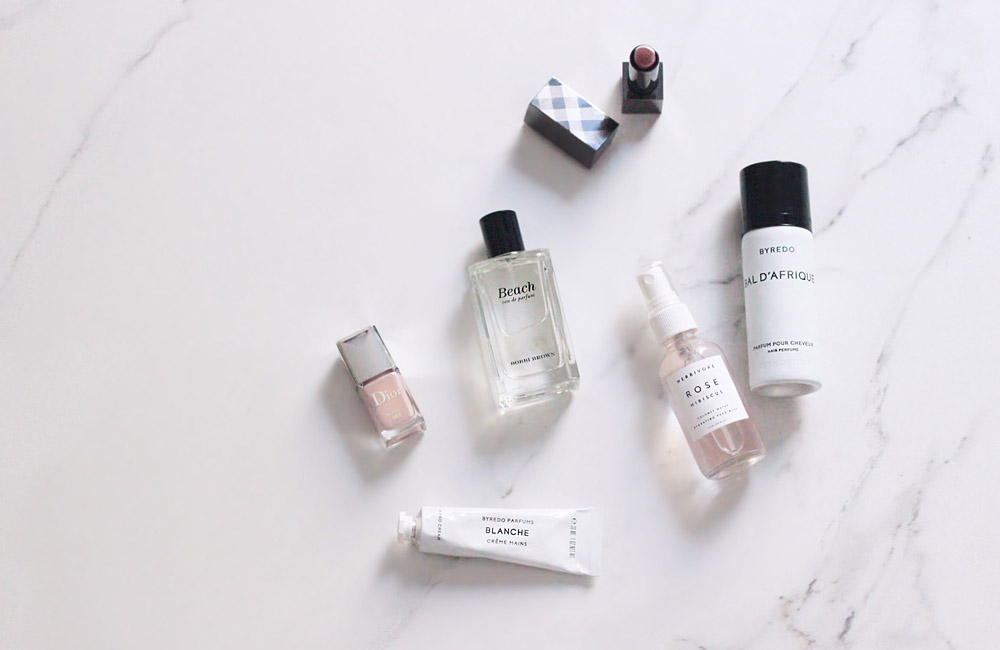 Happy New Year! I'm ready for a refresh, how about you?
Let's kick it off with a few new indulgent beauty discoveries I had on my Christmas wish list. (Clockwise from top):
Burberry 'Delicate Rose No. 22' Lip Cover
It's hard to justify paying $33 for a tube of lipstick, but this one is packed with "anti-aging ceramides for fuller lip definition; nourishing oils and gel-dispersed pigment ensure intense moisture and long-lasting color."
$33
Byredo 'Bal D'Afrique' Hair Perfume
Obsessed with Byredo right now. Their scents are divine, inspired by places, eras and works of art. The hair perfume is light and airy; this particular scent has notes of "Neroli, Bergamot, Violet and Jasmine and is balanced by a rich base of Moroccan Cedarwood for a hearty finish."
$62
Herbivore Botanicals 'Rose Hibiscus' Face Mist
100% natural organic coconut water infused with "hibiscus flower petals and moisture-enhancing Bulgarian rose to tone, hydrate + soften all skin types" for a quick reboot.
$16
Byredo 'Blanche' Hand Cream
Like its name, the scent evokes white and clean, with notes of White Rose, Violet, Sandalwood, Neroli, Pink Pepper and Musk. Perfect for your handbag in dry winter weather.
$35
Dior 'Muguet' Nail Vernis
I only wear light nude or blush on my nails (much to the dismay of my manicurist!), and this shade is just enough hue to for a pretty polished look that will go with everything.
$27
Bobbi Brown 'Beach' Perfume
This is basically a tropical vacation in a bottle. For me, it smells just like my home Hawaii — sun tan oil, plumeria flower leis, and salty breezes.
$74
What a lucky girl I am to get these little luxuries! Thank you friends!
Photo and styling by Erika Brechtel