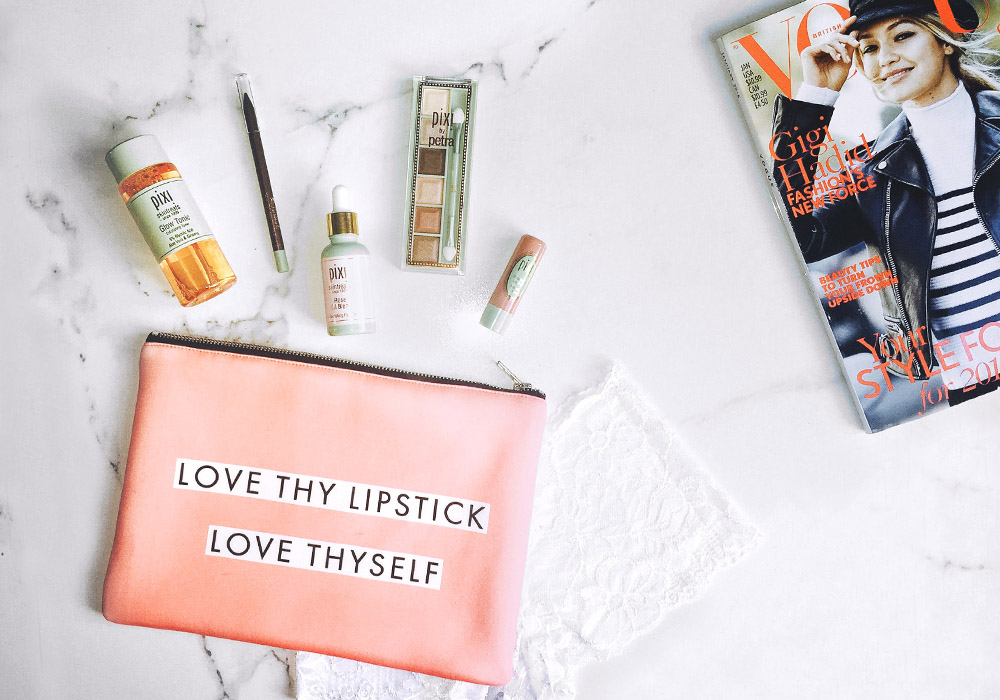 I'm such a sucker for new beauty treats…especially in pretty packaging.
I recently received this adorable beauty bag from MIMI — an online beauty publication for tips, trends, inspirations, how-to's and must-knows — packed full of their faves, and I was so pleased to get to try popular beauty line Pixi. Founded by London makeup artist Petra Strand 10 years ago with a flagship boutique in Soho, London and loved worldwide (including Oprah!), Pixi strives to bring out the natural beauty in all women: "Flawless, in a few fuss-free minutes." Naturally, I immediately got to trying out these treats!
PIXI SKINTREATS GLOW TONIC
With the dry weather (and much to my dismay, zero sun glow), my skin has been looking especially drab. This alcohol-free toner gently exfoliates dead skin cells for a smoother, brighter and clearer complexion with aloe vera, ginseng, and botanical extracts. Just like the reviews rave, I noticed a difference immediately. $15
PIXI ENDLESS SILKY EYE PEN
I haven't given this one a whirl yet but plan to for girls' drinks Friday night! I have been battling with an (unfortunately expensive) eyeliner that constantly smudges, but the reviews on this award-winner are impressive. Sounds easy as silk to apply and claims of no retouching all day — what?! I will report back on this one, friends! And can't beat the price: $12
PIXI SKINTREATS ROSE OIL BLEND
I don't know about you, but I can't get enough of rose anything these days! I tried this one pretty much immediately and it brought an improved smoothness and an almost "rosy" glow to my cheeks. Add this to your day and/or night moisturizer for extra hydration to keep skin plump and fresh (and fresh smelling, with sweet almond, rosehip, jojoba, pomegranate seed, and rose geranium oils). I even put a few drops in with my body lotion too. $24
PIXI MESMERIZING MINERAL PALETTE
I got the Copper Peach palette and the six shades are so pretty and natural, I can imagine I'll be wearing these daily. Vitamin E nourishes and protects delicate skin around the eye, and the mineral formula reflects light away from imperfections (which sad to say, this old lady could definitely use). $12
PIXI SHEA BUTTER LIP BALM
Oh my, this little gem is just what I've been looking for — rich, moisturizing, smooth, with a bit of lasting, natural-looking color. It's so yummy to put on and I especially love that it isn't sticky (quite handy with windblown hair in this weather!). Dare I say, it makes my lips look more plump? Va-va-voom! Can't wait to try it in a few other colors too. Doubles as a cream blush. $8
A big thank you to MIMI for introducing me to Pixi and revitalizing my daily skincare and makeup routine!
Styling by Erika Brechtel; product provided c/o MIMI